Philips SPA1330/37 User manual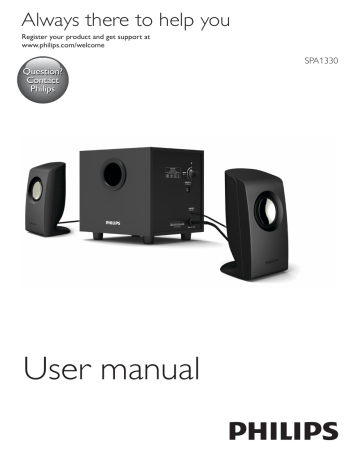 Always there to help you
Register your product and get support at www.philips.com/welcome
Question?
Philips
SPA1330
User manual
Contents
EN
1
1 Important
Safety
This 'bolt of lightning' indicates uninsulated material within your unit may cause an electrical shock. For the safety of everyone in your household, please do not remove product covering.
The 'exclamation point' calls attention to features for which you should read the enclosed literature closely to prevent operating and maintenance problems.
Warning
•
The product shall not be exposed to dripping or splashing and no objects filled with liquids, such as vases, shall be placed on the product.
•
To completely disconnect the power input, the mains plug of the product shall be disconnected from the mains.
•
The mains plug of the product should not be obstructed OR should be easily accessed during intended use.
•
No naked flame sources, such as lighted candles, shall be placed on the products.
Important Safety Instructions
a
Read these instructions.
b
Keep these instructions.
c
Heed all warnings.
d
Follow all instructions.
e
Do not use this apparatus near water.
f
Clean only with dry cloth.
2
EN g
Do not block any ventilation openings.
Install in accordance with the manufacturer's instructions.
h
Do not install near any heat sources such as radiators, heat registers, stoves, or other apparatus (including amplifiers) that produce heat. i
Do not defeat the safety purpose of the polarized or grounding-type plug.
A polarized plug has two blades with one wider than the other. A grounding type plug has two blades and a third grounding prong. The wide blade or the third prong are provided for your safety.
If the provided plug does not fit into your outlet, consult an electrician for replacement of the obsolete outlet.
j
Protect the power cord from being walked on or pinched, particularly at plugs, convenience receptacles, and the point where they exit from the apparatus.
k
Only use attachments/accessories specified by the manufacturer.
l
Use only with the cart, stand, tripod, bracket, or table specified by the manufacturer or sold with the apparatus.
When a cart is used, use caution when moving the cart/apparatus combination to avoid injury from tip-over.
m
Unplug this apparatus during lightning storms or when unused for long periods of time. n
Refer all servicing to qualified service personnel. Servicing is required when the apparatus has been damaged in any way, such as power-supply cord or plug is damaged, liquid has been spilled or objects have fallen into the apparatus, the apparatus has been exposed to rain or moisture, does not operate normally, or has been dropped.
o
Apparatus shall not be exposed to dripping or splashing. p
Do not place any sources of danger on the apparatus (e.g. liquid filled objects, lighted candles).
q
Where the MAINS plug or an appliance coupler is used as the disconnect device, the disconnect device shall remain readily operable.
Warning
•
Never remove the casing of this apparatus.
•
Never lubricate any part of this apparatus.
•
Never place this apparatus on other electrical equipment.
•
Keep this apparatus away from direct sunlight, naked flames or heat.
•
Ensure that you always have easy access to the power cord, plug or adaptor to disconnect the apparatus from the power.
Notice for the USA
This equipment has been tested and found to comply with the limits for a Class B digital device, pursuant to part 15 of the FCC Rules.
These limits are designed to provide reasonable protection against harmful interference in a residential installation. This equipment generates, uses, and can radiate radio frequency energy and, if not installed and used in accordance with the instruction manual, may cause harmful interference to radio communications.
However, there is no guarantee that interference will not occur in a particular installation. If this equipment does cause harmful interference to radio or television reception, which can be determined by turning the equipment off and on, the user is encouraged to try to correct the interference by one or more of the following measures:
• Relocate the receiving antenna.
• Increase the separation between equipment and receiver.
• Connect the equipment into an outlet on a circuit different from that to which the receiver is connected.
• Consult the dealer or an experienced radio/TV technician for help.
This Class B digital apparatus complies with
Canadian ICES-003.
This device complies with Part 15 of the FCC
Rules. Operation is subject to the following two conditions:
• This device may not cause harmful interference, and
• This device must accept any interference received, including interference that may cause undesired operation.
Notice
Any changes or modifications made to this device that are not expressly approved by
WOOX Innovations may void the user's authority to operate the equipment.
Your product is designed and manufactured with high quality materials and components, which can be recycled and reused. Please inform yourself about the local separate collection system for electrical and electronic products, including those marked by the crossed-out wheel bin symbol. Please act according to your local rules and do not dispose of your old products with your normal household waste.
EN
3
Class II equipment symbol:
CLASS II apparatus with double insulation, and no protective earth provided.
Note
•
The type plate is located on the side panel of the main unit.
Environmental information
All unnecessary packaging has been omitted.
We have tried to make the packaging easy to separate into three materials: cardboard (box), polystyrene foam (buffer) and polyethylene
(bags, protective foam sheet.)
Your system consists of materials which can be recycled and reused if disassembled by a specialized company. Please observe the local regulations regarding the disposal of packaging materials, exhausted batteries and old equipment.
4
EN
2 Your multimedia speaker
Congratulations on your purchase and welcome to Philips!
To fully benefit from the support that Philips offers, register your product at www.philips.
com/welcome.
EN
5
6
EN
3 Use your multimedia speaker
1
Connect the speaker plug to AUDIO
OUTPUT (audio output) socket ( ).
2
Connect the audio input plug to the audio output socket of your computer ( ).
3
Connect the AC plug to AC power socket
( ).
4
Rotate VOLUME (volume knob) clockwise to switch on the multimedia speaker ( ).
» Green LED is on.
5
Adjust the volume by the volume knob or by the computer application.
6
After use, switch off the multimedia speaker and unplug.
mA
4 Product information
Product information
AC power input
Operation power consumption
Standby power consumption
Dimensions (W x H x D)
120V~, 60Hz, 128mA
15W
<2W
Subwoofer: 168 x
180 x 141 mm
Speakers: 75 x 124 x
60 mm
System requirements
PC
Windows
Windows
®
2000, Windows
®
XP, or
Windows
®
®
98SE, Windows
®
ME,
Vista™, Windows 7
Mac
Mac OS9/
OS
®
X, or later
EN
7
5 Troubleshooting
To keep the warranty valid, never try to repair the system yourself.
If you encounter problems when using the product, check the following points before requesting service. If the problem remains unsolved, register your product and get support at www.philips.com/support.
• Make sure that the speakers are correctly installed.
• Make sure the LED lights up.
8
EN
2014 © WOOX Innovations Limited.
All rights reserved.
Philips and the Philips' Shield Emblem are registered trademarks of Koninklijke Philips N.V. and are used by WOOX
Innovations Limited under license from Koninklijke Philips N.V.
SPA1330_37_UM_EN_V1.0
* Your assessment is very important for improving the work of artificial intelligence, which forms the content of this project