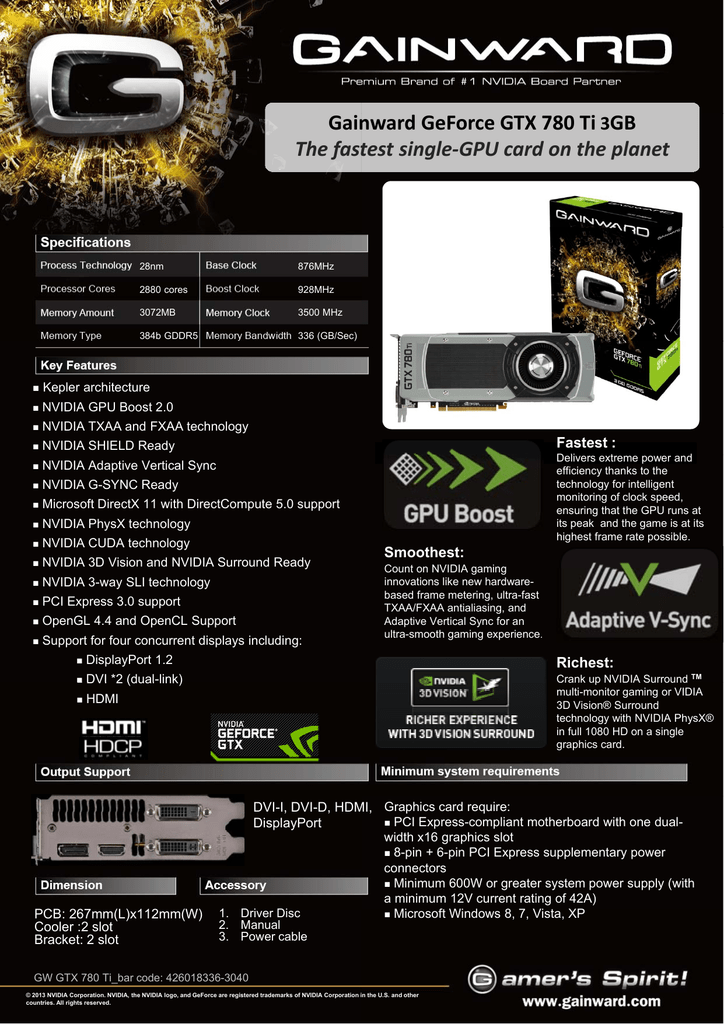 Gain
nward GeForce GTX 780 Ti 3GB
The fasttest single‐GPU card on the planet
28nm
876MHz
2880 cores
928MHz
3072MB
3500 MHz
384b GDDR5
336 ((GB/Sec))
"
Kepler architecture
"
NVIDIA GPU Boost 2.0
"
NVIDIA TXAA and FXAA technology
"
NVIDIA SHIELD Ready
"
NVIDIA Adaptive Vertical Sync
"
NVIDIA G-SYNC Ready
"
Microsoft DirectX 11 with DirectCompute 5.0 support
"
NVIDIA PhysX technology
"
NVIDIA CUDA technology
"
NVIDIA 3D Vision and NVIDIA Surround Readyy
"
NVIDIA 3-way SLI technology
"
PCI Express 3.0 support
"
OpenGL 4.4 and OpenCL Support
"
Support for four concurrent displays including:
Fastest :
Delivers
D
li
extreme
t
power and
d
efficiency thanks to the
technology for intelligent
monitoring of clock speed,
ensuring that the GPU runs at
its peak and the game is at its
highest frame rate possible.
Smoothest:
Count on NVIDIA gaming
innovations like new hardwarebased frame metering, ultra-fast
TXAA/FXAA antialiasing, and
Adaptive Vertical Sync for an
ultra-smooth gaming experience.
"
DisplayPort 1.2
Richest:
"
DVI *2
2 (dual-link)
(dual link)
"
HDMI
Crank up NVIDIA Surround TM
multi-monitor gaming or VIDIA
3D Vision® Surround
technology with NVIDIA PhysX®
in full 1080 HD on a single
graphics card.
PCB: 267mm(L)x112mm(W)
PCB
267
(L) 112
(W)
Cooler :2 slot
Bracket: 2 slot
DVI-I, DVI-D, HDM
MI, Graphics card require:
" PCI Express-compliant motherboard with one dualDisplayPort
width x16 graphics slot
" 8-pin + 6-pin PCI Express supplementary power
connectors
" Minimum 600W or greater system power supply (with
a minimum 12V current rating of 42A)
1 Driver
1.
Di
Di
Disc
" Microsoft
Mi
ft Wi
Windows
d
8 7
8,
7, Vista,
Vi t XP
2. Manual
3. Power cable
GW GTX 780 Ti_bar code: 426018336-3040
© 2013 NVIDIA Corporation. NVIDIA, the NVIDIA logo, and GeForce are registered trademarks of NVIDIA Corporation in the U.S. and other
countries. All rights reserved.

* Your assessment is very important for improving the work of artificial intelligence, which forms the content of this project