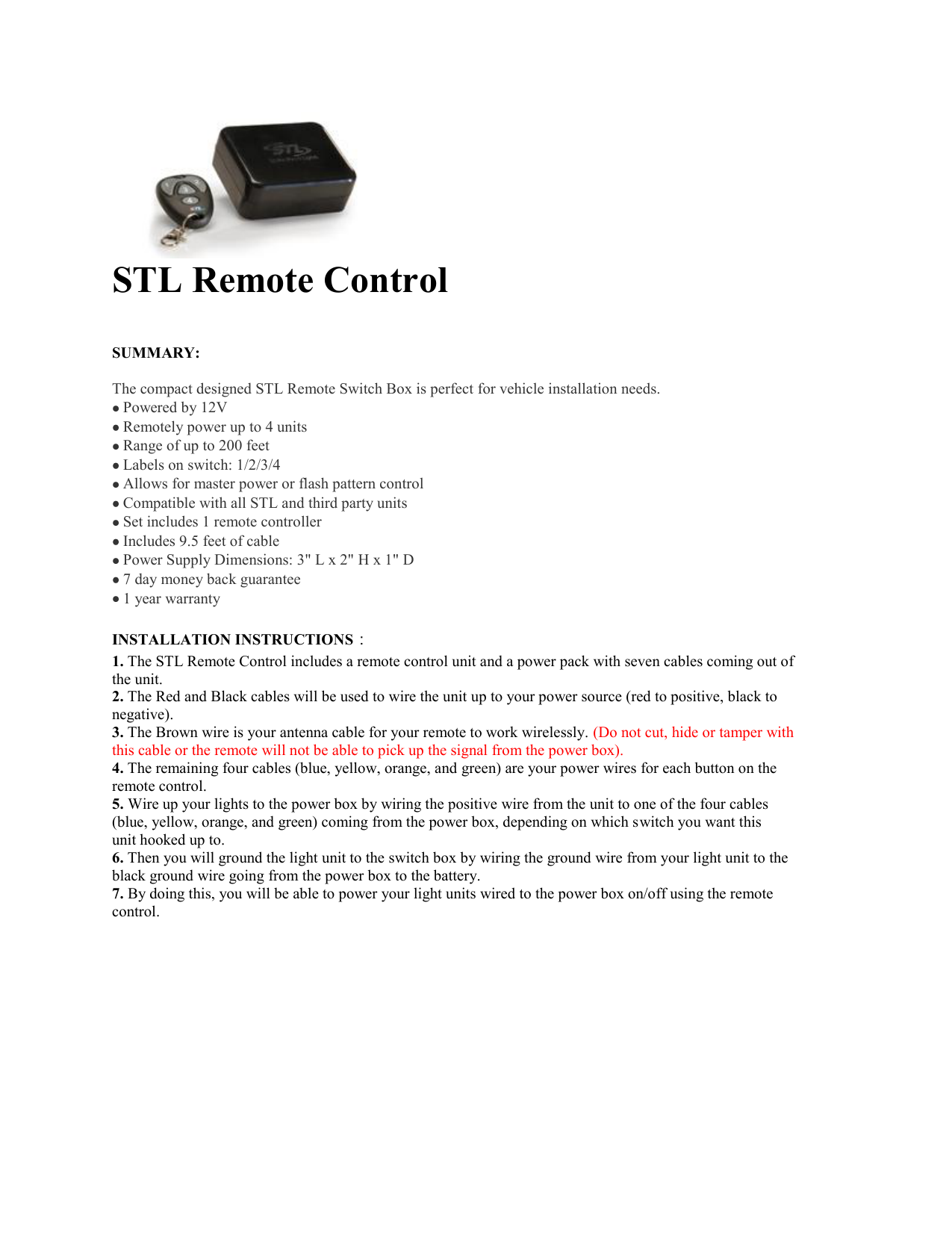 STL Remote Control
SUMMARY:
The compact designed STL Remote Switch Box is perfect for vehicle installation needs.
Powered by 12V
Remotely power up to 4 units
Range of up to 200 feet
Labels on switch: 1/2/3/4
Allows for master power or flash pattern control
Compatible with all STL and third party units
Set includes 1 remote controller
Includes 9.5 feet of cable
Power Supply Dimensions: 3" L x 2" H x 1" D
7 day money back guarantee
1 year warranty
INSTALLATION INSTRUCTIONS:
1. The STL Remote Control includes a remote control unit and a power pack with seven cables coming out of
the unit.
2. The Red and Black cables will be used to wire the unit up to your power source (red to positive, black to
negative).
3. The Brown wire is your antenna cable for your remote to work wirelessly. (Do not cut, hide or tamper with
this cable or the remote will not be able to pick up the signal from the power box).
4. The remaining four cables (blue, yellow, orange, and green) are your power wires for each button on the
remote control.
5. Wire up your lights to the power box by wiring the positive wire from the unit to one of the four cables
(blue, yellow, orange, and green) coming from the power box, depending on which switch you want this
unit hooked up to.
6. Then you will ground the light unit to the switch box by wiring the ground wire from your light unit to the
black ground wire going from the power box to the battery.
7. By doing this, you will be able to power your light units wired to the power box on/off using the remote
control.

* Your assessment is very important for improving the work of artificial intelligence, which forms the content of this project