Philips 046677419431 Datasheet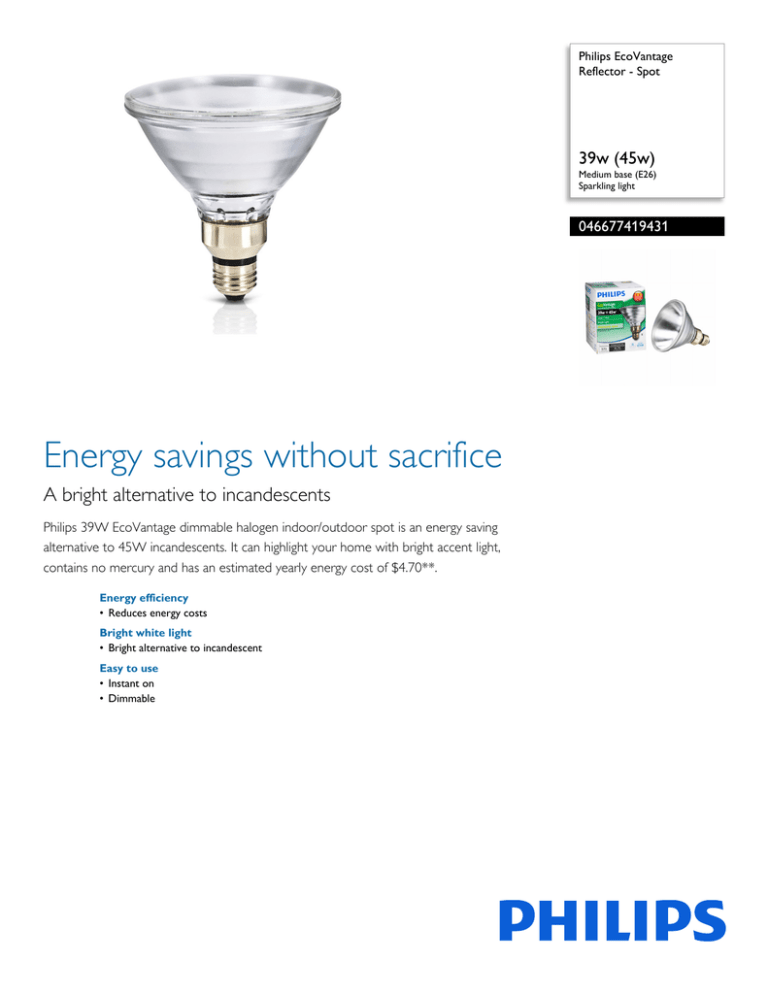 Philips EcoVantage
Reflector - Spot
39w (45w)
Medium base (E26)
Sparkling light
046677419431
Energy savings without sacrifice
A bright alternative to incandescents
Philips 39W EcoVantage dimmable halogen indoor/outdoor spot is an energy saving
alternative to 45W incandescents. It can highlight your home with bright accent light,
contains no mercury and has an estimated yearly energy cost of $4.70**.
Energy efficiency
• Reduces energy costs
Bright white light
• Bright alternative to incandescent
Easy to use
• Instant on
• Dimmable
046677419431
Reflector - Spot
39w (45w) Medium base (E26), Sparkling light
Specifications
Bulb characteristics
•
•
•
•
•
Highlights
• Color temperature: 2900 K
• Light output: 570 lumen
• Light effect/finish: Clear
Shape: Reflector Spot
Type: PAR38
Base: Medium Screw (E26)
Voltage: 120 V
Dimmable
Instant on
Durability
• Average life (at 2.7 hrs/day): 1 year(s)
• Lifetime of lamps: 1100 hour(s)
Power consumption
Bulb dimensions
• Wattage: 39 W
• Wattage equivalent: 45 W
• Height: 5.44 inch
• Width: 4.31 inch
Light characteristics
•
• Color rendering index (CRI): 100
Just by flipping the switch, your room is at full
brightness. No slow starting or waiting.
Alternative to incandescent
This EcoVantage halogen light bulb provides a bright,
white light that is ideal for creating a refreshing
atmosphere in your home.
Dimmable
This bulb can be used with most dimmers to create
your desired ambience.
Reduces energy costs
This EcoVantage bulb saves up to 13%*** in electricity
costs when compared to a 45W incandescent.
Issue date 2014-08-09
© 2014 Koninklijke Philips N.V.
All Rights reserved.
Version: 5.0.1
Specifications are subject to change without notice.
Trademarks are the property of Koninklijke Philips N.V.
or their respective owners.
12 NC: 9257 062 36301
www.philips.com
* 1 year means rated average life based on engineering testing and
probability analysis where the bulb is used on average 3 hours/day, 7
days a week.
* *Based on 3 hrs/day, 11¢/kWh. Cost depends on rates and use.
* **Compared to a 45 watt Halogen PAR38 rated at 530 lumens, this 39
watt PAR38 EcoVantage provides 570 lumens and saves 13% energy.

* Your assessment is very important for improving the work of artificial intelligence, which forms the content of this project