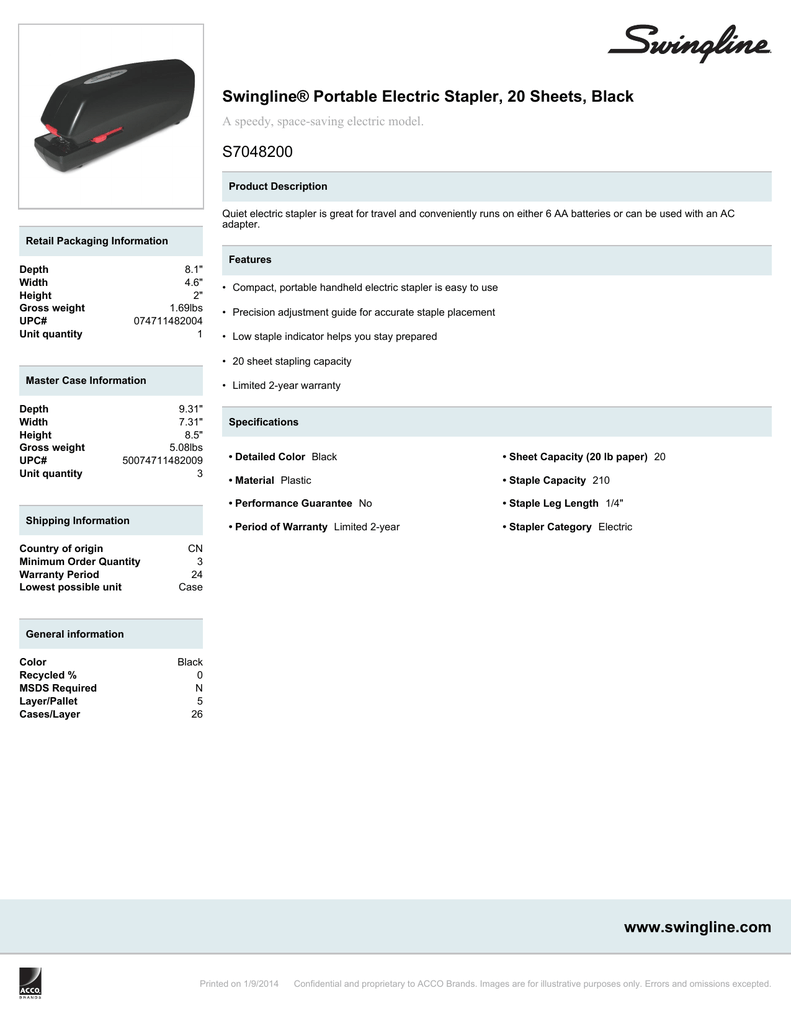 Swingline® Portable Electric Stapler, 20 Sheets, Black
A speedy, space-saving electric model.
S7048200
Product Description
Quiet electric stapler is great for travel and conveniently runs on either 6 AA batteries or can be used with an AC
adapter.
Retail Packaging Information
Features
Depth
Width
Height
Gross weight
UPC#
Unit quantity
8.1"
4.6"
2"
1.69lbs
074711482004
1
• Compact, portable handheld electric stapler is easy to use
• Precision adjustment guide for accurate staple placement
• Low staple indicator helps you stay prepared
• 20 sheet stapling capacity
Master Case Information
Depth
Width
Height
Gross weight
UPC#
Unit quantity
• Limited 2-year warranty
9.31"
7.31"
8.5"
5.08lbs
50074711482009
3
Shipping Information
Country of origin
Minimum Order Quantity
Warranty Period
Lowest possible unit
Specifications
• Detailed Color Black
• Sheet Capacity (20 lb paper) 20
• Material Plastic
• Staple Capacity 210
• Performance Guarantee No
• Staple Leg Length 1/4"
• Period of Warranty Limited 2-year
• Stapler Category Electric
CN
3
24
Case
General information
Color
Recycled %
MSDS Required
Layer/Pallet
Cases/Layer
Black
0
N
5
26
www.swingline.com
Printed on 1/9/2014
Confidential and proprietary to ACCO Brands. Images are for illustrative purposes only. Errors and omissions excepted.

* Your assessment is very important for improving the work of artificial intelligence, which forms the content of this project