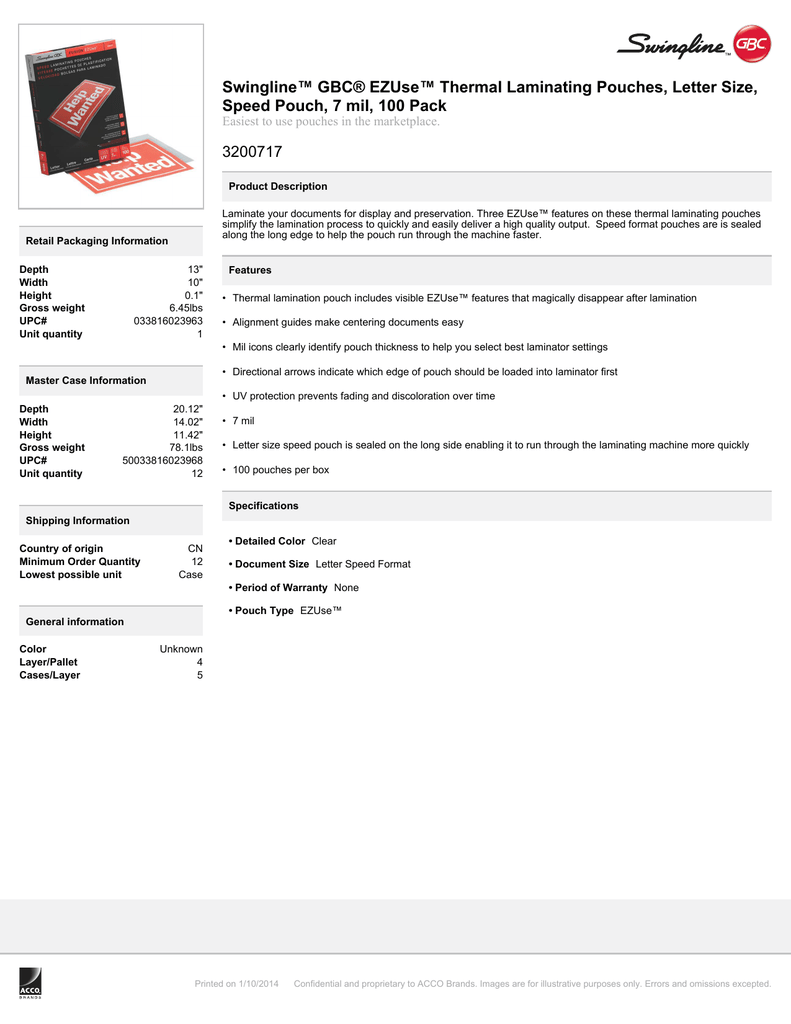 Swingline™ GBC® EZUse™ Thermal Laminating Pouches, Letter Size,
Speed Pouch, 7 mil, 100 Pack
Easiest to use pouches in the marketplace.
3200717
Product Description
Laminate your documents for display and preservation. Three EZUse™ features on these thermal laminating pouches
simplify the lamination process to quickly and easily deliver a high quality output. Speed format pouches are is sealed
along the long edge to help the pouch run through the machine faster.
Retail Packaging Information
Depth
Width
Height
Gross weight
UPC#
Unit quantity
13"
10"
0.1"
6.45lbs
033816023963
1
Features
• Thermal lamination pouch includes visible EZUse™ features that magically disappear after lamination
• Alignment guides make centering documents easy
• Mil icons clearly identify pouch thickness to help you select best laminator settings
• Directional arrows indicate which edge of pouch should be loaded into laminator first
Master Case Information
• UV protection prevents fading and discoloration over time
Depth
Width
Height
Gross weight
UPC#
Unit quantity
20.12"
14.02"
11.42"
78.1lbs
50033816023968
12
• 7 mil
• Letter size speed pouch is sealed on the long side enabling it to run through the laminating machine more quickly
• 100 pouches per box
Specifications
Shipping Information
Country of origin
Minimum Order Quantity
Lowest possible unit
CN
12
Case
• Detailed Color Clear
• Document Size Letter Speed Format
• Period of Warranty None
• Pouch Type EZUse™
General information
Color
Layer/Pallet
Cases/Layer
Unknown
4
5
Printed on 1/10/2014
Confidential and proprietary to ACCO Brands. Images are for illustrative purposes only. Errors and omissions excepted.

* Your assessment is very important for improving the work of artificial intelligence, which forms the content of this project