installation instructions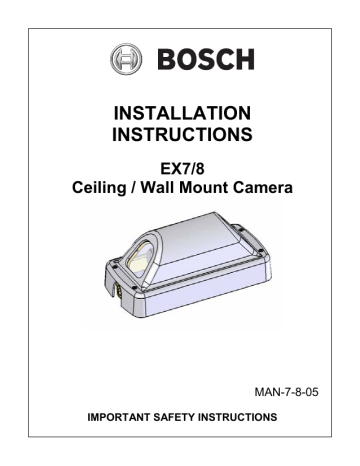 INSTALLATION
INSTRUCTIONS
EX7/8
Ceiling / Wall Mount Camera
MAN-7-8-05
IMPORTANT SAFETY INSTRUCTIONS
1. Read these instructions.
2. Keep this instruction.
5. Do not use this apparatus near water.
6. Clean only with dry cloth.
7. Do not block any ventilation openings. Install in accordance with manufacturer instructions.
8. Do not install near any heat sources such as radiators, heat registers, stoves or other apparatus
(including amplifiers) that produce heat.
9. Do not defeat the safety purpose of the polarized or grounding-type plug. A polarized plug has two blades with one wider than the other. A grounding type plug has two blades and a third grounding prong. The wide blade or the third prong is provided for your safety. If the provided plug does not fit into your outlet, consult an electrician for replacement of the obsolete outlet.
10. Protect the power cord from being walked on or pinched particularly at plugs, convenience receptacles, and the power where they exit from the apparatus.
11. Only use attachments/accessories specified by the manufacturer.
12. Use only with the cart, stand, tripod, bracket, or table specified by the manufacturer, or sold with the apparatus. When a cart is used, use caution when moving the cart/apparatus combination to avoid injury from tip-over.
13. Unplug this apparatus during lightning storms or when unused for long periods of time.
14. Refer all servicing to qualified service personnel.
Servicing is required when the apparatus has been damaged in a way, such as power-supply cord or plug is damaged, liquid has been spilled or objects have fallen into the apparatus, the apparatus has been exposed to rain or moisture, does not operate normally, or has been dropped.
IMPORTANT
For best results, please read this Instruction Booklet prior to installing the
EX7/8 Camera
WARNING !
CSA Certified / UL Listed CLASS 2 power adaptors must be used in order to comply with electrical safety standards.
Bosch Security Systems, Inc. will not be responsible for
injuries or damages resulting from the improper installation or use of any product sold by
Bosch Security Systems, Inc their agents,
distributors or dealers.
NOTE: This equipment has been tested and found to comply with the limits for a digital device, pursuant to part
15 of the FCC rules. These limits are designed to provide reasonable protection against harmful interference in a residential installation. As part of its' normal operation this device can generate radio frequency energy and if not installed and used in accordance with the installation manual may cause interference to radio communications.
However, there is no guarantee that interference will not occur on a particular installation. If the device does cause interference to radio or television reception the user is encouraged to try to correct the interference by one or more of the following measures:
1) Fit Ferrite beads on all cable to and from the power supply box, within the box walls.
2) Route the composite cable between the camera and the power supply in steel conduit piping over the entire run of the cable up to and including connection to a deep conduit base fitted under the camera and a conduit fitting adaptor in the wall of the PSU box.
3) Contact BOSCH Service Center for further advice.
INDEX PAGE
Description……………………………………………..….1
Unpacking……………………………………………..…..2
Parts List…………………………………………………..2
Items Required for Installation…………………………..2
Initial Preparations………………………………………..3
Guidelines…………………………………………………3
Mechanical Specifications……………………………….4
SECTION
1. Camera Housing –
Internal Modules, Locations and Access…………..5
2. Power Input Wiring Connections……………………6
3. Mounting – Camera Housing………………………..7
4. Camera Lens – Settings and Adjustments…………9
5. Camera Re-Assembly………………………………..13
6. Troubleshooting Guide……………………………….14
7. Mounting Hole Template ……………………………16
8. General Specifications ………………………………17
DESCRIPTION
The EX7/8 Ceiling or Wall Mount Camera features one or two CCD sensors to view "coming and going" images.
This is ideal for use in prison corridors, school hallways and underground parking garages. The camera is extremely durable due to its welded metal housing shape and polycarbonate viewing windows. The EX7/8 is also weatherproof, making it perfect for outdoor use.
Cameras are available in monochrome & color.
Voltage regulator circuits automatically allow 12V dc or
24V ac operation without any wiring changes. Its' wider voltage range also provides protection from voltage surge, transient spikes, and reverse voltage.
The difference between the EX7 and the EX8 is the EX7
Camera is a single sensor version and the EX8 is a dual sensors version.
- 1 -
UNPACKING
Care should be taken when unpacking the shipped unit.
Check the parts list and confirm all items have been located.
Inspect the equipment thoroughly to ensure nothing was damaged in transit.
Contact BOSCH Service Center if a problem is noted, see the rear page of this booklet for contact numbers.
PARTS LIST (items supplied with unit)

One security Allen key.
Instructions.
ITEMS REQUIRED FOR INSTALLATION (not supplied)
 Phillips
 Small slotted screwdriver.
 Hardware for camera mounting (bolts, etc.)
- 2 -
INITIAL PREPARATIONS
•
Determine the operating voltage at the installation site. The camera's Voltage Regulator Board accepts both 12VDC and 24VAC input without change to internal connections.
•
Determine the optimum location for the camera.
Section 3, Mounting-Camera Housing.
•
The factory default is set for ceiling mount. For unique designation wall mount, see section 4.
•
All cameras have been tested prior to shipment.
The factory default is set for ceiling mount. After the wiring has been reconnected, it is advisable to check the camera's operation before installation.
GUIDELINES
Four requirements must be met before the
EX7/8 can
be installed. The sections listed below will aid the installer in setting up the camera for these requirements.
Section 2. Power Input Wiring Connections
Section 3. Mounting-Camera Housing
Section 4. Camera Lens – Settings and Adjustments
Section 5. Camera Re-Assembly
- 3 -
MECHANICAL SPECIFICATIONS
(See Section 8 - General Specifications, for more
information)
SIDE VIEW
FRONT VIEW
- 4 -
1. CAMERA HOUSING – INTERNAL MODULES,
LOCATIONS and ACCESS
Step 1.1 - Remove the four security screws holding the welded housing to the chassis assembly. Use the supplied Allen key.
Step 1.2 - Carefully separate the housing from the chassis assembly, ensuring the wires are not displaced and the camera lens is not damaged.
FIGURE 1 – 1
Camera Chassis Assembly –
Fixed Lens& Vari Focal "Auto-Iris" Lens
Section 4 explains how to adjust the lens for tilt and focus.
- 5 -
2. INPUT POWER / VIDEO OUTPUT CONNECTIONS
The camera unit is pre-connected with an electrically isolated power boards for 24VAC or 12VDC operation with no wiring change or wiring polarity.
See Figure 2-1
for wiring details.
Note:
Input voltage is 10.5VDC to 40VDC for DC input.
The AC input range is 12VAC to 28VAC.
NOTE: Section 3 explains the camera's mounting procedure. It would be advantageous to the installer if the power and video wires from their remote source could be routed into the electrical box at this time. This would make the connections to the camera easier during the mounting process.
FIGURE 2-1
12VDC or 24VAC
Electrically Isolated
Board
Power
IN
Power
OUT
- 6 -
3. MOUNTING – CAMERA HOUSING
Caution: Ensure the selected location is protected from falling objects, accidental contact with moving objects, and unintentional interference from personnel. Follow all applicable building codes.
The following installation guidelines must be followed:
• Locate the camera such that it cannot be easily interfered with, either intentionally or accidentally.
• Select a mounting surface capable of supporting the combined weight of the camera and mounting hardware under all expected conditions of vibration and temperature. Installations on drywall must use #8 screws and #8 drywall nylon plugs or a superior connection.
• Secure all cabling.
The mounting holes are configured for a single-gang electrical box or a ceiling electrical box. See Section 7 for the mounting template.
- 7 -
Step 3.1 Feed the camera's power & video cables through the foam gasket at the bottom of the camera chassis.
Step 3.2 Connect these cables to the power & video cables that have been routed from their remote location into the electrical box.
Step 3.3 Mount the camera housing to the electrical box and ceiling as shown in Figure 3-1 below.
FIGURE 3 – 1
Camera Chassis Mounting (Camera / Lens Assembly not shown for clarity)
- 8 -
4. CAMERA LENS – SETTINGS and ADJUSTMENTS
For optimum picture quality, the lens should be as close as possible to the inside face of the viewing window, without touching.
For unique designation wall mount, rotate the camera to desire location.
Power should be applied when performing the following adjustments.
4.1 Lens Clearance and Tilt Adjustments
Step 4.1.1 - Loosen the screws which secure the camera's
"slide and tilt" bracket.
Step 4.1.2 - Slide the bracket to its new location, tilt the lens and re-tighten the screws. See Figures 4-1 .
Rotate for unique designation
FIGURE 4 – 1
Tilt and Slide Adjustments –
Fixed Lens& Vari Focal "Auto-Iris" Lens
- 9 -
4.2 Vari Focal and "Auto-Iris" Control Adjustments
Step 4.2.1 - Loosen the lens set screws for focus/zoom adjustments. See Figure 4-2
Step 4.2.2 - The set screw marked
N ←→ ∞ is used for
image focus.
Step 4.2.3 - The set screw marked
T←→ W is used for
telephoto or wide-angle settings.
Step 4.2.4 - Re-tighten the set screws after focus adjustments have been completed.
Step 4.2.5 - Locate the "Auto-Iris" adjustment controls as shown in Figure 4-3 and adjust as per Table
A.
FIGURE 4 – 2 Lens Focus Adjustment
- 10 -
FIGURE 4 – 3
Adjustments, AI Control
Table A – Brightness Level Adjustment
Brightness LEVEL Adjustment
For a brighter picture Turn towards
"H"
For a darker picture Turn towards
"L"
- 11 -
Use a Neutral Density filter or Infra-Red Pass filter to cover the lens during focusing to simulate low light conditions on scene for correct 24-hour focusing. For camera with varifocal lens, the camera should be focused with the lens iris fully opened to simulate the worst possible depth of field.
Using a Neutral Density filter or Infra-Red Pass filter will ensure the iris is fully open for correct setup and adjustment.
Note that statement above is applicable only for Day/Night or
IR version cameras.
- 12 -
5. CAMERA RE-ASSEMBLY
Make sure all wires are properly connected and tightened into the terminal blocks, all holes are sealed against moisture penetration, and all mounting screws are tight.
Step 5.1 - Gently press the camera housing in place. Ensure the lens is not touching the inside of the viewing window.
Step 5.2 - Tighten the housing in place with the four security screws and the supplied Allen key.
Step 5.3 - Wipe the viewing window with a soft cloth to remove any smudges or dirt.
Step 5.4 - Check the camera for proper operation.
- 13 -
6. TROUBLESHOOTING GUIDE -CAMERA
PROBLEM POSSIBLE
CAUSE
LIKELY SOLUTION
No Video
1. Power
Supply:
-Connections
-Voltage
Range
2. Video
Connections
Check the input power connections at the terminal block, ensuring no wires are loose.
The supply range is:
12 – 28VAC OR
10.5 – 40VDC.
Measure the voltage at the terminal block.
Determine if the wiring polarity at the "Video Connector" terminal block is correct.
Check BNC connector.
If still no video, connect the camera directly to the monitor.
Check the video signal. If okay, the problem is with the interconnections.
If still no video, contact BOSCH
Service Center. See rear page
- 14 -
Poor
Picture
Quality
Dim Image
Snowy
Image
Horizontal
Scan Lines,
Rolling Up or Down
Negative, scrambled, or faded image
Iris closed
Poor Video
Signal
Noisy Power
Supply
Ground
Looping on video cable
Low voltage of this manual for contact information.
Increase iris level on lens
Ensure the video cable is correctly matched and terminated with 75 ohms at each end.
Make sure the video cables are of similar types.
Check all power connections.
Relocate or replace the power supply.
Check the coax cable shield is not touching "ground", e.g. at the couplings.
An electrically isolated circuit board or isolation transformer may be required.
Check voltage at input power cable.
Must be >12V dc or >17V ac.
Video leads reversed connection.
- 15 -
7.
Mounting Hole - Diagram
- 16 -
8. GENERAL SPECIFICATIONS
Input Voltage: 12V dc or 24V ac (60Hz), 3.6W
Temperature Range: -50
0
C -- 60
0
C (-58
0
F --140
0
F)
Enclosure (housing): Electrolytic Steel Plate
Viewing Window: Polycarbonate
Dimensions: 82.6 mm
H ( 3.25" )
117.5 mm
W ( 4.625" )
273.1
Weight: 1.36 kg ( 3.0 lbs. )
Subject to change without notice.
- 17 -
Americas
Bosch Security Systems, Inc.
850 Greenfield Road
Lancaster, Pennsylvania 17601
USA
Telephone+1 888-289-0096
Fax +1 585-223-9180
Email: [email protected] www.boschsecurity.us
Europe, Middle East, Africa:
Bosch Security Systems B.V.
P.O. Box 80002
5600 JB Eindhoven,
The Netherlands
Phone: + 31 40 2577 284
Fax: +31 40 2577 330 [email protected] www.boschsecurity.com
Asia-Pacific:
Bosch Security Systems Pte Ltd
38C Jalan Pemimpin
Singapore 577180
Phone: +65 6319 3450
Fax: +65 6319 3499 [email protected] www.boschsecurity.com
© Bosch Security Systems, Inc. 2009; Data subject to change without notice.
* Your assessment is very important for improving the work of artificial intelligence, which forms the content of this project