Making advanced techniques look effortless.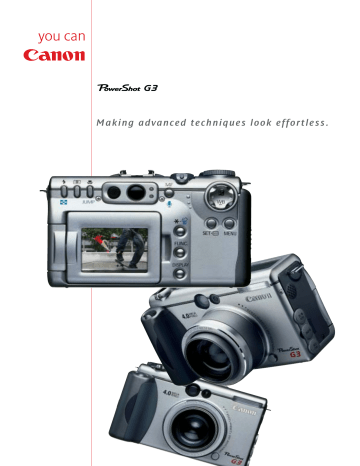 M a k i n g a d v a n c e d t e c h n i q u e s l o o k e f f o r t l e s s .
E x p e r i m e n t . I n v e n t . L e t g o .
It's all up to you with the new PowerShot G3. A digital camera destined to capture your imagination as well as super-sharp images. The secret behind the new
PowerShot G3 isn't just one innovative feature. It's the intuitive way all of its advanced technology works together to make tricky shots look simple.
Pick any one of an almost endless combination of shooting modes to get it just right – from complete control to full automatic mode. Add accessories from a wide selection and see what you can really do. Get right into the action with a powerful
4x optical zoom, and admire realistic images.
The PowerShot G3 effortlessly links up with the latest image management technology.
It is compatible with PC and Mac software allowing for fast, accessible image manipulation. With Direct Print you can also print directly from your camera and have what you've been looking for in seconds.
The PowerShot G3 is fast and powerful.
And with over 60 years of Canon know-how packed into its sturdy shell, when you need performance, it's yours. It is a complete digital image machine, built to handle almost any situation with ease.
Are you ready?
S t a y s h a r p .
The PowerShot G3 is intuitive enough to understand that every image is a new creation. It captures exactly what you see. Not just colour, light and shade, but the whole picture. The mood, the feeling, the memory. It does this by making sure that every element of its digital camera technology works together in the most effective and efficient way possible.
L E N S T E C H N O L O G Y
Canon has obtained more patents on zoom lenses than any other manufacturer.
That's why the PowerShot G3 lens is in a league of its own. It is a super-quick, highresolution 4x optical zoom lens (f2.0 - 3.0) with a focal length of 7.2 to 28.8 mm
(35 - 140 mm equivalent in 35 mm format).
This gives you a larger zoom range and a faster aperture, especially useful in low light conditions. Also, there's no step drop in resolution when you cross over to the digital zoom function. It's a completely smooth ride.
S E N S O R T E C H N O L O G Y
Precision construction and a combination of 8 elements in 7 groups allow for extremely fast focusing and crystal clear images.
Like you, the PowerShot G3 has an eye for detail. With its 4.0 Megapixel CCD sensor providing greater image sensitivity and an exact reading of every scene. Images stay sharp, even when printing up to A3.
i S A P S T E C H N O L O G Y
P R O C E S S I N G T E C H N O L O G Y
By combining Canon's unique knowledge of shooting tendencies with years of research, the PowerShot G3 can now make digital representations of the outside world with iSAPS (intelligent Scene Analysis based on PhotoSpace).
To be the best at what you do, you have to have an edge. Canon calls it DIGIC (DIGital
Imaging Core) - the digital heart of the
PowerShot G3.
This new, high-performance data processing unit combines Image Control, Signal processing, Auto Exposure (AE), Auto Focus
(AF) and Auto White Balance (AWB) functions, JPEG compression, Compact
Flash Card Control and LCD monitor display.
This gives you enhanced colour reproduction and faster processing of images (useful for continuous shooting).
This advanced image evaluation technology quickly analyzes each new scene based on zoom position, luminance and brightness.
iSAPS allows faster auto-focusing, accurate auto-exposure and precise auto white balancing to give you images just as you remember them.
high frequency low near subject distance far dark bright luminance
E x p l o r e t h e p o s s i b i l i t i e s .
Art? Reality? Happy snap? You decide, with different modes offering you everything from complete creative control to barely having to lift a finger.
The PowerShot G3 contains a full set of scene-based and creative shooting modes, as well as a custom mode where you can set and store parameters to suit your photographic style.
Shutter speed priority for capturing motion.
What's more, the PowerShot G3 has separate shutter and aperture functions.
Offering you extensive manual control in a digital camera. Open shutter, closed aperture, less light for longer – whichever you choose, your options are wide open.
P R O G R A M M E D I M A G E C O N T R O L
( P I C ) Z O N E
T H E C R E A T I V E Z O N E
Here, you're the boss. With separate shutter and aperture functions – Av for aperture priority shots and Tv for shutter priority shots – you even have full manual control.
You can also set your own custom modes for shooting exactly as you like.
Portrait shot
In the PIC Zone you can set the PowerShot
G3 for specific compositions. Select from portrait shot, landscape, night scene, Stitch
Assist or movie mode. You can also work freely within these set operating modes with consistent results.
F L E X I Z O N E A F / A E
With FlexiZone AF/AE you can move your auto-focus point to focus on almost any part of your chosen subject area . Exposure is then automatically adapted to ensure absolute image clarity based on your selected focus area.
A U T O Z O N E
Don't feel like making adjustments every time you shoot? In the Auto Zone impressive images are effortlessly created with AE, AF and AWB.
R A W M O D E
RAW Mode enables image data to be recorded with loss-less compression and therefore no reduction in quality. After uploading it to your PC you can manipulate and edit as you like. The PowerShot G3 also lets you save an image as a RAW file even when shooting in jpeg. Making sure your once-in-a-lifetime shots can be stored and retrieved 100%.
F O C U S B R A C K E T I N G
Focus bracketing is the PowerShot G3's way of anticipating your demands. The camera automatically takes three shots of a subject, changing focus between the three.
Especially useful for Macro photography.
Focus in front.
Focus behind.
Normal focus.
S e e t h i n g s f r o m a n e w a n g l e .
Down low, up high, pictures of yourself ?
You can now shoot from almost any angle with the manoeuvrable, high-resolution
PowerShot G3 LCD screen.
You won't struggle to put your finger on what it is that makes the PowerShot G3 such a pleasure to use. It's the new jog dial.
Combined with the accessible Function button, it makes navigating through the
PowerShot G3's many creative options a breeze. You can also access additional features effortlessly on the user-friendly menu screen. No problem.
Ergonomic handgrip. Get hold of every composition.
Flexible LCD Screen. Set the angle to suit your shot.
P u s h y o u r l i m i t s .
The PowerShot G3 is compatible with a host of accessories you can put to the test, or be tested by. The Macro Twin Lite
MT-24EX, for example, gives softer, more even light distribution for Macro close-up shooting. And the rest of the The Speedlite
EX flash series ensure that you can always get the lighting right for your shot.
A range of innovative accessory lenses are also ready for everything from extreme close-ups to wide-angle shots.
The possibilities to stretch your creative boundaries are endless.
Dedicated Tele Converter brings things even closer.
C O M P A T I B I L I T Y C H A R T
P O W E R S U P P LY
BATTERY
R E C H A R G E A B L E B A T T E R Y
BP-511 Li-ion Video acc.
BP-512 Li-ion Video acc.
AC POWER SUPPLY KIT
A C A D A P T E R
CA560
CR560
Video acc.
Car Batt. Video acc.
I N T E R F A C E C A B L E
AUDIO/VIDEO CABLE
AVC-DC100 AV Cable
PC INTERFACE CABLE/ADAPTER
D I R E C T P R I N T I N T E R F A C E C A B L E
DIF-100 connection to CP-10/CP-100
C A M E R A C A S E S
SOFT/HARD CASE
S O F T C A S E
SC-DC10
O T H E R A C C E S S O R I E S
SPEEDLITE
220EX
380EX
EOS acc.
EOS acc.
420EX
550EX
MR-14EX
MT-24EX
EOS acc.
EOS acc.
Macro Ring Lite / EOS acc.
Twinlite / EOS acc.
CONVERSION LENS
WC-DC58N Wide Conv.
TC-DC58N
LA-DC58B
250D 58mm
Tele Conv.
Lens Adapt.
Close up / EOS acc.
REMOTE SWITCH
WL-DC100 Wireless
K e e p i m p r o v i n g .
With the new PowerShot G3 there's just no stopping. Its companion software makes image management and manipulation easier than ever before. You can rotate, resize or crop images quickly and easily, add text, change contrast, and apply filters.
In short, you can do almost anything you like with the new, accessible ZoomBrowser
EX 4.0 user interface. You can also do it quickly, as it is now even faster.
With PhotoStitch you can also make large panoramas. Create a 360 degree view from the top of a mountain, or show an expansive piece of architecture as if you were standing right in front of it. It just keeps getting better.
The new, accessible
ZoomBrowser EX 4.0
user interface.
S h o w t h e w o r l d .
Simply connect your PowerShot G3 to any
Canon Bubble Jet Direct Printer, or any
Canon Card Photo Printer and get glossy images direct from your camera. You can even crop to your liking right there and then. So if you're in another country, or just in a hurry, you can print instantly without a
PC. Exif Print compatibility is now also standard with the PowerShot G3. This new file format stores more detailed digital information for truer to life prints.
So, why wait? Connect, select, print and show what you can do, today.
1
C O N N E C T
2
S E L E C T
3
P R I N T
P O W E R S H O T G 3 S P E C I F I C A T I O N S
CCD:
Size:
Effective Number of Pixels:
Total Number of Pixels:
Filter Array:
1/1.8 inch
Approx. 4.0 M Pixels (2,308 x 1,712)
Approx. 4.1 M Pixels (2,384 x 1,734)
Primary Colour Filter
Image Processor:
DIGIC
Lens:
Focal Length (optical):
Maximum Aperture:
Construction:
7.2 (W) – 28.8 (T) mm
(35mm film equivalent: 35 – 140 mm)
F2.0 (W) / F3.0 (T)
8 elements in 7 groups (2 aspherical elements)
Digital Zoom:
Approx. 3.6x [Maximum 14x digital zoom is available combined with optical zoom]
Focusing Method:
TTL auto-focus (Continuous or Single)
FlexiZone AF/AE or Centre Point
AF lock, Manual focus and Focus Bracketing are available
Focusing Range:
Normal AF:
Macro AF:
Manual Focus:
50 cm – infinity
5 cm (W) / 15 cm (T) – 50 cm
5 cm (W) / 15 cm (T) – infinity
Light Metering Method:
Evaluative / Centre-weighted average / Spot metering
Exposure Control Method:
Programme AE, Shutter priority AE, Aperture-priority AE and Manual. AE Lock is available
Exposure Compensation:
+/- 2.0EV [at every 1/3-stop]
Auto Exposure Bracketing (AEB) is available
White Balance Control:
TTL White Balance
White Balance Modes:
Auto, 6 presets [Daylight, Cloudy, Tungsten, Fluorescent, Fluorescent High, Flash], and Custom 1 & 2
Shutter Speed:
15 – 1/2,000 sec
Slow Shutter of 1.3 sec and more, available in Manual and Tv modes only, operate with noise reduction
Equivalent Film Speed:
Auto, ISO 50 / 100 / 200 / 400
Viewfinder:
Real-image zoom viewfinder (with dioptre correction)
LCD Monitor:
1.8" Low-temperature Polycrystalline Silicon TFT Colour LCD (100% coverage)
Built-in Flash:
Flash Range: 0.7 – 5.0 m (W), 0.7 – 4.0 m (T) [at ISO 100 equivalent]
Flash Modes:
Auto, On/Off (Red-eye reduction On/Off)
[Slow sync and 1 st or 2 nd curtain sync can also be selected)
Flash Exposure Compensation:
+ / - 2.0EV (at every 1/3-stop) FE Lock and manual flash power adjustment is available
External Flash Support :
Canon Speedlite 220EX, (380EX), 420EX, 550EX, Macro Ring Lite MR-14EX, Macro Twin Lite
MT-24EX, Speedlite Transmitter ST-E2
Shooting Modes: Auto, Creative Zone (Program, Tv, Av, Manual and Custom 1 & 2), Programmed
Image Control Zone (Portrait, Landscape, Night Scene, Stitch assist* and Movie).
* Stitch assist mode integrates with supplied PhotoStitch software
Photo Effects Mode: Vivid / Neutral / Low Sharpening / Sepia /
Interval shooting:
Black & White / Custom
In increments of 1 - 60 min. for up to 100 shots (depending on CF card capacity)
Continuous Shooting:
High speed:
Normal:
Approx. 2.5 images / sec (shooting speed can be maintained up to 14 images)
Approx. 1.5 images / sec (shooting speed can be maintained up to 14 images)
[Large/Fine mode, when LCD monitor is turned off]
Image File Format:
Design rule for Camera File system, Digital Print Order Format [DPOF]
Version 1.1 compliant
Image Recording Format:
Still image:
Movie:
JPEG (Exif 2.2 [Exif Print] compliant) or RAW
AVI [Image data: Motion JPEG, Audio data:
WAVE (monaural)]
WAVE (monaural) Sound annotation:
JPEG Compression Levels:
Super-Fine, Fine or Normal
Recording Pixels: Still Images:
Large: 2,272 x 1,704
Medium 1: 1,600 x 1,200
Medium 2: 1,024 x 768
Small: 640 x 480
Movie Images:
Large: 320 x 240
Small: 160 x 120
Other Operations:
Playback Operations:
File Operations:
Annotations / Movie Editing:
Single / Multi / Movie (sound track can be played back with built-in speaker)/ Slide Show / Magnify (2x – 10x) / auto vertical and horizontal image orientation with
Intelligent Orientation Sensor
Single Erase / All Erase / Protect / DPOF Marking /
Transfer Order Marking / CF Card Formatting / Sound
Direct Printing CP-10 / CP-100 / S820D / S830D / S530D
Camera Settings 'My Camera' customisation (Start-up image, Start-up sound, shutter sound, operation sound, self-timer sound) , Date/Clock, LCD Menu Languages
[English, French, German Italian, Spanish, Dutch, Swedish,
Norwegian, Danish, Finnish, Japanese, Chinese]
Other Features:
Self-timer:
Signal Sound:
Wireless Control:
Remote Capture from PC:
2 or 10 seconds (or Off with wireless controller)
Camera Status and Warnings
Shooting and Playback
Available with USB interface only
(exclusive software is supplied)
Interface:
USB (Normal / PTP)
Audio/Video Output (PAL or NTSC selectable)
CompactFlash™ Type I & II (Microdrive compatible)
Supported Operating Systems:
PC:
Mac:
Windows 98 (inc. SE)/ME/2000/XP
OS 8.6 to 9.2 & OS X v10.1
Power Source:
Camera:
Date/Clock backup:
BP-511 / BP-512 Li-ion rechargeable battery*, AC adapter* and Car battery adapter
CR2016 lithium battery
*BP-511 Li-ion rechargeable battery and AC adapter are supplied.
Operating Environment:
Temperature:
Humidity:
0 – 40 °C
10 – 90 %
Weight:
Dimensions (W x D x H):
Approx. 410 g [excluding batteries and CF card]
121 x 73.9 x 69.9 mm [excluding protruding parts]
All data is based on Canon's standard testing methods. Subject to change without notice.
Some images are simulated for clarity of reproduction.
Canon Inc.
30-2 Shimomaruko
3-chome, Ohta-ku
Tokyo 146-8501
Japan
Canon Europa NV
Bovenkerkerweg 59-61
1185 XB Amstelveen
The Netherlands www.canon-europa.com
English Edition 0034W890 © 2002 Canon Europa N.V.
* Your assessment is very important for improving the work of artificial intelligence, which forms the content of this project