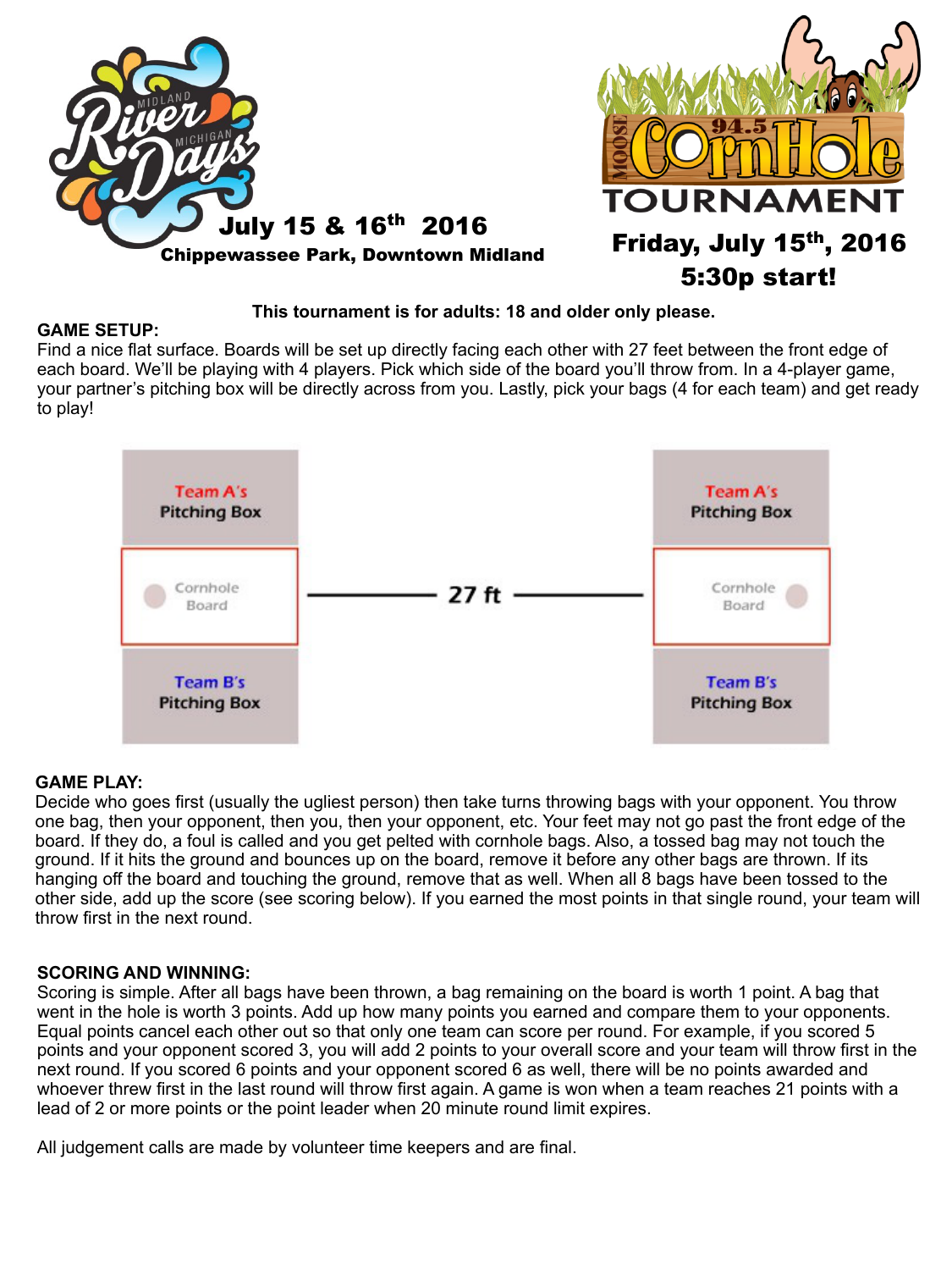 July 15 & 16th 2016
Chippewassee Park, Downtown Midland
Friday, July 15th, 2016
5:30p start!
This tournament is for adults: 18 and older only please.
GAME SETUP:
Find a nice flat surface. Boards will be set up directly facing each other with 27 feet between the front edge of
each board. We'll be playing with 4 players. Pick which side of the board you'll throw from. In a 4-player game,
your partner's pitching box will be directly across from you. Lastly, pick your bags (4 for each team) and get ready
to play!
GAME PLAY:
Decide who goes first (usually the ugliest person) then take turns throwing bags with your opponent. You throw
one bag, then your opponent, then you, then your opponent, etc. Your feet may not go past the front edge of the
board. If they do, a foul is called and you get pelted with cornhole bags. Also, a tossed bag may not touch the
ground. If it hits the ground and bounces up on the board, remove it before any other bags are thrown. If its
hanging off the board and touching the ground, remove that as well. When all 8 bags have been tossed to the
other side, add up the score (see scoring below). If you earned the most points in that single round, your team will
throw first in the next round.
SCORING AND WINNING:
Scoring is simple. After all bags have been thrown, a bag remaining on the board is worth 1 point. A bag that
went in the hole is worth 3 points. Add up how many points you earned and compare them to your opponents.
Equal points cancel each other out so that only one team can score per round. For example, if you scored 5
points and your opponent scored 3, you will add 2 points to your overall score and your team will throw first in the
next round. If you scored 6 points and your opponent scored 6 as well, there will be no points awarded and
whoever threw first in the last round will throw first again. A game is won when a team reaches 21 points with a
lead of 2 or more points or the point leader when 20 minute round limit expires.
All judgement calls are made by volunteer time keepers and are final.
2PersonTeam*
Tournament
Friday, July 15th, 2016
5:30p start
32teams/singleelimination
GrandPrizeawardedforeachtournament
plusa2ndplaceprizefortherunner-upteam.
Eachplayerreceivesalimitededitiont-shirt.**
Please Print
Team Name __________________________________________________________________________
Don Cornholio of the Team:_____________________________________________________________
Home Address ________________________________________________________________________
Phone: ____________________________Cell (if different)_____________________________________
E-mail address________________________________________________________________________
•Tournament is geared towards adults 18 and older only please. **If shirt Size is larger than an XL, please add $1 to players fee.
Entry for Tournament 1 "Just Kickn' it" for fun or 1 "Crazy-Town" for the serious players!
NAME
SHIRTSIZE**
1.
2.
CELLPHONE
EMAIL(legibleplease)
SIGNATURE
Signature Disclaimer: We hereby agree to indemnify and hold harmless Alpha Media Saginaw, the Midland Area Community Foundation
and their officers, directors, employees, agents, and volunteers, from and against any and all liability, claims, demands, causes of action,
expenses (including attorney fees), and loss or damages in any way relating to the Cornhole Tournament taking place during
Riverdays (July 2016), regardless of whether any such injury to or death of persons or damages or destruction of property is due or
claimed due to any negligence or fault of the aforementioned parties. We hereby consent to the use of any photographs or videos taken
by Alpha Media Saginaw, Riverdays Committee and/or Midland Area Community Foundation and other sponsors on the days of the events
in its promotional or fundraising materials, or for use on their websites. By signing the registration form I also verify that I am at least 18 years of
age by 7/15/2016.
www.945themoose.com/cornhole
ForInternalUseOnly
Amount Enclosed: Please make checks payable to
Alpha Media Saginaw
1795 Tittabawassee Rd, Saginaw, MI 48604
Player Fee Amount
Amount Paid
$15.00 p.p. Just Kickn' it
____________________
$25.00 Crazy Town
________________
Date Received
____________________
________________
Friday, July 17th, 2015
HELPFUL TIPS:
1. We clear the area of any debris that might ruin the bags, particularly dog poop!
2. We will measure out the 27 feet, by keeping a pre-measured string attached to the undersurface of one of the
boards. Fancy!!
3. We'll make sure your boards are in a very solid position. There is nothing worse than a moving cornhole
board. Nothing!
4. Keep in mind that if you're right handed your throwing arm will be more in line with the opposing board when
you're on the left side of the board and vice-versa if you're left-handed.
5. Cornhole is no place for children! The little stinkers love to get in the way, steal your bags, and climb on the
boards. However, studies show that a bag to the head is an excellent method for teaching children to stay away.
This is an 18 and up tournament!
6. Balance yourself by holding the other bags, a beverage, or any other random object in your non-throwing
hand. This really helps!
7. Learn to toss the bag in different ways. A low, fast pitch will knock an opponents bag off the board. A high, lofty
toss with some back spin will help you clear a barricade of bags without pushing your opponents into the hole.
Spin your bag like a pancake and it will land gracefully on the board and slide right into the hole. The list goes on
and on.
Remember: This tournament is geared towards adults. Participants must be 18 years of age by 7/16/2016 to play.
Friday, July 17th, 2015
ESSENTIAL CORNHOLE TERMS:
Don Cornholio: Team Captain
Woody, Boarder: A bag that ends up on the board.
Cornhole, Holer, Corn in the Hole: A bag that ends up in the hole.
Dos Cornhole' : Throwing two bags in the hole.
Holy Moly Triple Cornholy: Throwing 3 bags in the hole.
The Great Cornholio: A person that throws 4 bags in the hole. All present are required to bow down in
reverence to this cornholer.
Get that corn outta my face!: A term used whenever you successfully counteract your opponent's attempt to
score. For example, when you put a bag in the hole immediately after your opponent does or when you
successfully knock your opponent's bag off the board.
Corn On The Cob: When a player puts every bag on the board.
Nothin' But Corn: When a bag is tossed right through the hole without touching the board.