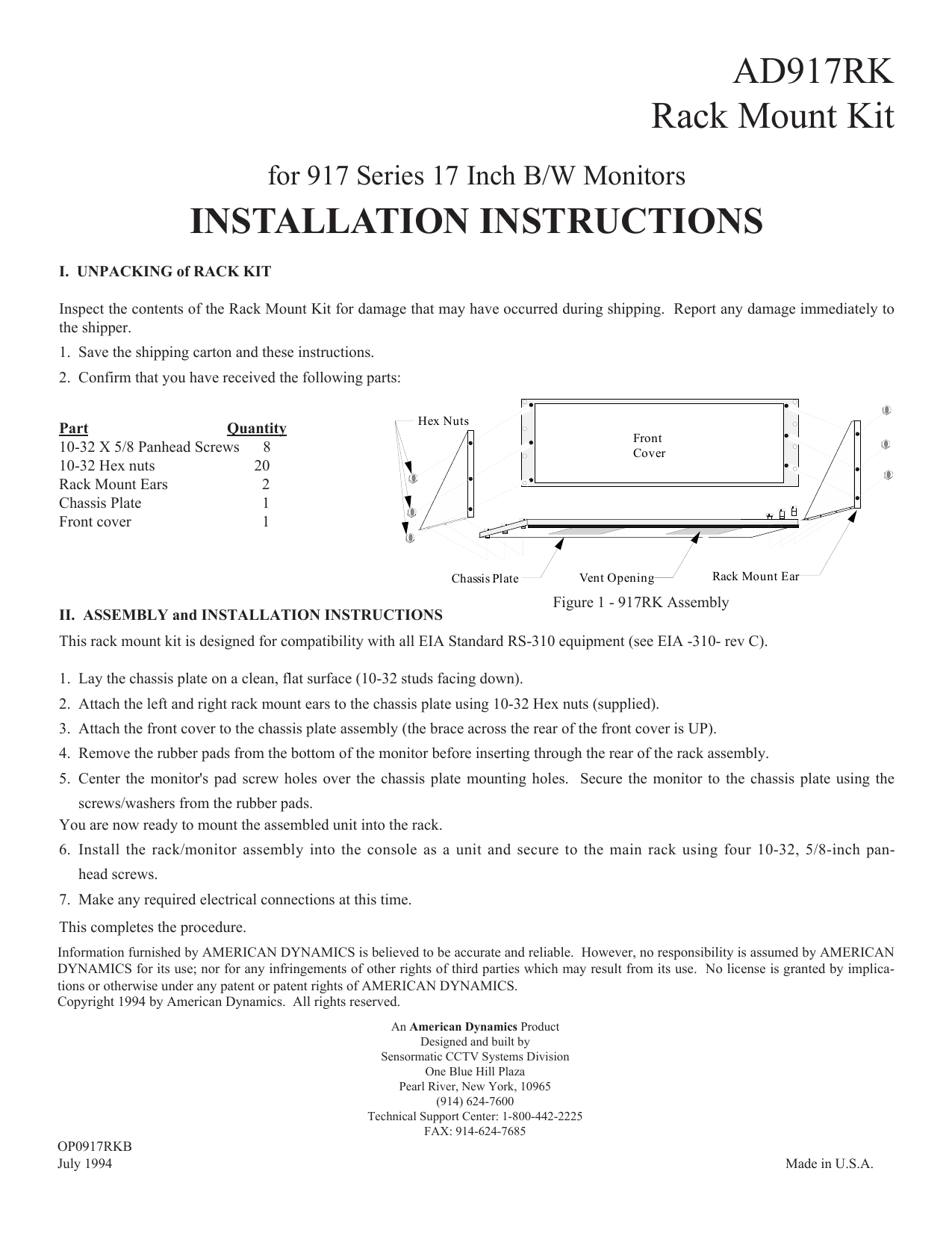 AD917RK
Rack Mount Kit
for 917 Series 17 Inch B/W Monitors
INSTALLATION INSTRUCTIONS
I. UNPACKING of RACK KIT
Inspect the contents of the Rack Mount Kit for damage that may have occurred during shipping. Report any damage immediately to
the shipper.
1. Save the shipping carton and these instructions.
2. Confirm that you have received the following parts:
Hex Nuts
Part
Quantity
10-32 X 5/8 Panhead Screws
8
10-32 Hex nuts
20
Rack Mount Ears
2
Chassis Plate
1
Front cover
1
Front
Cover
AA
A
AA
A
AA
Chassis Plate
II. ASSEMBLY and INSTALLATION INSTRUCTIONS
Vent Opening
Rack Mount Ear
Figure 1 - 917RK Assembly
This rack mount kit is designed for compatibility with all EIA Standard RS-310 equipment (see EIA -310- rev C).
1. Lay the chassis plate on a clean, flat surface (10-32 studs facing down).
2. Attach the left and right rack mount ears to the chassis plate using 10-32 Hex nuts (supplied).
3. Attach the front cover to the chassis plate assembly (the brace across the rear of the front cover is UP).
4. Remove the rubber pads from the bottom of the monitor before inserting through the rear of the rack assembly.
5. Center the monitor's pad screw holes over the chassis plate mounting holes. Secure the monitor to the chassis plate using the
screws/washers from the rubber pads.
You are now ready to mount the assembled unit into the rack.
6. Install the rack/monitor assembly into the console as a unit and secure to the main rack using four 10-32, 5/8-inch panhead screws.
7. Make any required electrical connections at this time.
This completes the procedure.
Information furnished by AMERICAN DYNAMICS is believed to be accurate and reliable. However, no responsibility is assumed by AMERICAN
DYNAMICS for its use; nor for any infringements of other rights of third parties which may result from its use. No license is granted by implications or otherwise under any patent or patent rights of AMERICAN DYNAMICS.
Copyright 1994 by American Dynamics. All rights reserved.
An American Dynamics Product
Designed and built by
Sensormatic CCTV Systems Division
One Blue Hill Plaza
Pearl River, New York, 10965
(914) 624-7600
Technical Support Center: 1-800-442-2225
FAX: 914-624-7685
OP0917RKB
July 1994
Made in U.S.A.

* Your assessment is very important for improving the work of artificial intelligence, which forms the content of this project