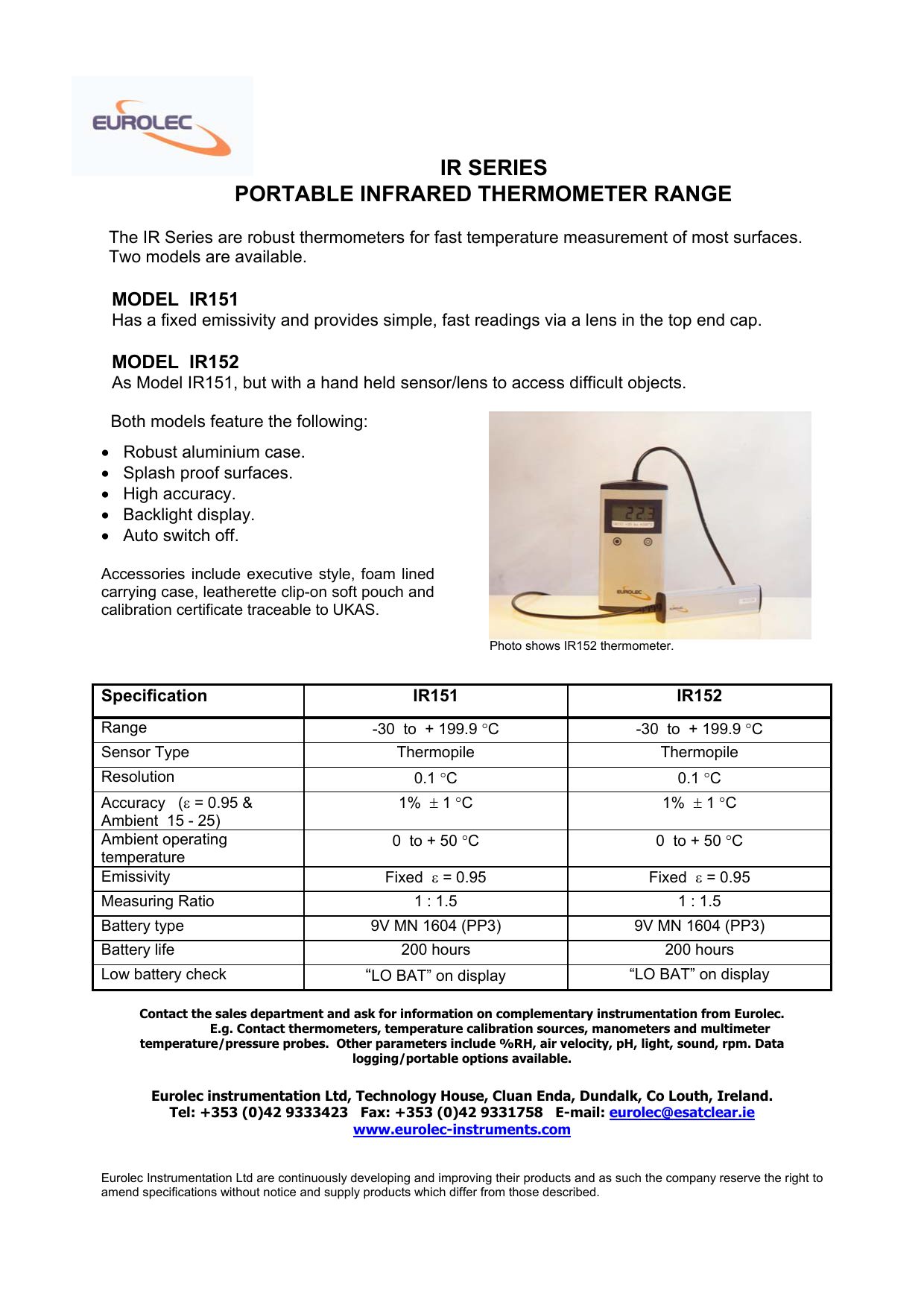 IR SERIES
PORTABLE INFRARED THERMOMETER RANGE
The IR Series are robust thermometers for fast temperature measurement of most surfaces.
Two models are available.
MODEL IR151
Has a fixed emissivity and provides simple, fast readings via a lens in the top end cap.
MODEL IR152
As Model IR151, but with a hand held sensor/lens to access difficult objects.
Both models feature the following:
•
•
•
•
•
Robust aluminium case.
Splash proof surfaces.
High accuracy.
Backlight display.
Auto switch off.
Accessories include executive style, foam lined
carrying case, leatherette clip-on soft pouch and
calibration certificate traceable to UKAS.
Photo shows IR152 thermometer.
Specification
Range
Sensor Type
Resolution
Accuracy (ε = 0.95 &
Ambient 15 - 25)
Ambient operating
temperature
Emissivity
Measuring Ratio
Battery type
Battery life
Low battery check
IR151
IR152
-30 to + 199.9 °C
Thermopile
-30 to + 199.9 °C
Thermopile
0.1 °C
0.1 °C
1% ± 1 °C
1% ± 1 °C
0 to + 50 °C
0 to + 50 °C
Fixed ε = 0.95
1 : 1.5
Fixed ε = 0.95
1 : 1.5
9V MN 1604 (PP3)
9V MN 1604 (PP3)
200 hours
200 hours
"LO BAT" on display
"LO BAT" on display
Contact the sales department and ask for information on complementary instrumentation from Eurolec.
E.g. Contact thermometers, temperature calibration sources, manometers and multimeter
temperature/pressure probes. Other parameters include %RH, air velocity, pH, light, sound, rpm. Data
logging/portable options available.
Eurolec instrumentation Ltd, Technology House, Cluan Enda, Dundalk, Co Louth, Ireland.
Tel: +353 (0)42 9333423 Fax: +353 (0)42 9331758 E-mail: eurolec@esatclear.ie
www.eurolec-instruments.com
Eurolec Instrumentation Ltd are continuously developing and improving their products and as such the company reserve the right to
amend specifications without notice and supply products which differ from those described.

* Your assessment is very important for improving the work of artificial intelligence, which forms the content of this project