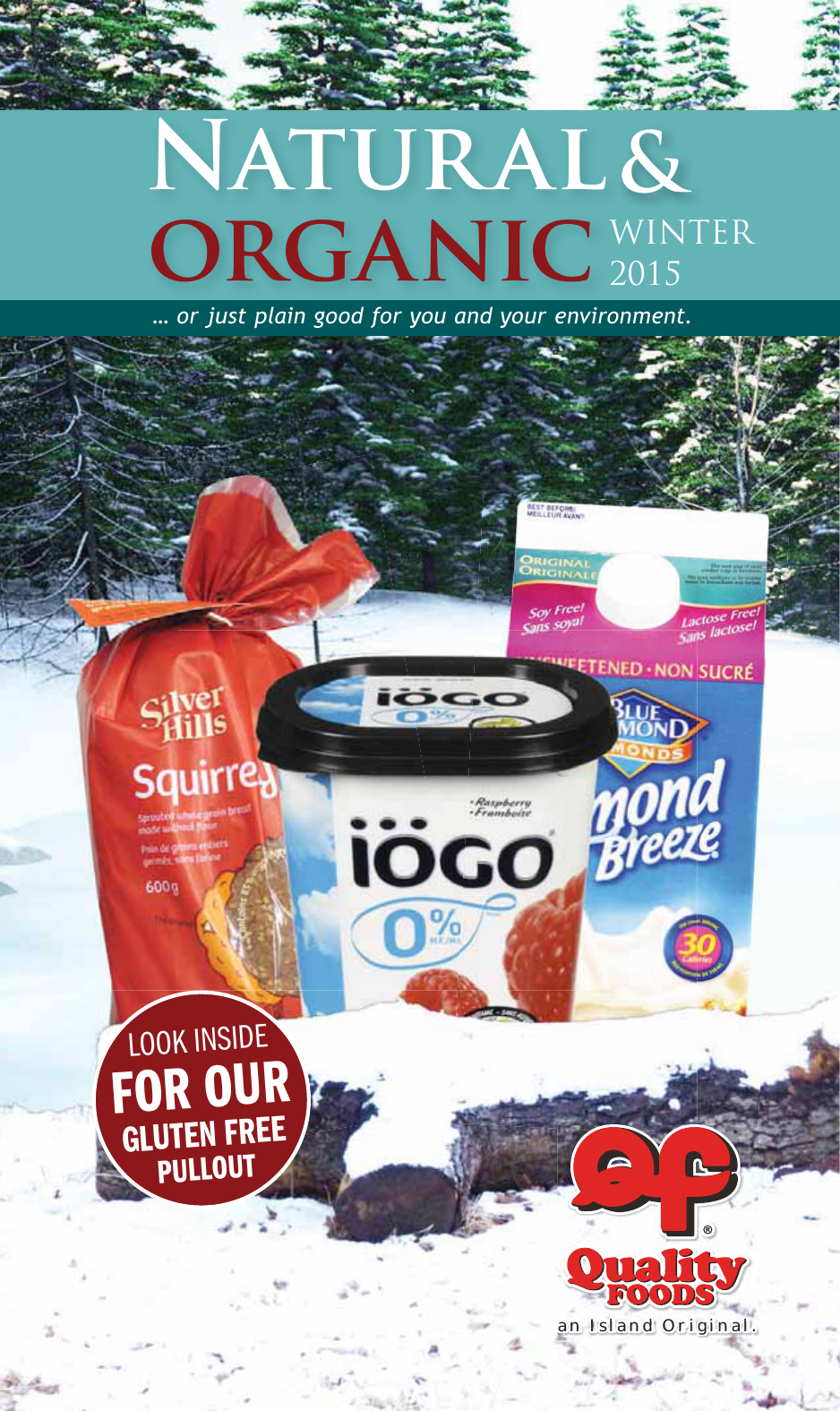 Natur al &
organic
WINTER
2015
… or just plain good for you and your environment.
LOOK INSIDE
FOR OURERE
GLUTEN F
PULLOUT
a n I sl a nd O r i g ina l .
almondbreeze.ca
© 2015 Blue Diamond Growers. All rights reserved.
TASTY, TIMELESS CLASSICS
TRADITIONAL
FLAVOURED
ALMONDS
There's a reason no other brand of almonds captures the
flavour, freshness and crunch of Blue Diamond®. The
secret is our oil roasting process that safeguards the
freshness and keeps in the natural flavour of our premium
almonds. Add the distinctive Smokehouse flavour or the
natural sweetness of honey for a special treat.
Cathy and Ken, married 34 years, 3 grown
children and 2 grandchildren who love to visit.
Entertaining friends and fa mily is their favourite
pastime. Never without a good supply of Blue
Dia mond Smokehouse and Honey-Roasted Almonds.
14121088
SIMPLY GRANOLA
We love muesli. It's more complicated
than you think, but in a good way.
There's generally a lot going on in a little
bowl. Wholegrain cereals (we use lots
of oats as they are our most important
ingredient), toasted wheat flakes, juicy
fruit, and nuts. Basically all the nutritious
energy you need to see you through
your busy day.
We don't scrimp on the fruity or nutty
bits either, and we perform rigorous (and
tasty) tests to maintain the perfectly
balanced ratios – so you get a healthy
portion of wholegrain and plenty of
tasty tit-bits too. Nice.
FAMILY
OWNED
FOR OVER
150 YEARS
ROBIN HOOD® NUTRI FLOUR BLEND™ GLUTEN FREE
New Nutri Flour Blend™ Gluten Free is a gluten free all purpose flour
blend made from rice flour with sugar beet fibre and potato and tapioca starches. Not only is it a source of fibre that adds goodness to your
baking, it makes it easy for you to enjoy all your favourite baked goods
without gluten.
It comes in a convenient resealable bag using our new Grip-Lock™
system, specially designed to close easily every time you bake. It can sit
upright on your counter and features an extra wide opening, making
your flour easy to scoop and easy to store.
PARTY TIME VANILLA CUPCAKES
iÖGO – it all started here
iÖGO is the new brand of
great tasting yogurt and dairy
products designed by Canadians
for Canadians. We have put a
lot of heart into creating our
products because we believe
that yogurt is a beautiful food...
and the more people who can
enjoy its goodness, the better.
iÖGO, The new way
to say yogurt
With seven product lines and
over 40 flavours, all iÖGO
products are gelatine free with
no artificial colours or flavours.
iÖGO truly is the new way to say
yogurt!
Gluten sensitivities and celiac disease are on the rise. And whether you
have been diagnosed by a healthcare professional, or just have a feeling that gluten doesn't agree with you, you're in the right place.
Kii Natural's CRISPS are
perfect on their own as a
delicious, healthy snack
with tea or coffee. They are
also ideal for entertaining.
Enjoy with dips, spreads,
cheeses or your favourite
hors d'oeuvres.
VEGA PROTEIN & GREENS
Protein, you complete me. Greens, you had me at "hello."
Nourishing your body shouldn't be hard work. Vega Protein & Greens
covers the basics as a convenient protein boost that makes nutrition onthe-go feel—and taste!—like a piece of cake.
•
20 g of complete, plant-based protein
•
Equivalent to two servings of greens
•
Only 110 calories
Just add water, shake and go or blend into your favorite smoothie recipe
for effortless nutrition!
Formulated by Brendan Brazier, former professional Ironman triathlete
and bestselling health author on plant-based nutrition, Vega Protein &
Greens is non-GMO, gluten-free, and contains no added sugar, artificial
flavours, colours or sweeteners. Available in Vanilla, Chocolate, Berry,
Natural, and Tropical flavours MyVega.com.
NEW
GLUTEN
LOOK FOR THIS SIGN
ON STORE SHELVES
FREE
WHAT DOES GLUTEN-FREE MEAN?
The Term "Gluten-Free" varies from country to country. In Canada it means
the product does not contain any wheat, including spelt and kamut, or oats,
barley, rye, triticale or any ingredients derived from those grains.
WHAT IS GLUTEN?
Gluten is a protein found in wheat, rye, triticale, barley. In the case of wheat,
JOLDGLQKDVEHHQLVRODWHGDVWKHWR[LFIUDFWLRQ,WLVWKHJOXWHQLQWKHÁRXU
that helps bread and other baked goods bind and prevents crumbling. This
feature has made gluten widely used in the production of many processed and
packaged foods.
WHY IS GLUTEN-FREE IMPORTANT?
In Canada it is thought about 1 in 133 people have celiac disease. Celiac disease is a
medical condition in which the absorptive surface of the small intestine is damaged by
a substance called gluten. This results in an inability of the body to absorb nutrients:
protein, fat, carbohydrates, vitamins and minerals, which are necessary for good
health.
In general, the symptoms of untreated celiac disease indicate the presence of
malabsorption due to the damaged small intestine. At present there is no cure, but
celiac disease is readily treated by following the gluten-free diet.
Amy's
Organic Soups Lentil
Organic Soups Lentil Vegetable
Organic Chili
Organic Shepherds Pie
Gluten Free Macaroni & Cheese
Rice Pasta & Cheddar
Bakers Supply House
Organic Baking Powder
Bella Sun Luci
Sun Dried Tomatoes In Olive Oil & Herbs
Sun Dried Tomato Pesto Sauce
Betty Crocker
Gluten Free Cake MixHs
Gluten Free Bisquick
Blue Diamond
Almond Breeze Non-Dairy Beverage
Nut-Thins Rice & Nut Crackers
Bob's Red Mill
Nutritional Food Yeast Large Flake GF
Flaxseed
Xanthan Gum
Gluten Free Biscuit Mix
Brown Rice Flour
Stone Ground White Rice Flour GF
Soy Flour
Gluten Free Pizza Crust Mix
All Purpose Baking Flour GF
Pancake Mix Gluten Free
Organic Whole Grain Quinoa
Mighty Tasty Hot Cereal GF
Brown Rice Farina Hot Cereal Creamy Rice
Flaxseed Meal
Quick Cooking Rolled Oats Wheat Free
Bragg's - All Purpose Seasoning
Campbell's
Chunky Soup Split Pea & Ham
Chunky Soup Chicken & Sausage Gumbo
Stock First Cream Stock
Stock First Beef Stock
Chicken Condensed Soup Chicken with Rice
Tomato Condensed Soup
Tomato with Basil & Oregano
Chicken Condensed Soup
- Chicken with White & Wild Rice
Organic Broth Vegetarian Veg.
Broth Beef
Broth Vegetable
30% Less Sodium Broth Beef
No Salt Added Broth Vegetable
Everyday Gourmet Soup
- Red Pepper Black Bean
- Fire Roasted Sweet Pepper & Tomato
- Roasted Potato & Spring Leek
- Thai Tomato Coconut
- Sweet Potato Tomatillo
- Tomato Basil Bisque
Healthy Request Soup
- New England Clam Chowder
Chunky Chili - Hot & Spicy
Chunky Chili - Homestyle
Casa Fiesta
Chipotle Peppers
Green Chilies Whole
Catelli Gluten Free Pasta
Cattle Boyz - BBQ Sauce - Original
Chapman's
Original Ice Cream
Sport Lolly Frozen Hydration
- Grape Rush
- Wild Berry
- Orange Surge
- Lemon Lime
Super Lolly Assorted
Super Lolly Rocket
Super Fudge Chocolate Malted Ice Milk
Super Frosty Vanilla Ice Cream
Super Yogurt 'n Juicy
- Strawberry & Banana & Orange
Sorbet
- Raspberry
- Orange
- Rainbow
- Triple Berry
Club House
Gluten Free Gravy Mix
All Natural Rice Flour Gluten Free
All Natural Potato Starch Gluten Free
Daiya
Deliciously Dairy Free Shreds
- Mozzarella Style
- Cheddar Style
Dare
Breton Gluten Free Crackers
Doritos
Tortillas
- Nacho Cheese
- Spicy Nacho
- Cool Ranch
- Zesty
- Bold BBQ
- Jalapeno & Cheddar
GLUTEN
Eden
Organic Sauerkraut
Organic Baked Beans
Organic Beans Black Soy
Organic Beans Pinto
Organic Beans Garbanzo
Organic Beans Kidney
Organic Beans Navy
Organic Cajun Rice & Beans
Lundberg Brown Rice & Small Red
Beans
Organic Brown Rice & Pinto Beans
Organic Quinoa
Organic Red Quinoa
Elevate Me!
Protein & Fruit Energy Bars
Ener-G Foods
Rice Mix
Brownies
Gluten Free Bread Tapioca Loaf
Gluten Free Bread White Rice Loaf
Gluten Free Bread Brown Rice Loaf
Gluten Free Bread Yeast Free Brown Rice Loaf
Naturally Smoked Sausage
- Country Classic
- Ham Garlic
- Fine Garlic
- Polish
- Mennonite Style Farmer
- Double Smoked Ukrainian
- Kolbassa
European Wieners
Bavarian Smokies
- Jalapeno & Cheddar
- Bacon & Cheddar
- Original
- Cheddar
Sizzlin Smokies
- Bavarian
- All Beef
- Cheese
Pepperoni
- Regular
- Honey Garlic
- Hot
Authentic Style Corn Tortillas
Authentic Style Rice Tortillas Gluten
Free
Envirokidz Organic Cereals
Ethical Bean
Fair Trade Organic Bean Coffees
Harvest - Wieners
Harvest - All Beef Wieners
Freybe
Ham Kolbassa Sausage
Ukrainian Sausage
Bavarian Smokies Sausage
Cheese Smokies Sausage
All Beef Smokies Sausage
Pepperoni Honey Garlic Flavour
Turkey & Chicken Pepperoni
Original
G.H. Cretors All Natural Popped
Corn
General Mills
Chex Gluten Free Corn Cereal Honey Nut
Chex Gluten Free Rice Cereal
Glutino
Gluten Free Cookies
Gluten Free Crackers
Gluten Free Pretzels Twists
Gluten Free Pretzels Sticks
*OXWHQ)UHH(QJOLVK0XI¿QV
Gluten Free Sandwich Bread
Gluten Free Cheese Bread
Grimm's
Deli To Go Sliced Meat
- Black Forest Ham
- Old Fashioned Ham
- Honey Ham
- Maple Ham
- Pizza Pack
- Submarine Pack
- Pizza Pepperoni
Hot-Kid
Rice Crisps
- Natural
- Sesame
- Cheese
- Classic BBQ
- Classic Seaweed
- Classics Unsalted
- Hot Wasabi
- Sweet Chili
Baby Mum-Mum Rice Rusks
- Vegetable Hot-Kid
- Original
- Banana
- Original
Organic Toddler Mum-Mum Biscuits
- Strawberry
Humpty Dumpty
Sour Cream & Onion Rings
Imagine
Organic Soups and broths
(All except Chunky Style)
Inglehoffer Mustard - Stone Ground
Kellogg's
Rice Krispies Brown Rice Cereal GF
Kettle Brand Potato Chips
- Sea Salt
- Sea Salt & Vinegar
- Honey Dijon
- Yogurt & Green Onion
FREE
- New York Cheddar
- Sweet Onion
- Backyard Barbeque
Krinkle Cut Potato Chips
- Salt & Fresh Ground Pepper
- Salted
- Salt & Fresh Ground Pepper
- Buffalo Bleu
Baked Potato Chips
- Hickory Honey Barbeque
- Salted
- Sea Salt & Vinegar
- Sour Cream & Onion
- Cheddar Roasted Tomato
Kind
Gluten Free Fruit & Nut Bar
Kitchen Basics
All Natural Cooking Stock
Kozy Shack Pudding
Kraft Minit Tapioca
Larabar
Fruit & Nut Energy Bar
- Apple Pie
- Cashew Cookie
- Cocoa Coconut
Lay's
Family Size Potato Chips
- Classic
- Lightly Salted 50% Less Sodium
- Wavy
- Wavy Lightly Salted
- Dill Pickle
- Ketchup
- Salt & Vinegar
- Sour Cream & Onion
- Smokey Bacon
- Sea Salt & Pepper
Stax Potato Chips
- Cheddar
- Sour Cream & Onion
- Original
- BBQ
- Salt & Vinegar
Let's Do Organic
Unsweetened Coconut Finely Shredded
Love Child Organics
G/F Organic Puree with Quinoa
Lundberg
Organic Brown Rice Syrup
California Rice
White Jasmine
Brown Rice Short Grain
Long Grain Brown Rice
California Rice White Basmati
California Brown Basmati Rice
Wild Blend Rice
Black Japonica Rice
GLUTEN
Risotto - Creamy Parmesan
Risotto - Garlic Primavera
Risotto - Butternut Squash
Organic Brown Rice Long Grain
Organic Gluten Free Rice Cakes
Wheat & Gluten Free Rice Chips
Lyles - Golden Syrup
Madhava Organic Agave Nectar
Mama Mary's
Gluten Free Thin Pizza Crust
Manitoba Harvest
Hemp Hearts Raw Shelled Hemp Seeds
Hemp Pro 70 Water Soluble
&HUWL¿HG2UJDQLF+HPS3URWHLQ
Maranatha
Organic Peanut Butter Smooth
Organic Peanut Butter Crunchy
Natural Almond Butter Roasted No Salt
Mary's Organic Crackers
Mayacamas
Gluten Free Sauce Mix Alfredo
Gluten Free Sauce Mix For Pasta Pesto
Gluten Free Sauce Mix Hollandaise
Mi-Del Gluten-Free Cookies
Mrs. Leeper's
Corn Pasta Spaghetti
Organic Corn Rotelli Wheat & Gluten Free
Organic Brown Rice Spaghetti Wheat & Gluten Free
Rice Vegetable Twists
Nature's Path
Organic Qi'a Superfood
Organic Gluten Free Cereal
Eco Pac Organic Cereal
- Corn Flakes Gluten Free
- Corn Flakes Honey'd GF
Mesa Sunrise Gluten Free
Mesa Sunrise Raisins Gluten Free
Organic Gluten Free Cereal
*OXWHQ)UHH2UJDQLF:DIÀHV
Chia Plus
No Nuts Golden Peabutter
Peanut Free & Gluten & soy Free
Nuts To You
Natural Cashew Butter
Organic Tahini
Organic Peanut Butter Smooth
Organic Peanut Butter Crunchy
Almond Butter Smooth
Almond Butter Crunchy
Old Dutch
Restaurante Salsa Mild
Restaurante Salsa Medium
Restaurante Salsa Con Queso
Restaurante Tortilla Chips
- Original Triangles
- Red & White Triangles
Rip-L Dip Spinach
Rip-L Dip French Onion
Restaurante Tortilla Chips
- Salsa Bowls
- Blue Corn Triangles
- Sea Salt & A Hint of Lime
Rounds
- Deli Rounds
- Crispy Rounds
- Bite Size Mini Rounds
- Lightly Salted Bite Size Rounds
Arriba Tortilla Chips
Crunchys
- Extreme Cheddar
- Nacho Cheese
Cheese Pleesers
Share Pack Potato Chips
- Regular
- Salt 'n Vinegar
- BBQ
- Rip-L-Chips
- Rip-L Sour Cream & Green
Onion
- Rip-L Creamy Dill
- Rip-L Lightly Salted
- Ketchup
- Cheddar & Sour Cream
- Crispy Bacon
- Sour Cream & Onion
- Smokey BBQ
- Rip-L Mexican Chili
- Rip-L Au Gratin
- Spicy Marinara
- Dill Pickle
- All Dressed
- Stadium Style
Corn Chips - Plain
Corn Chips - Bar-B-Que
Baked Potato Crisps
- Original
- Creamy Dill
- Salt'n Vinegar
- Ketchup
Old Dutch - Double Dutch
Thick Ripple Appetizer Chips
- Burstin' Onion
- Bacon Cheeseburger
- Calamari & Tzatziki
- Buffalo Wings & Blue Cheese
Old Dutch - Dutch Crunch
Potato Chips Kettle Cooked
- Original
- Mesquite BBQ
- Jalapeno & Cheddar
- Montreal Steak Spice
- Sea Salt & Malt Vinegar
- Parmesan & Garlic
- Black Pepper & Balsamic Vinegar
- Sour Cream & Dill
Omega Nutrition
Essential Organic Oil - Balance Blend
FREE
Organic Coconut Oil
Organic Hemp Seed Oil
Organic Apple Cider Vinegar
Organicville
Gluten Free Organic Vinaigrette
Oskri
Organic Coconut Bar
- with Natural Almond Flavour
- with Mango
- Original
- with Pineapple
- Dark Chocolate
- Milk Chocolate
Pace
Chunky Salsa - Mild
Chunky Salsa - Medium
PDFL¿F)RRGV
Organic Broth
- Chicken
- Low Sodium Chicken
- Vegetable
- Low Sodium Vegetable
- Creamy Butternut Squash
Organic Soup
- Roasted Red Pepper & Tomato
- Creamy Tomato
- Reduced Sodium Creamy Tomato
Plum-M-Good Organic Rice Cakes
Que Pasa
Organic Tortilla Chips
- Yellow Low Salt
- Blue
- Red
R.W. Knudsen
Organic Pear Juice
Just Black Cherry Juice
Pineapple Coconut Juice
Fruit Juice - Just Pomegranate
Fruit Juice - Just Cranberry
Real Foods
Organic Corn Thins - Original
Corn Thins - Flax & Soy
Renee's
Greek Feta Dressing
Chunky Blue Cheese Dressing
Poppyseed Dressing
Cucumber & Dill Dressing
Caesar Dressing
Mighty Caesar Dressing
Caesar Light Dressing
Poppyseed Lite
Buttermilk Ranch Dressing
Coleslaw Dressing
Buttermilk Ranch Light
Mediterranean Greek Vinaigrette
Ravin' Raspberry Vinaigrette
Spring Herb Italian Vinaigrette
GLUTEN
Parmesan Caesar Vinaigrette
Sweet Onion Vinaigrette
Honey Dijon Vinaigrette
Asian Sesame Vinaigrette
Balsamic Vinaigrette
Pear & Blue Cheese Vinaigrette
Tangerine & Lime Vinaigrette
Creamy Italian Dressing
Creamy Asiago Dressing
Creamy Caesar Dressing
So Nice
Organic Soy Beverages
Organic Almond Beverage
Sol Cuisine - Gluten Free Burgers
Solo Gi - Energy Bars
Spectrum
Organic Soy Mayonnaise
Spectrum Canola Mayonnaise
Rice Works
Gourmet Brown Rice Crisps
- Sea Salt
- Sea Salt & Black Sesame
- Salsa Fresca
- Parmesan & Sundried Tomato
Gourmet Brown& White Rice Crisps
- Sweet Chili
Stagg Chili
Chili with Beans - Dynamite Hot
Stagg Chili - Chili No Beans!
Straight Steak House
Four Bean Chili
Vegetable Garden 99% Fat Free
Rising Sun Farms
Balsamic Dressing
Stahlbush Farms
Rizopia 100% Brown Rice Pasta
Robin Hood
Nutri Flour Blend - All Purpose Gluten Free
Rumble
Nourishing Drink - Dutch Cocoa
Nourishing Drink - Vanilla Maple
San-J
Organic Tamari Gluten-Free
Tamari - Gluten-Free Soya Sauce
Lite Tamari Soy Sauce - Gluten-Free
Thai-Style Peanut Sauce - Gluten Free
Gluten Free Sesame Snaps
Sharwoods - Curry Powder Hot
Silver Hills
Gluten Free Omega Flax Bread
Simply Natural
Organic Ketchup
Organic Yellow Mustard
Organic Dijon Mustard
Organic Balsamic Vinaigrette
Organic Dressing
- Italian with Roasted Peppers
- Creamy Caesar
- Honey Mustard
Organic Pasta Sauce
- Marinara
- Tomato & Basil
- Tomato & Mushroom
- Tomato with Roasted Garlic
- Tomato with Roasted Peppers
- Vodka Cream
Organic Chunky Salsa - Mild
Organic Chunky Salsa - Medium
Organic Chunky Salsa - Pineapple
So Delicious
Dairy Free Organic Coconut Milks
FREE
Udi's
Gluten Free 9 Inch Plain Tortillas
9 Inch Gluten Free Pizza Crusts
Gluten Free Cookies
Gluten Free Hot Dog Buns
Gluten Free Whole Grain Bagels
Gluten Free Bread
*OXWHQ)UHH0XI¿QV
Gluten Free Hamburger Buns
Gluten Free Pizza
V8
Vegetable Cocktail
V-Plus Vegetable Cocktail
V-Go Vegetable Cocktail
Splash Beverage
V-Fusion Vegetable & Fruit Blend
Van's:KHDW*OXWHQ)UHH:DIÀHV
100% Natural Frozen Vegetables
Sunpic
Spicy Chipotle Mayo
Japanese Style Mayonnaise
Sunrype
Squiggles 100% Fruit Snack
Funbites 100% Fruit Snacks
Fruit To Go
Sweet Baby Ray's Barbecue Sauce
- Honey
- Sweet & Spicy
- Hickory & Brown Sugar
Taste of Nature Organic Food Bar
Thai Kitchen
Fish Sauce
Stir Fry Rice Noodles
- Original Pad Thai
Premium Coconut Milk
Lite Coconut Milk
Peanut Satay Sauce - Original
Recipe
Roasted Red Chili Paste
Thai Chili Sauce
Curry Paste - Red
Curry Paste - Green
Town Square Crackers
Tree of Life
Organic Fruit Spread - Blueberry
Organic Fruit Spread - Cherry
Organic Fruit Spread - Strawberry
Try Me
Oyster & Shrimp Sauce
Prepared Habanero Pepper Sauce
Yucatan Sunshine
Tiger Sauce - The Original
Hot Pepper Sauce - Cajun Sunshine
Vega
Energizing Smoothie
All-In-One Nutritional Shake
Want-Want
Superslim Brown Rice Crisps
Crinkles Gourmet Rice Chips
Way Better Snacks Tortilla Chips
Wendel's - Gluten Free Pies
Wendel's True Foods
Gluten Free Cake - Carrot
Gluten Free Chocolate Brownies
Gluten Free Coconut Nanaimo Bars
Gluten Free Cookies
Wolfgang Puck Organic Soup
- Classic Tomato Basil
Wow Baking Company
Wheat & Gluten Free Cookies
Safe 4 School Wowbutter
Peanut Butter Replacement
IMPORTANT NOTE:
THIS LIST IS ONLY A GUIDE, compiled based on information from product packaging, and/or from supplier
product claims. Products are identified as gluten free
based on product labelling. As a result please use
this list as a guide only. Quality Foods cannot be held
liable for manufacturer's informational errors, user's
medical reactions to products. Some products may
processed in facilities handling gluten-contained
ingredients. Please be aware that cross contamination
of any packaged good with other products during
processing is possible and beyond our control. Please
read the product label carefully before purchasing or
using any product to ensure it meets your requirements. If uncertain, please contact the manufacturer
with your concerns.
This list is not necessarily a complete representation
of every gluten-free product in our stores, which are
continually changing, nor will every store carry every
product listed.
Since 1922, Adams® Natural Peanut Butter
has remained committed to making the
most delicious natural peanut butter
around.
Our Natural Peanut Butter is made with 99%
fresh roasted peanuts with just a dash of salt.
and contains no artificial colours, flavours, or
preservatives.
All of our peanut butter products contain NO
added sugar and 0 grams of trans fatty acids.
Organic Milk
The Dairyland name has been synonymous with exceptional
quality, freshness, and great taste for nearly 100 years.
Dairyland Certified Organic Milk is produced under strict
organic standards on farms that practice animal welfare and
are dedicated to maintaining the earth's ecological balance.
Organic milk is a natural, whole-food
beverage, as well as an excellent
source of calcium. Packaged in
100% recyclable bottles,
Dairyland Plus Certified
Organic milk is
available in 2L and
4L jugs, and four
fat levels: Skim,
1%, 2%, and
3.25%.
Local
Vancouver
Island Milk
From
rom Thailand to Your Table
Many people believe that coconut milk is nothing but the watery liquid found in coconuts.
%XWLW¶VDFWXDOO\GHULYHGE\WKHSUHVVLQJRIIUHVKULSHFRFRQXWPHDWIURPWKHÀHVKRIPDWXUH
FRFRQXWV &RFRQXW PLON ¿QGV D VSHFLDO SODFH LQ PDQ\ WURSLFDO FXLVLQHV HVSHFLDOO\ 7KDL
6LQJDSRUHDQDQG0DOD\VLDQ$URPDWLFHVVHQFHVH[RWLFÀDYRXUVDQGDEXQGDQWWH[WXUHV²
there is no culinary experience that quite compares to
o Asian cuisine.
Since Thai Kitchen is committed
d to bringingg
authentic Thai cuisine to your home,
ome,
the company offers two formulass
of coconut milk for the aspiring
or experienced Asian chef:
Premium, with a smooth,
luscious taste and texture, or
Lite, a slightly thinner coconut
milk with 60% fewer calories
and 60% less fat. Enjoy!
GLUTEN
FREE
VEGAN
CERTIFIED
DAIRY
FREE
SuperSlim
30% THINNER THAN OUR REGULAR RICE CRISPS
SuperSlim Brown Rice Crisps
combine all the health benefits
of whole-grain brown japonica
rice with great flavour and
texture. Baked so they're low in
fat, SuperSlim Brown Rice Crisps
are free of cholesterol, gluten,
and MSG, and contain no added
preservatives. Available in five
flavours: Original, Black Sesame,
Multigrain, Sea Salt & Sesame
CHOLESTEROL
FREE
GLUTEN
FREE
WHOLE
GRAINS
D
N
A
T
S
FARM
rs!
e
v
o
l
e
i
g
g
e
into v
s
d
i
k
r
u
o
y
Turn
Tropicana Farmstand is a deliciously chilled 100% juice with one
serving of fruit plus one serving of vegetable in every glass. With
ÁDYRXUV LQFOXGLQJ 3HDFK 0DQJR DQG 3RPHJUDQDWH %OXHEHUU\
Tropicana Farmstand provides options for the whole family.
Simply Natural, Simply Better For You, Simply
Delicious! Our selection of natural organic
products are made from the best ingredients
that nature has to offer blended to make a
delicious addition to any meal.
QF Traditional Chicken
Our
Premium
BC Poultry
NO ANIMAL
BY PRODUCTS
USED
ANTIBIOTIC
FREE
GRAIN
FED
WESTSHORE
NANOOSE
UNIVERSITY VILLAGE
CAMPBELL RIVER
977 Langford Parkway
Victoria, BC
778-433-3291
Open seven days a week
#1, 2443 Collins Crescent
Nanoose Bay, BC
250.468.7131
Open seven days a week
#100, 530 - 5th Street
Nanaimo, BC
250.754.6012
Open seven days a week
465 Merecroft Road
Campbell River, BC
250.287.2820
Open seven days a week
8:00 A.M. TO 10:00 P.M.
8:00 A.M. TO 9:00 P.M.
8:00 A.M. TO 10:00 P.M.
8:00 A.M. TO 9:00 P.M.
QUALICUM FOODS
BOWEN
PORT ALBERNI
COURTENAY
705 Memorial Avenue
Qualicum Beach, BC
250.752.9281
Open seven days a week
#7, 2220 Bowen Road
Nanaimo, BC
250.758.3733
Open seven days a week
2943 - 10th Avenue
Port Alberni, BC
250.723.3397
Open seven days a week
1002 Driftwood Mall
Courtenay, BC
250.331.9328
Open seven days a week
8:00 A.M. TO 9:00 P.M.
8:00 A.M. TO 9:00 P.M.
8:00 A.M. TO 10:00 P.M.
8:00 A.M. TO 9:00 P.M.
WATERSIDE
NORTHRIDGE
COMOX VALLEY
POWELL RIVER
319 A East Island Highway
Parksville, BC
250.954.2262
Open seven days a week
#101, 5800 Turner Road
Nanaimo, BC
250.756.3929
Open seven days a week
2275 Guthrie Road
Comox, BC
250.890.1005
Open seven days a week
4871 Joyce Avenue
Powell River, BC
604.485.5481
Open seven days a week
7:00 A.M. TO 10:00 P.M.
8:00 A.M. TO 10:00 P.M.
8:00 A.M. TO 9:00 P.M.
8:00 A.M. TO 9:00 P.M.