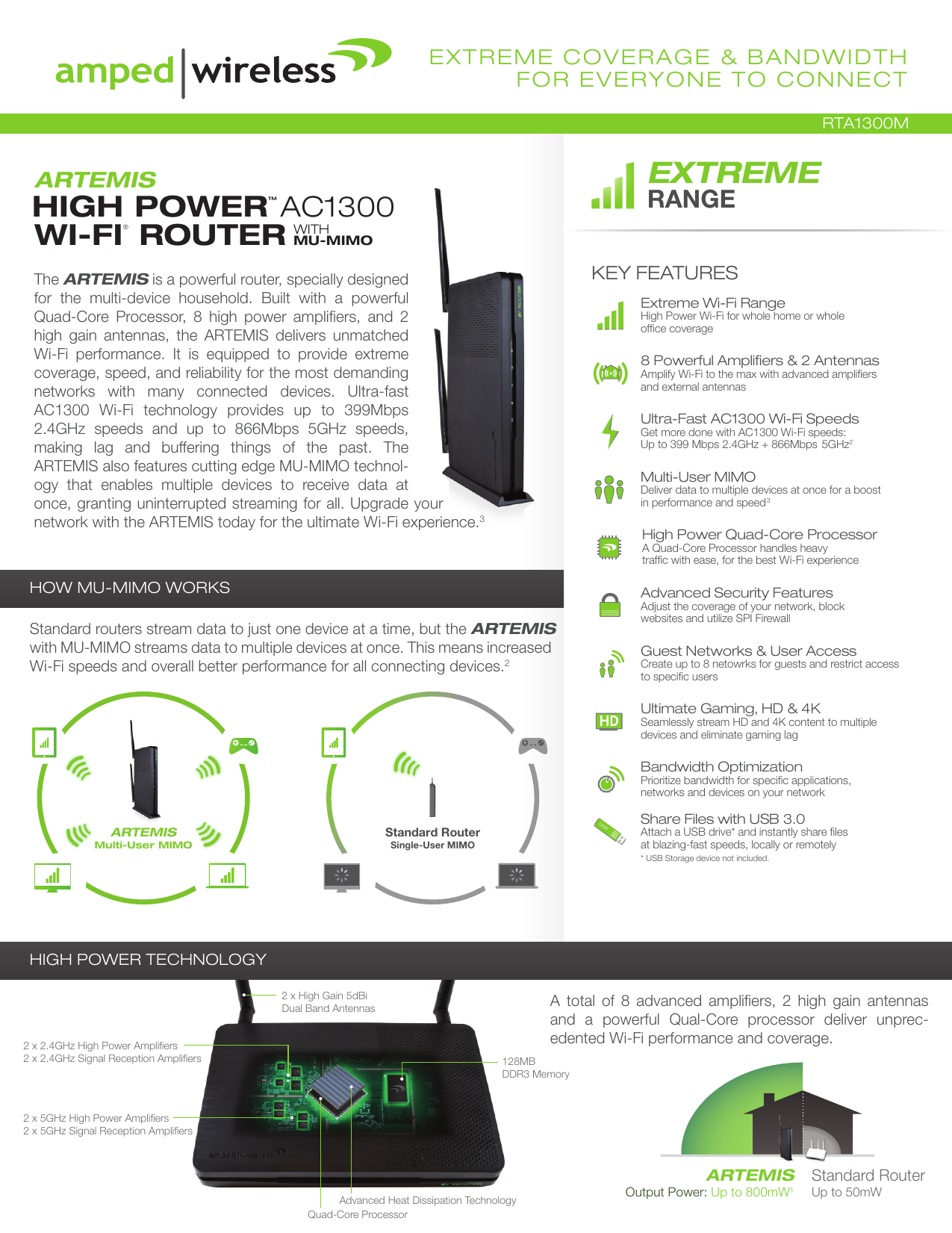 EXTREME COVERAGE & BANDWIDTH
FOR EVERYONE TO CONNECT
RTA1300M
EXTREME
ARTEMIS
RANGE
HIGH POWER AC1300
WITH
WI-FI ROUTER MU-MIMO
TM
®
KEY FEATURES
The ARTEMIS is a powerful router, specially designed
for the multi-device household. Built with a powerful
Quad-Core Processor, 8 high power amplifiers, and 2
high gain antennas, the ARTEMIS delivers unmatched
Wi-Fi performance. It is equipped to provide extreme
coverage, speed, and reliability for the most demanding
networks with many connected devices. Ultra-fast
AC1300 Wi-Fi technology provides up to 399Mbps
2.4GHz speeds and up to 866Mbps 5GHz speeds,
making lag and buffering things of the past. The
ARTEMIS also features cutting edge MU-MIMO technology that enables multiple devices to receive data at
once, granting uninterrupted streaming for all. Upgrade your
network with the ARTEMIS today for the ultimate Wi-Fi experience.3
Extreme Wi-Fi Range
High Power Wi-Fi for whole home or whole
office coverage
8 Powerful Amplifiers & 2 Antennas
Amplify Wi-Fi to the max with advanced amplifiers
and external antennas
Ultra-Fast AC1300 Wi-Fi Speeds
Get more done with AC1300 Wi-Fi speeds:
Up to 399 Mbps 2.4GHz + 866Mbps 5GHz2
Multi-User MIMO
Deliver data to multiple devices at once for a boost
in performance and speed 3
High Power Quad-Core Processor
A Quad-Core Processor handles heavy
traffic with ease, for the best Wi-Fi experience
HOW MU-MIMO WORKS
Advanced Security Features
Adjust the coverage of your network, block
websites and utilize SPI Firewall
Standard routers stream data to just one device at a time, but the ARTEMIS
with MU-MIMO streams data to multiple devices at once. This means increased
Wi-Fi speeds and overall better performance for all connecting devices.2
Guest Networks & User Access
Create up to 8 netowrks for guests and restrict access
to specific users
Ultimate Gaming, HD & 4K
Seamlessly stream HD and 4K content to multiple
devices and eliminate gaming lag
Bandwidth Optimization
Prioritize bandwidth for specific applications,
networks and devices on your network
U
SB
Standard Router
ARTEMIS
Single-User MIMO
Multi-User MIMO
Share Files with USB 3.0
Attach a USB drive* and instantly share files
at blazing-fast speeds, locally or remotely
* USB Storage device not included.
HIGH POWER TECHNOLOGY
2 x High Gain 5dBi
Dual Band Antennas
2 x 2.4GHz High Power Amplifiers
2 x 2.4GHz Signal Reception Amplifiers
A total of 8 advanced amplifiers, 2 high gain antennas
and a powerful Qual-Core processor deliver unprecedented Wi-Fi performance and coverage.
128MB
DDR3 Memory
2 x 5GHz High Power Amplifiers
2 x 5GHz Signal Reception Amplifiers
ARTEMIS
Advanced Heat Dissipation Technology
Quad-Core Processor
Output Power: Up to 800mW1
Standard Router
Up to 50mW
EXTREME COVERAGE & BANDWIDTH
FOR EVERYONE TO CONNECT
RTA1300M
TECHNICAL SPECIFICATIONS
Frequency Bands: 2.4GHz/5GHz 802.11a/b/g/n/ac
Wireless Speed: 2.4GHz 399Mbps +
5GHz 866Mbps (simultaneous)
Processor: Quad-Core Processor
Memory: 128MB DDR3
Amplifiers: 2 x 2.4GHz Amplifiers
2 x 5GHz Amplifiers
4 x Low Noise Amplifiers
Antennas: 2 x Detachable High Gain 5dBi Dual Band Antennas
Ports: 1 x RJ-45 10/100/1000M (WAN)
4 x RJ-45 10/100/1000M (LAN)
1 x USB 3.0 Port
ATHENA High Power
AC2600 Router
RTA2600
TITAN High Power
AC1900 Router
RTA1900
ARTEMIS High Power
AC1300 Router
RTA1300M
Standard
802.11ac Router
PRODUCT COMPARISON
SPEED PERFORMANCE
AC750
Dual Band N+AC Speeds
AC1300
Dual Band N+AC Speeds
PACKAGE CONTENTS
AC1900
Dual Band N+AC Speeds
•
•
•
•
•
AC2600
Dual Band N+AC Speeds
OUTPUT POWER / COVERAGE
Number of Amplifiers
8
14
16
ARTEMIS High Power AC1300 Wi-Fi Router with MU-MIMO
2 x Detachable High Gain Dual Band Antennas
Power Adapter (100-240v)
RJ-45 Ethernet Cable
Setup Guide
SYSTEM REQUIREMENTS
Up to 800mW | Extreme Range
• Broadband Internet modem with Ethernet port
• Computer with wired or wireless network adapter
Up to 800mW | Ultimate Range
ANTENNAS
External | High Gain
Detachable
2
4
4
4 Antenna Technology
LED On/Off Button
MU-MIMO Technology
Power Processor
Advanced Prioritizations (QoS)
USB 2.0 Storage
USB 3.0 Storage
Gigabit Ports
4
4
4
Smart Security / Parental Controls
Dual Band Antenna Connectors
Gold Plated RJ-SMA Connectors
KEY FEATURES
WPS 1-Touch Setup
USB 3.0 Storage Port
4 Gigabit Network Ports
Gigabit Modem Port
Power Button
2.4GHz | 5GHz SIMULTANEOUS
WORKS WITH
802.11 a/b/g/n
AC
Specifications are subject to change without notice.
Designed by Amped Wireless in the USA
Amped Wireless
13089 Peyton Dr. #C307
Chino Hills, CA 91709
www.ampedwireless.com
1 (888) 573-8830
© 2016 Amped Wireless. All rights reserved.
Range specifications are based on performance test results. Actual performance may vary due to differences in operating
environments, building materials and wireless obstructions. Performance may increase or decrease over the stated specification.
Wireless coverage claims are used only as a reference and are not guaranteed as each wireless network is uniquely different. Maximum
wireless signal rate derived from IEEE 802.11 standard specifications. Actual data throughput may vary as a result of network conditions
and environmental factors. Output power specifications are based on the maximum possible radio output power plus antenna gain. May
not work with non-standard Wi-Fi devices such as those with proprietary software or drivers. Supports all Wi-Fi standards that are
compatible or backwards compatible with 802.11a/b/g/n/ac Wi-Fi standards.
2
All transmission rates listed, for example 399Mbps for 2.4GHz and 866Mbps for 5GHz, are the physical data rates. Actual data
throughput will be lower and may depend on external factors as well as the combination of devices connected to the router. AC1300
wireless speeds are achieved when connecting to other AC1300 capable devices.
3
For MU-MIMO to work, additional MU-MIMO capable devices must be connected to the network.
1
Wi-Fi, Wi-Fi Protected Setup, and WPA2 are either registered trademarks or trademarks of the Wi-Fi Alliance.

* Your assessment is very important for improving the work of artificial intelligence, which forms the content of this project