Philips HL7699/00 Datasheet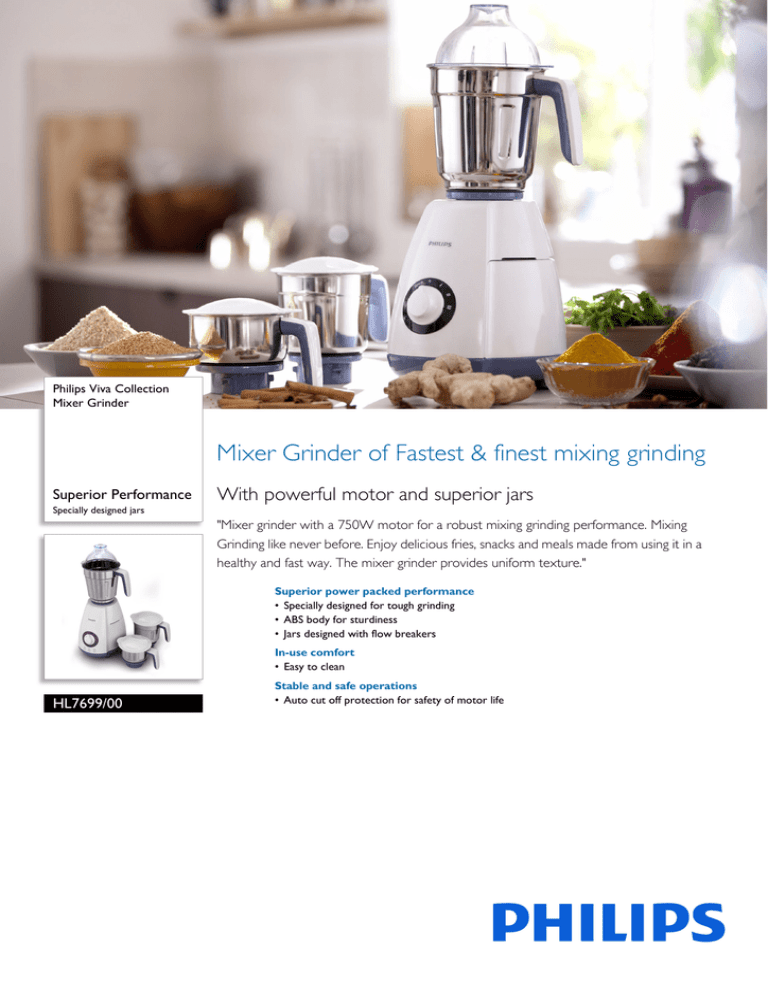 Philips Viva Collection
Mixer Grinder
Mixer Grinder of Fastest & finest mixing grinding
Superior Performance
With powerful motor and superior jars
Specially designed jars
"Mixer grinder with a 750W motor for a robust mixing grinding performance. Mixing
Grinding like never before. Enjoy delicious fries, snacks and meals made from using it in a
healthy and fast way. The mixer grinder provides uniform texture."
Superior power packed performance
• Specially designed for tough grinding
• ABS body for sturdiness
• Jars designed with flow breakers
In-use comfort
• Easy to clean
HL7699/00
Stable and safe operations
• Auto cut off protection for safety of motor life
HL7699/00
Mixer Grinder
Superior Performance Specially designed jars
Specifications
Accessories included
Highlights
General specifications
• Spatula
Technical specifications
• Cord length: 1.2 m
• Voltage: 230 V
•
•
•
•
Auto cut off
Chutney Jar: 0.5 l
Main Jar: 1.75 l
Middle Jar: 1.0 l
750 w powerful motor
Design
• Material housing: ABS
•
Provides best in class grinding performance.
ABS body
Sturdy ABS body to withstand heavy grinding
applications .
Auto cut off protection
Enhances the life of the motor.
Cascade body design
Specially designed body assembly which is userfriendly and easy to clean.
Specially designed jars
Issue date 2014-01-14
© 2014 Koninklijke Philips N.V.
All Rights reserved.
Version: 4.0.1
Specifications are subject to change without notice.
Trademarks are the property of Koninklijke Philips N.V.
or their respective owners.
www.philips.com
Jar design with flow breakers ensures maximum
grinding performance.

* Your assessment is very important for improving the work of artificial intelligence, which forms the content of this project