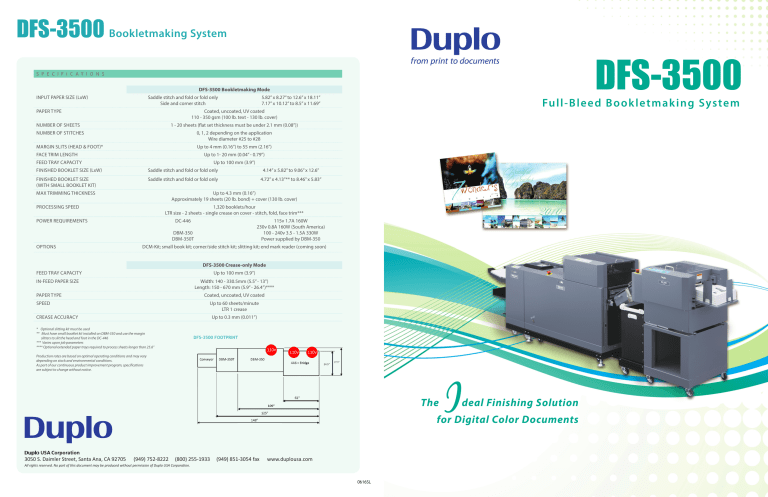 DFS-3500 Bookletmaking System
DFS-3500
S P E C I F I C A T I O N S
DFS-3500 Bookletmaking Mode
INPUT PAPER SIZE (LxW)
Saddle stitch and fold or fold only
Side and corner stitch
PAPER TYPE
5.82" x 8.27" to 12.6" x 18.11"
7.17" x 10.12" to 8.5" x 11.69"
NUMBER OF SHEETS
1 - 20 sheets (flat set thickness must be under 2.1 mm (0.08"))
NUMBER OF STITCHES
0, 1, 2 depending on the application
Wire diameter #25 to #28
MARGIN SLITS (HEAD & FOOT)*
Up to 4 mm (0.16") to 55 mm (2.16")
FACE TRIM LENGTH
Up to 1- 20 mm (0.04" - 0.79")
FEED TRAY CAPACITY
Up to 100 mm (3.9")
FINISHED BOOKLET SIZE (LxW)
Saddle stitch and fold or fold only
4.14" x 5.82" to 9.06" x 12.6"
FINISHED BOOKLET SIZE
(WITH SMALL BOOKLET KIT)
Saddle stitch and fold or fold only
4.72" x 4.13"** to 8.46" x 5.83"
MAX TRIMMING THICKNESS
Up to 4.3 mm (0.16")
Approximately 19 sheets (20 lb. bond) + cover (130 lb. cover)
PROCESSING SPEED
1,320 booklets/hour
LTR size - 2 sheets - single crease on cover - stitch, fold, face trim***
POWER REQUIREMENTS
DC-446
115v 1.7A 160W
230v 0.8A 160W (South America)
100 - 240v 3.5 - 1.5A 330W
Power supplied by DBM-350
DBM-350
DBM-350T
OPTIONS
Fu l l - Bl eed B ook l etm ak ing System
Coated, uncoated, UV coated
110 - 350 gsm (100 lb. text - 130 lb. cover)
DCM-Kit; small book kit; corner/side stitch kit; slitting kit; end mark reader (coming soon)
DFS-3500 Crease-only Mode
FEED TRAY CAPACITY
Up to 100 mm (3.9")
IN-FEED PAPER SIZE
Width: 140 - 330.5mm (5.5" - 13")
Length: 150 - 670 mm (5.9" - 26.4")****
PAPER TYPE
Coated, uncoated, UV coated
SPEED
Up to 60 sheets/minute
LTR 1 crease
CREASE ACCURACY
Up to 0.3 mm (0.011")
* Optional slitting kit must be used
** Must have small booklet kit installed on DBM-350 and use the margin
slitters to slit the head and foot in the DC-446
*** Varies upon job parameters
**** Optional extended paper trays required to process sheets longer than 25.6"
DFS-3500 FOOTPRINT
Production rates are based on optimal operating conditions and may vary
depending on stock and environmental conditions.
As part of our continuous product improvement program, specifications
are subject to change without notice.
The
I
deal Finishing Solution
for Digital Color Documents
3050 S. Daimler Street, Santa Ana, CA 92705
(949) 752-8222
(800) 255-1933
(949) 851-3054 fax
www.duplousa.com
All rights reserved. No part of this document may be produced without permission of Duplo USA Corporation.
0616SL
A
Fea tu r es & B enef i ts
ffordable Full-Ble e d Finishing
 Automated ~ Fast and easy job setup
 Job Memory ~ 30 job memories reduce setup time
by storing all fine adjustment data
 Integrated Book Spine Compressor ~ Improves
the lay-flat quality of the finished book and allows
for compensation of thicker books by increasing the
number of presses via the control panel
 Multi-function ~ DC-446 Bridge Unit can be used as
a receiving tray for crease-only applications
 Full-bleed Finishing ~ Convert pre-collated sets into
fully finished, full-bleed booklets without having to
pre-cut the sheets on a separate guillotine cutter
 Top Feeding Air Suction System ~ Air suction
system feeds sheets from top of stacker to ensure
consistent feeding
 Double-feed Detection ~ Immediately and
accurately detects when two or more sheets have
been fed
Booklet Workflow
DFS-3500
Duplo's near-line DFS-3500 Bookletmaking System has been
designed to completely finish full-bleed booklets in a single
pass. Combining the creasing and slitting functions of the
DC-446 Creaser with the stitching, folding, and trimming
capabilities of the mid-range DBM-350/T Bookletmaker and
Trimmer, the DFS-3500 delivers an affordable all-in-one
bookletmaking system ideal for short-run applications.
By automating the finishing process required to create
full-bleed booklets, the DFS-3500 eliminates the need for
a separate guillotine cutter and creasing machine. Time
consuming set-ups, wasted
material, and turnaround
times are all reduced.
Complete job set-up is done
from the user-friendly DC446 control panel and up
to 30 jobs can be saved for
quick and easy recall. The
DFS-3500 Bookletmaking System's ability to slit, crease, stitch,
fold, and trim in one pass makes it the perfect solution for
producing applications such as calendars, catalogs, yearbooks,
newsletters, and more.
SUPERI OR, H I GH C A PAC I T Y F EEDI N G
With a 4-inch stack capacity and top feeding air suction
technology, the DFS-3500 enables users to run a productive
bookletmaking operation. The sheets feed from the top of
the stack to reduce scratching commonly caused by bottom
feeders and the high capacity feeder means the system can
Stack
Face Trim
Fold
Stitch
Accumulate & Jog
Crease
Slit Margins
Feed
Full-Bleed Bookletmaking System
run for a longer period
of time without constant
reloading. To ensure the
accuracy of each booklet,
the DFS-3500 uses a
double feed detection
sensor to stop the
machine when it detects
two or more sheets have
been fed.
IN -L IN E CR E ASIN G AN D SL IT TIN G
Creasing the cover and innermost sheets prior to folding
prevents toner cracking
and guarantees crisp,
professional folds. The
optional slitting module
trims the head and foot of
each sheet for a full-bleed
trim before it accumulates
in the bookletmaker. The
margins are deposited into
a bin located underneath
the bridge unit. By slitting in-line, operators are no longer
required to pre-cut the sheets on a separate guillotine cutter,
resulting in decreased downtime and increased productivity.
CREASE- ONLY MODE
The DFS-3500 can also be used as a dedicated creaser by
simply switching the position of the bridge unit. At speeds
up to 60 sheets per minute, the DC-446 can crease a range of
flat applications including greeting cards, brochures, menus,
and more. For added versatility, up to three optional slitting
and perforating modules can be added for a maximum of 20
creases and 3 perforations per sheet in a single pass.
Booklet Finishing Mode
Crease-only Mode
VARIABLE DATA PROCESSING
Using the optional End Mark Reader, the DFS-3500 can produce
variable data booklets with different sheet counts for one-toone marketing applications. The End Mark Reader recognizes
the mark on the booklet's cover sheet and automatically begins
the stitch, fold, and trim cycle allowing booklets of varying
page counts to be processed without any manual adjustments.
TRUE MID -LE VEL F INIS H
Utilizing a gentle push belt transport system and heavy duty
Deluxe 26D stitcher heads, the DFS-3500 enables operators
to produce high quality books efficiently and with minimal
training. The system comes equipped with an integrated
book spine compressor to improve the lay-flat qualities of the
finished book. In addition, operators can add small booklet
and side/corner stitching kits to meet varying application
requirements. The DBM-350's ability to handle set-by-set and
sheet-by-sheet output make the DFS-3500 Bookletmaking
System suitable for printers making the transition from offset
to digital.

* Your assessment is very important for improving the work of artificial intelligence, which forms the content of this project