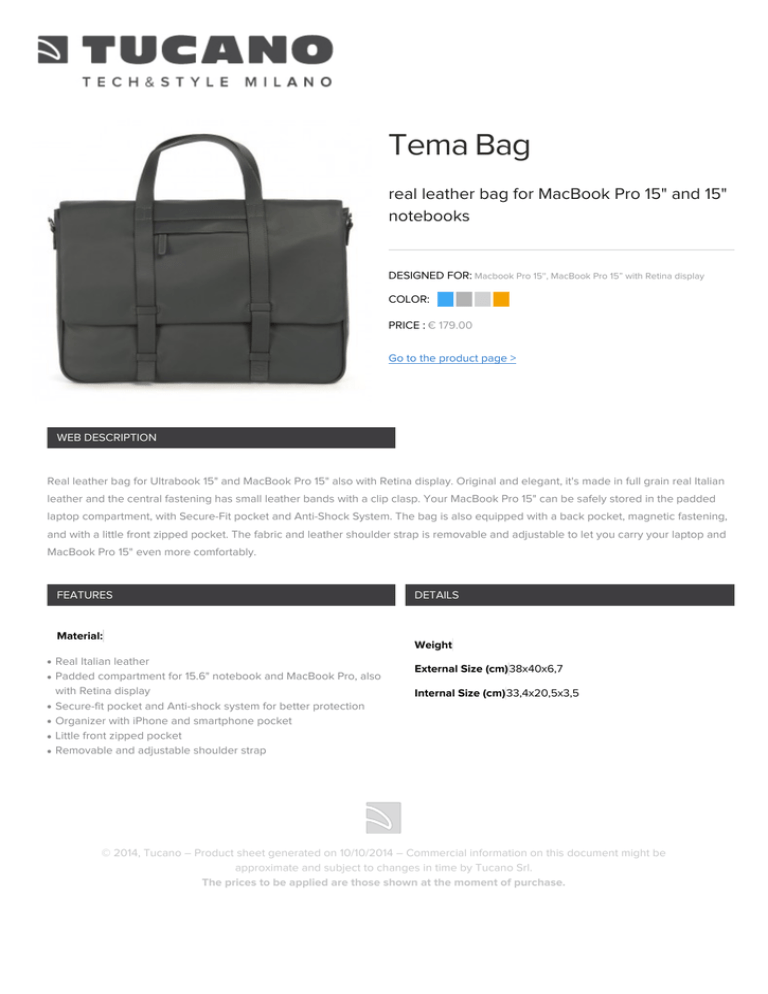 Tema Bag
real leather bag for MacBook Pro 15" and 15"
notebooks
DESIGNED FOR: Macbook Pro 15'', MacBook Pro 15" with Retina display
COLOR:
PRICE : € 179.00
Go to the product page >
WEB DESCRIPTION
Real leather bag for Ultrabook 15" and MacBook Pro 15" also with Retina display. Original and elegant, it's made in full grain real Italian
leather and the central fastening has small leather bands with a clip clasp. Your MacBook Pro 15" can be safely stored in the padded
laptop compartment, with Secure-Fit pocket and Anti-Shock System. The bag is also equipped with a back pocket, magnetic fastening,
and with a little front zipped pocket. The fabric and leather shoulder strap is removable and adjustable to let you carry your laptop and
MacBook Pro 15" even more comfortably.
FEATURES
Material:
●
●
●
●
●
●
Real Italian leather
Padded compartment for 15.6" notebook and MacBook Pro, also
with Retina display
Secure-fit pocket and Anti-shock system for better protection
Organizer with iPhone and smartphone pocket
Little front zipped pocket
Removable and adjustable shoulder strap
DETAILS
Weight
External Size (cm)38x40x6,7
Internal Size (cm)33,4x20,5x3,5
© 2014, Tucano – Product sheet generated on 10/10/2014 – Commercial information on this document might be
approximate and subject to changes in time by Tucano Srl.
The prices to be applied are those shown at the moment of purchase.

* Your assessment is very important for improving the work of artificial intelligence, which forms the content of this project