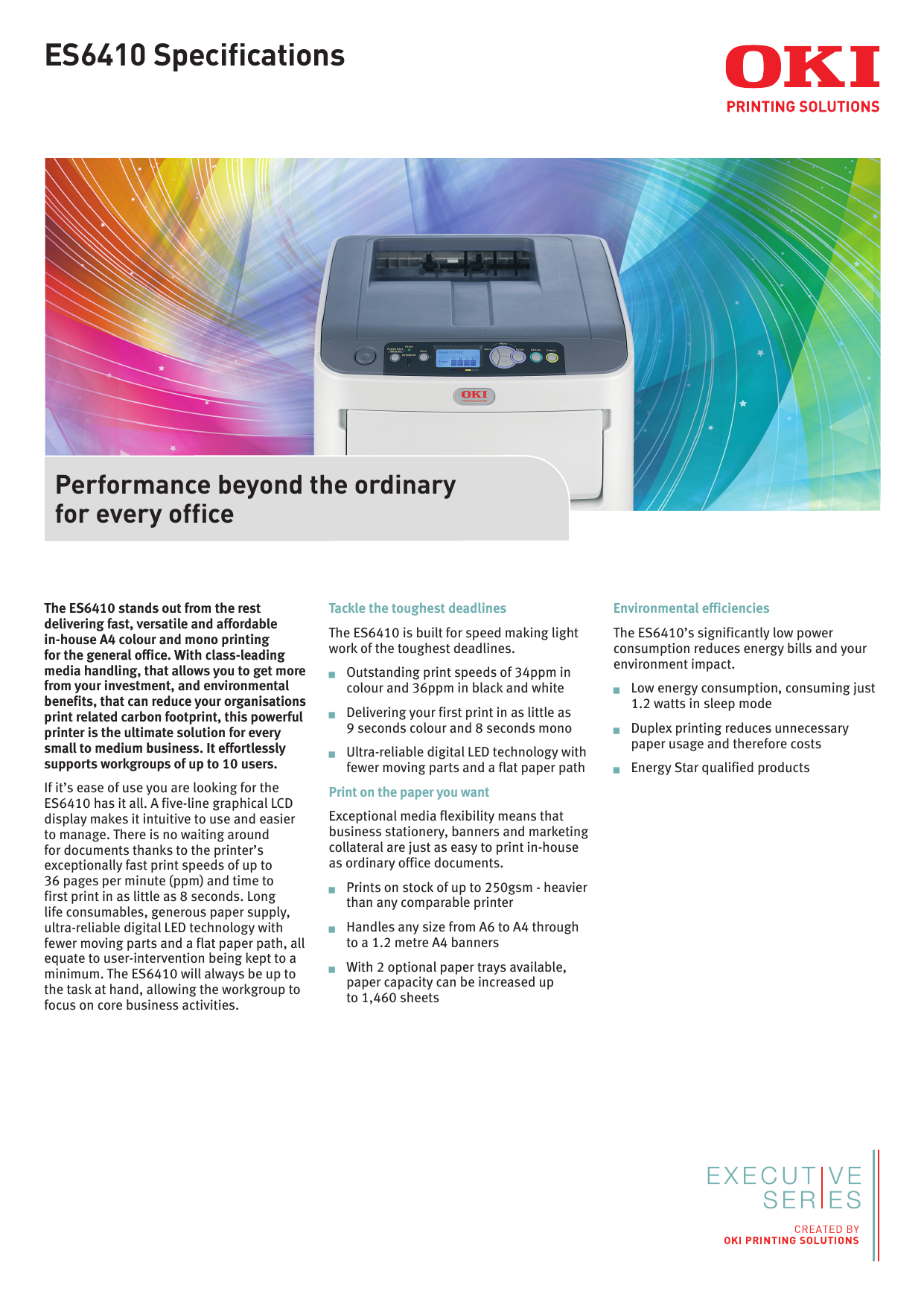 ES6410 Specifications
Performance beyond the ordinary
for every office
The ES6410 stands out from the rest
delivering fast, versatile and affordable
in-house A4 colour and mono printing
for the general office. With class-leading
media handling, that allows you to get more
from your investment, and environmental
benefits, that can reduce your organisations
print related carbon footprint, this powerful
printer is the ultimate solution for every
small to medium business. It effortlessly
supports workgroups of up to 10 users.
Tackle the toughest deadlines
Environmental efficiencies
The ES6410 is built for speed making light
work of the toughest deadlines.
The ES6410's significantly low power
consumption reduces energy bills and your
environment impact.
If it's ease of use you are looking for the
ES6410 has it all. A five-line graphical LCD
display makes it intuitive to use and easier
to manage. There is no waiting around
for documents thanks to the printer's
exceptionally fast print speeds of up to
36 pages per minute (ppm) and time to
first print in as little as 8 seconds. Long
life consumables, generous paper supply,
ultra-reliable digital LED technology with
fewer moving parts and a flat paper path, all
equate to user-intervention being kept to a
minimum. The ES6410 will always be up to
the task at hand, allowing the workgroup to
focus on core business activities.
Print on the paper you want
g
g
g
Outstanding print speeds of 34ppm in colour and 36ppm in black and white
Delivering your first print in as little as
9 seconds colour and 8 seconds mono
Ultra-reliable digital LED technology with fewer moving parts and a flat paper path
Exceptional media flexibility means that
business stationery, banners and marketing
collateral are just as easy to print in-house
as ordinary office documents.
g
g
g
Prints on stock of up to 250gsm - heavier than any comparable printer
Handles any size from A6 to A4 through
to a 1.2 metre A4 banners
With 2 optional paper trays available, paper capacity can be increased up
to 1,460 sheets
Low energy consumption, consuming just
1.2 watts in sleep mode
g
Duplex printing reduces unnecessary
paper usage and therefore costs
g
Energy Star qualified products
g
ES6410 - Colour and Mono Printer
Printer
Paper Handling
A4 Print speed 34ppm colour, 36ppm mono
Time to first print 9 seconds colour, 8 seconds mono
Warm up time
Up to 60 seconds from power on & up to 35 seconds
from power save
Processor speed 533MHz
Print Quality
Resolution ProQ2400 Multi-level technology, 1200 x 600dpi, 600 x 600dpi
Enhancements
Auto Colour Balance, Photo Enhance via driver (excludes Mac
and PostScript drivers)
Connectivity Hi-Speed USB & 10/100-TX Ethernet
PCL 6 (XL3.0) and PCL5c, PostScript 3 (emulation), SIDM
(IBM-PPR, EPSON-FX), PDF Direct Print v1.7, XPS
All major network protocols supported via ethernet card with
internal web server for printer and network card set-up and
management. TCP/IP: ARP, IPv4/v6, ICMPv4/v6, TCP, UDP,
LPR, FTP, TELNET, HTTP(IPP), BOOTP, DHCP, SNMPv1/v3, DNS,
DDNS, UPnP, Bonjour, WINS, SSL/TLS, SMTP, POP3, SNTP,
Network & protocols
WSDPrint, JetDirect protocols. NetBIOSoverTCP, NetWare
3.x, 4.x, 5.x and 6 with full NDS and NDPS support:- PServer,
RPrinter, NDPS supported via dedicated OKI NDPS Gateway.
AppleTalk:- ELAP, AARP, DDP, AEP, NBP, ZIP, RTMP, ATP, PAP.
NetBEUI:- SMB, NetBIOS. Other:EAP
OS Compatibility1
Windows 2000 / XP Home / XP Professional / XP Professional
x64 / Server 2003 / Server 2003 for x64 / Server 2008 / Server
2008 x64 / Vista (32-bit) / Vista (64-bit) / Windows 7 (web
download); Mac OS X 10.3.9 - 10.6.1
IPv6, 802.1x authentication, SNMPv3, SSL/TLS HTTPS
Advanced networking
encrpytion, Secure Print2, Secure Erase2, Data encrpytion2, MAC
and security
filtering, IP filtering, IPSec
Utility Suite1
Color Correct, OKI LPR3, PrintSuperVision.net3, Swatch Utility,
Template Manager3, Web Driver Installer3, Print Control Server3,
Print Control Client, Storage Device Manager3, Gamma Utility,
Profile Assistant2, Colour Access Policy Manager3
Tray 1: 300 sheets of 80gsm; Multi-purpose tray: 100 sheets
of 80gsm
Paper capacity Tray 2: 530 sheets of 80gsm
optional trays Tray 3: 530 sheets of 80gsm
Maximum paper capacity 1,460 sheets of 80gsm
Tray 1; A4, A5, B5, A6; Tray 2/3; A4, A5, B5;
Multi-purpose tray: A4, A5, B5, A6, 10 Envelopes (Com-9, Com10, DL, Monarch, C5), Labels (Avery 7162, 7664, 7666), Custom
Paper sizes
Size (up to 1,200mm length including banner);
Duplex: A4, A5, B5, Custom Size: Width 148-215.9mm x Length
210-355.6mm
Paper weight
Interface and Software
Printer languages
Paper capacity
Tray 1/2/3: 64-220gsm; Multi-purpose tray: 64-250gsm;
Duplex: 64-120gsm
Duplex Standard
Paper output 250 sheets face down, 100 sheets face up, (80gsm)
General Features
Memory Standard RAM: 256MB; Maximum RAM: 768MB;
Optional SDHC Memory Card4: 16GB
Temperature/Humidity: 10°C to 32°C (17°C to 27°C
recommended) / 20% to 80% RH (50% to 70% RH
Operating conditions recommended)
Storage: -10°C to 43°C, 10% to 90% RH
Power supply Single phase 220-240VAC, frequency 50/60Hz +/-2%
Power consumption
Noise level
Typical: 600W; Max: 1300W; Idle: 100W (average);
Power Save: <15W; Sleep: 1.2W
Operating: 54dB(A); Standby: 37dB(A);
Power save: Background Level
Dimensions (HxWxD) 340 x 435 x 604mm
Weight5 29kg
Product order numbers ES6410dn: 01269202
Accessories (Order Numbers)
2nd paper tray 44274502
3rd paper tray 44274502
Cabinet 01219302
Typefaces
Printer fonts
Scalable: 87 PCL fonts and 136 PostScript fonts; PCL Bitmap
fonts. OCR-A/B; USPS ZIP Barcode
Memory 256MB: 01182907; 512MB: 01182908
SDHC Memory Card4 16GB: 01272701
Barcode Barcode with Checksum support
1
Check local OKI Executive Series website for latest driver releases and OS compatibility; 2SDHC Memory Card required; 3Windows only; 4Secure Digital High Capacity (SDHC) Memory Card supports up to
32GB. OKI is not responsible for any compatibility risk using non OKI genuine SDHC Memory Card; 5Including all consumables.
Consumables Information: For the protection of your printer, and in order to ensure that you benefit from its full functionality, this model has been designed to operate only with genuine OKI Printing Solutions toner cartridges.
These can be identified by the OKI trademark. Any other toner cartridge may not operate at all, even if it is described as "compatible", and if it does work, your printer's performance and print quality may be degraded.
Oki Systems (UK) Ltd.
550 Dundee Road, Slough
Berkshire, SL1 4LE
United Kingdom
T +44(0) 1753 819819
F +44(0) 1753 819899
www.okiexecutiveseries.co.uk
© 2009 Oki Europe Ltd. Oki Printing Solutions is the trading name of Oki Europe Ltd. Version 1.0 12/2009.
Specification subject to change without notice. All trademarks acknowledged.