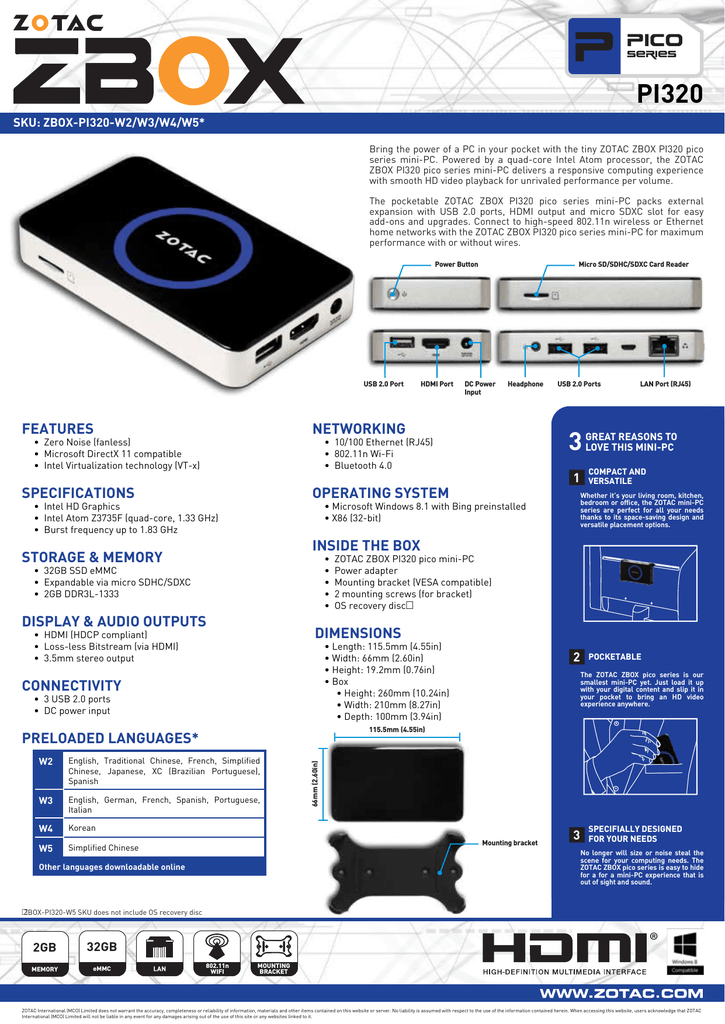 P PICO
SERIES
PI320
SKU: ZBOX-PI320-W2/W3/W4/W5*
Bring the power of a PC in your pocket with the tiny ZOTAC ZBOX PI320 pico
series mini-PC. Powered by a quad-core Intel Atom processor, the ZOTAC
ZBOX PI320 pico series mini-PC delivers a responsive computing experience
with smooth HD video playback for unrivaled performance per volume.
The pocketable ZOTAC ZBOX PI320 pico series mini-PC packs external
expansion with USB 2.0 ports, HDMI output and micro SDXC slot for easy
add-ons and upgrades. Connect to high-speed 802.11n wireless or Ethernet
home networks with the ZOTAC ZBOX PI320 pico series mini-PC for maximum
performance with or without wires.
Power Button
USB 2.0 Port
FEATURES
HDMI Port
Micro SD/SDHC/SDXC Card Reader
DC Power
Input
Headphone
NETWORKING
• Zero Noise (fanless)
• Microsoft DirectX 11 compatible
• Intel Virtualization technology (VT-x)
1
OPERATING SYSTEM
• Intel HD Graphics
• Intel Atom Z3735F (quad-core, 1.33 GHz)
• Burst frequency up to 1.83 GHz
LAN Port (RJ45)
REASONS TO
3 GREAT
LOVE THIS MINI-PC
• 10/100 Ethernet (RJ45)
• 802.11n Wi-Fi
• Bluetooth 4.0
SPECIFICATIONS
USB 2.0 Ports
COMPACT AND
VERSATILE
Whether it's your living room, kitchen,
bedroom or office, the ZOTAC mini-PC
series are perfect for all your needs
thanks to its space-saving design and
versatile placement options.
• Microsoft Windows 8.1 with Bing preinstalled
• X86 (32-bit)
INSIDE THE BOX
STORAGE & MEMORY
•
•
•
•
•
• 32GB SSD eMMC
• Expandable via micro SDHC/SDXC
• 2GB DDR3L-1333
DISPLAY & AUDIO OUTPUTS
ZOTAC ZBOX PI320 pico mini-PC
Power adapter
Mounting bracket (VESA compatible)
2 mounting screws (for bracket)
OS recovery disc¹
DIMENSIONS
• HDMI (HDCP compliant)
• Loss-less Bitstream (via HDMI)
• 3.5mm stereo output
• Length: 115.5mm (4.55in)
• Width: 66mm (2.60in)
• Height: 19.2mm (0.76in)
• Box
• Height: 260mm (10.24in)
• Width: 210mm (8.27in)
• Depth: 100mm (3.94in)
CONNECTIVITY
• 3 USB 2.0 ports
• DC power input
2
POCKETABLE
The ZOTAC ZBOX pico series is our
smallest mini-PC yet. Just load it up
with your digital content and slip it in
your pocket to bring an HD video
experience anywhere.
115.5mm (4.55in)
W2
English, Traditional Chinese, French, Simplified
Chinese, Japanese, XC (Brazilian Portuguese),
Spanish
W3
English, German, French, Spanish, Portuguese,
Italian
W4
Korean
W5
Simplified Chinese
66mm (2.60in)
PRELOADED LANGUAGES*
Mounting bracket
3
SPECIFIALLY DESIGNED
FOR YOUR NEEDS
No longer will size or noise steal the
scene for your computing needs. The
ZOTAC ZBOX pico series is easy to hide
for a for a mini-PC experience that is
out of sight and sound.
Other languages downloadable online
¹ZBOX-PI320-W5 SKU does not include OS recovery disc
2GB
32GB
MEMORY
eMMC
®
802.11n
WIFI
MOUNTING
BRACKET
ZOTAC International (MCO) Limited does not warrant the accuracy, completeness or reliability of information, materials and other items contained on this website or server. No liability is assumed with respect to the use of the information contained herein. When accessing this website, users acknowledge that ZOTAC
International (MCO) Limited will not be liable in any event for any damages arising out of the use of this site or any websites linked to it.

* Your assessment is very important for improving the work of artificial intelligence, which forms the content of this project