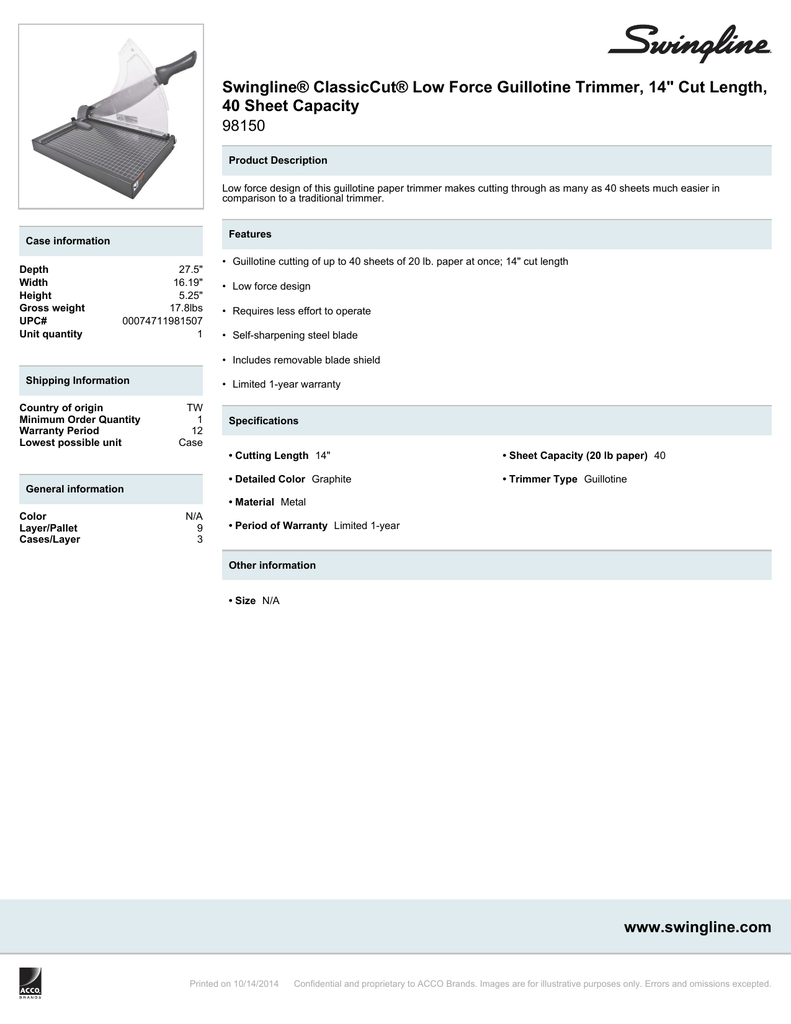 Swingline® ClassicCut® Low Force Guillotine Trimmer, 14" Cut Length,
40 Sheet Capacity
98150
Product Description
Low force design of this guillotine paper trimmer makes cutting through as many as 40 sheets much easier in
comparison to a traditional trimmer.
Features
Case information
Depth
Width
Height
Gross weight
UPC#
Unit quantity
27.5"
16.19"
5.25"
17.8lbs
00074711981507
1
• Guillotine cutting of up to 40 sheets of 20 lb. paper at once; 14" cut length
• Low force design
• Requires less effort to operate
• Self-sharpening steel blade
• Includes removable blade shield
Shipping Information
Country of origin
Minimum Order Quantity
Warranty Period
Lowest possible unit
• Limited 1-year warranty
TW
1
12
Case
Specifications
• Cutting Length 14"
• Sheet Capacity (20 lb paper) 40
• Detailed Color Graphite
• Trimmer Type Guillotine
General information
• Material Metal
Color
Layer/Pallet
Cases/Layer
N/A
9
3
• Period of Warranty Limited 1-year
Other information
• Size N/A
www.swingline.com
Printed on 10/14/2014
Confidential and proprietary to ACCO Brands. Images are for illustrative purposes only. Errors and omissions excepted.

* Your assessment is very important for improving the work of artificial intelligence, which forms the content of this project