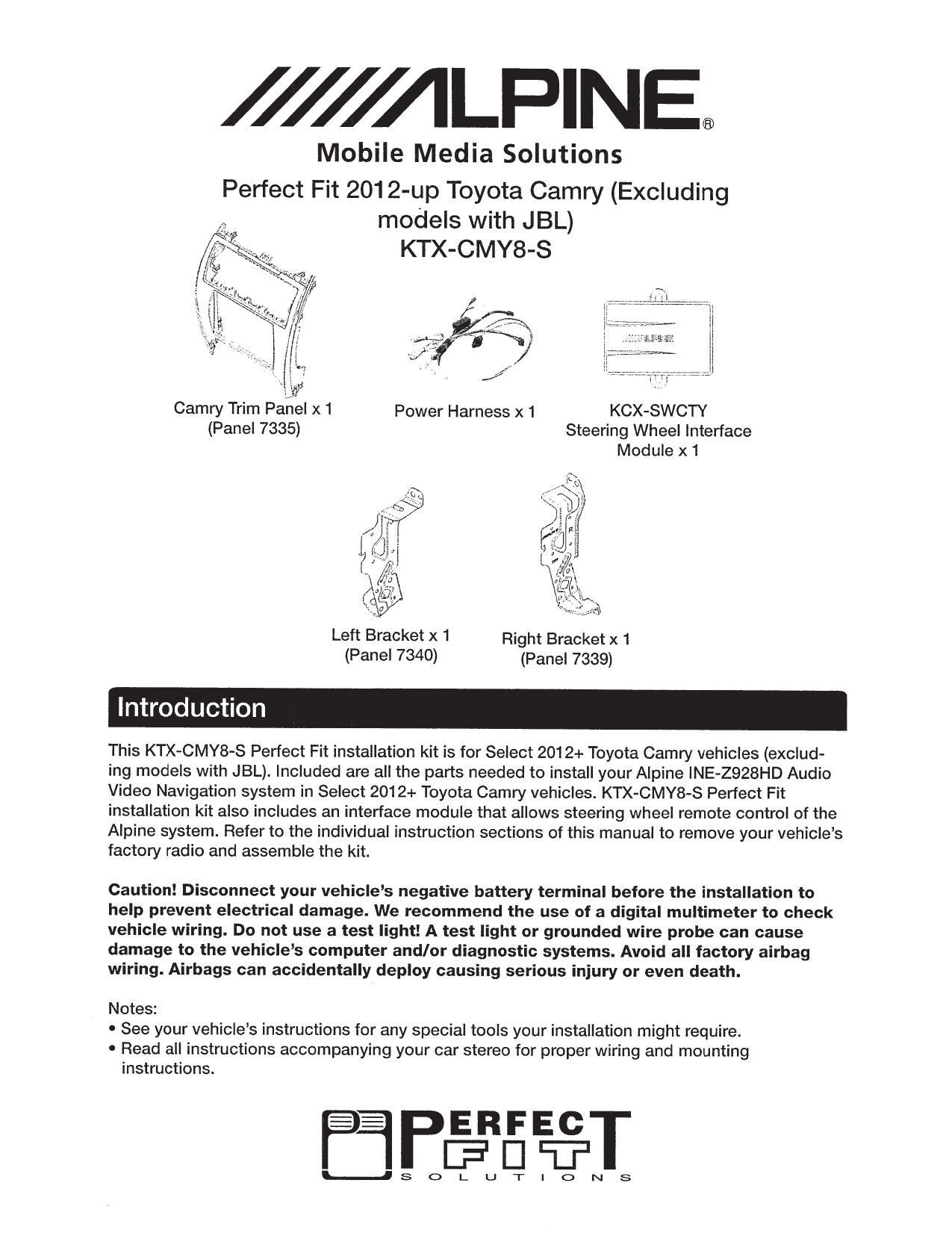 Mobile Media Solutions
Perfect Fit 2012-up Toyota Camry (Excluding
models with JBL)
KTX-CMY8-S
Power Harness x 1
Left Bracket x 1
(Panel 7340)
KCX-SWCTY
Steering Wheel Interface
Module x 1
Right Bracket x 1
(Panel 7339)
Introduction
This KTX-CMY8-S Perfect Fit installation kit is for Select 2012+ Toyota Camry vehicles (excluding models with JBL). Included are all the parts needed to install your Alpine INE-Z928HD Audio
Video Navigation system in Select 2012+ Toyota Camry vehicles. KTX-CMY8-S Perfect Fit
installation kit also includes an interface module that allows steering wheel remote control of the
Alpine system. Refer to the individual instruction sections of this manual to remove your vehicle's
factory radio and assemble the kit.
Caution! Disconnect your vehicle's negative battery terminal before the installation to
help prevent electrical damage. We recommend the use of a digital multimeter to check
vehicle wiring. Do not use a test light! A test light or grounded wire probe can cause
damage to the vehicle's computer and/or diagnostic systems. Avoid all factory airbag
wiring. Airbags can accidentally deploy causing serious injury or even death.
Notes:
• See your vehicle's instructions for any special tools your installation might require.
• Read all instructions accompanying your car stereo for proper wiring and mounting
instructions.
Factory Stereo Removal
1 . Use a Panel Removal Tool to unsnap (2) vertical
trim panels, at left and right sides of stereo.
2. Use a Panel Removal Tool to carefully unsnap and
remove vent assembly above the stereo. Use a Panel
Removal Tool to carefully unsnap clock panel at the
top of dash. Tilt clock panel away to clear access for
stereo removal
3. Extract (2) 1Omm bolts above radio (from vent
cavity).
4. Extract (2) 1Omm bolts to the lower left and right
of HVAC controls.
5. Trim across the entire plastic bracket 1/2" to
make room for the head unit.
6. Lift radio/HVAC stack out of dash, unplug all
connectors and remove. Extract (2) Phillips head
screws from each inner side the of the HVAC control
module to separate from Factory bracket assembly.
Mounting The Stereo
1. Attach brackets 7340 and 7339 to the Alpine head
unit using the ISO screws (that come with the head
unit).
2. Plug in the supplied radio harnesse s and steering wheel controls. Run Bluetooth mic & GPS
antenna, and install foot brake and parking brake
wires.
3. Attach the Factory HVAC module within the
7340 and 7339 brackets below the head unit (reuse Factory screws.)
4. Connect head unit & factory HVAC module and
mount in dash re-using the factory hardware.
5. Snap the Perfect Fit trim panel into the dash
(around the head unit/HVAC controls). Re-assemble final trim pieces in reverse order.
Steering Wheel Controls
Steering Wheel Control Operatio n
(when vehicle is equipped )
1. Answer
2. Mute
3 . Hang Up
4. Source
5. Seek/Track Down
6. Volume Down
7. Volume Up
8. Seek/Trac k Up
Wiring Harness Diagram
To Toyota Camry
Vehicle Harness
To Head Unit
INE-Z928HD
Audio
Video
Navigation
System
t
Do not use 201 0-up .... -----------------..
Steering
(
•
Wheel connector : 0
:
(20-pin)
i
i
Use 28-Pin Steering !
Wheel connector \...
:
To Steering Wheel
Remote Control
Module
.--------------.·..
To Parking Brake(-)
at the parking brake
in drivers kick panel
To aftermarket
amplifier remote
turn on
To Reverse Trigger
(+). Use only with a
back up camera (+)
side of the reverse
light
To Steering Remote
Input (Pigtail)
.______ _ _---~
Yellow/Blue
Blue/White
Orange/White
Liability Disclaimer
,
Due to changes in design and manufacturing that may occur with your specific vehicle, it
is important that you do not rely solely on vehicle information contained in this installation
manual, such as dash disassembly, wire harness, and codes. Such information should be
confirmed with the vehicle manufacturer. Alpine Electronics, Inc. and its affiliated companies
is not responsible for damage that may occur to you or your automobile during the installation
of the Perfect Fit Kit.
If you have any further questions, feel free to contact Alpine Tech Support at 1-800-NAV-HELP.
ALPINE ELECTRONICS OF AMERICA, INC., 19145 Gramercy Place, Torrance, CA 90501, U.S.A
ALPINE ELECTRONICS OF CANADA, INC., 777 Supertest Road, Toronto, Ontario M3J 2M9,
Canada
Do not send products to these addresses.
Call the toll free number or visit the website to locate a service center.

* Your assessment is very important for improving the work of artificial intelligence, which forms the content of this project