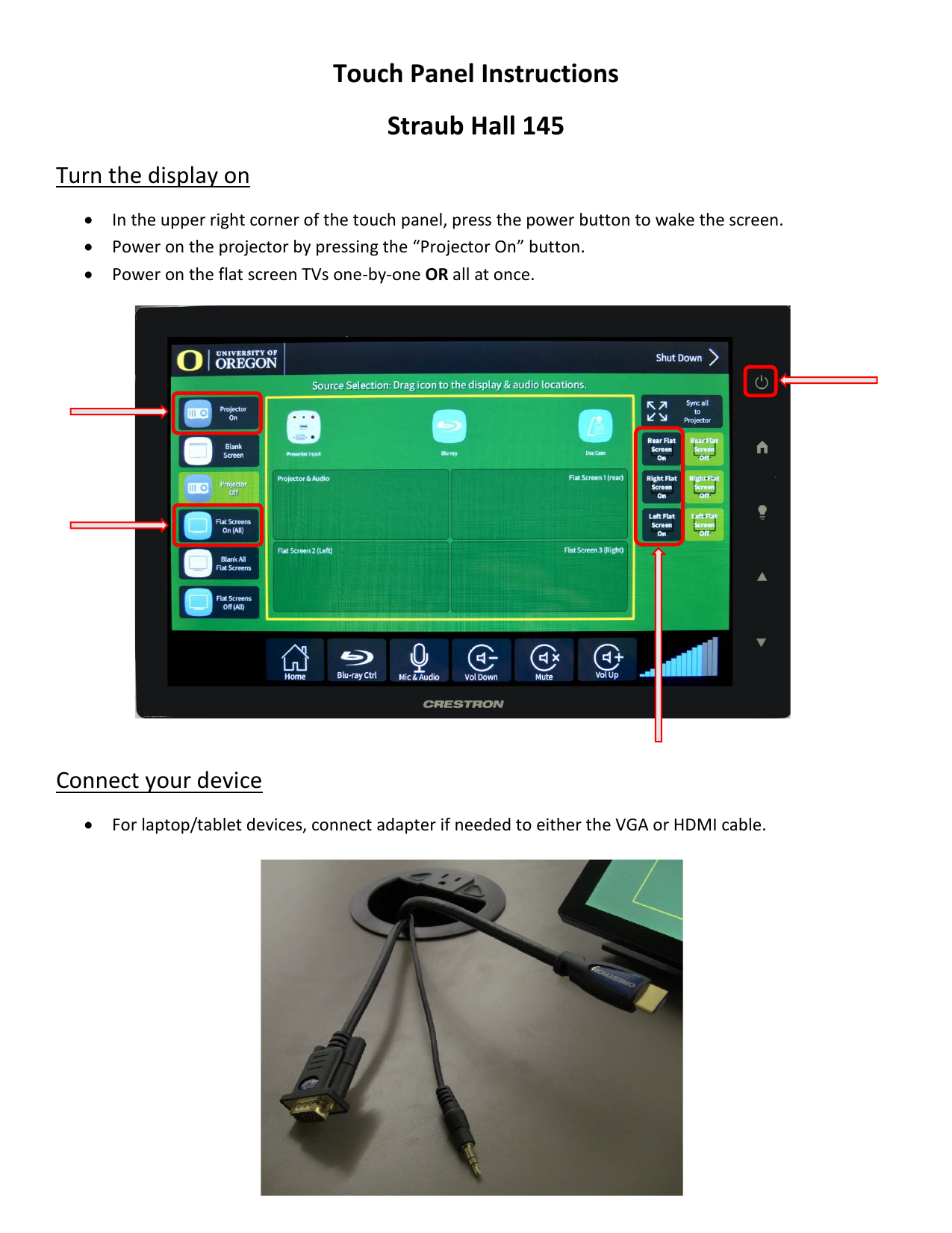 Touch Panel Instructions
Straub Hall 145
Turn the display on
•
•
•
In the upper right corner of the touch panel, press the power button to wake the screen.
Power on the projector by pressing the "Projector On" button.
Power on the flat screen TVs one-by-one OR all at once.
Connect your device
•
For laptop/tablet devices, connect adapter if needed to either the VGA or HDMI cable.
Select your projection source
•
There are three source options to choose from:
o "Presenter Input", which includes VGA, HDMI, RCA, and audio cable inputs from the
podium. If you have devices connected to both VGA and HDMI, the system will place
preference on the HDMI source.
o Blu-ray
o Document camera
Display your source
•
•
Each box represents a projector or flat screen TV. Hold and drag the icon of the source to the
box that represents the display you want to project on.
Press the "Sync all to Projector" button to display the main projector source on all of the flat
screen TVs.
Audio
•
•
•
If you would like to connect the sound to the system, plug the audio cable into the headphone
input of your device. If you are connected via the HDMI cable, you do not need to connect any
extra cables. Then drag the "Presenter Input" icon to the "Projector & Audio" box.
You can control the volume by tapping the volume options along the bottom of the screen.
Tap "Mute" to cut the sound. Tap again to unmute.
Microphones
•
•
•
Find the microphone in its charging station. Tap the "Mic & Audio" button near the bottom of
the touch panel to turn on the microphone and adjust audio levels.
Identify the microphone that you would like to use (lapel mic, hand-held mic) and tap the up
and down arrows to adjust the volume level, or press the "Mute" button to cut the sound
from your microphone.
When finished, return the microphone back to its charging station and press down until it clicks
into place.
Please be sure to turn off the system when you are finished.
•
Press the power button on the upper right-hand corner of the touch panel and press the "Yes,
shut down the system and display now" button.

* Your assessment is very important for improving the work of artificial intelligence, which forms the content of this project