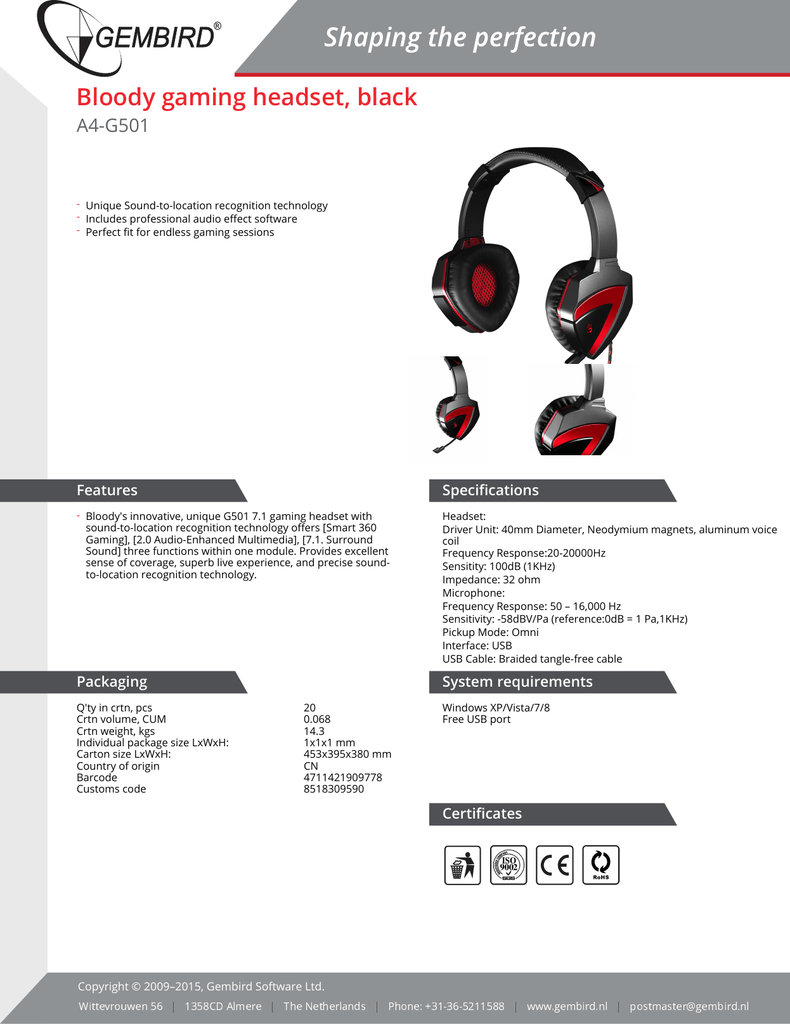 Bloody gaming headset, black
A4-G501
- Unique Sound-to-location recognition technology
- Includes professional audio effect software
- Perfect fit for endless gaming sessions
Features
Specifications
- Bloody's innovative, unique G501 7.1 gaming headset with
sound-to-location recognition technology offers [Smart 360
Gaming], [2.0 Audio-Enhanced Multimedia], [7.1. Surround
Sound] three functions within one module. Provides excellent
sense of coverage, superb live experience, and precise soundto-location recognition technology.
Headset:
Driver Unit: 40mm Diameter, Neodymium magnets, aluminum voice
coil
Frequency Response:20-20000Hz
Sensitity: 100dB (1KHz)
Impedance: 32 ohm
Microphone:
Frequency Response: 50 – 16,000 Hz
Sensitivity: -58dBV/Pa (reference:0dB = 1 Pa,1KHz)
Pickup Mode: Omni
Interface: USB
USB Cable: Braided tangle-free cable
Packaging
System requirements
Q'ty in crtn, pcs
Crtn volume, CUM
Crtn weight, kgs
Individual package size LxWxH:
Carton size LxWxH:
Country of origin
Barcode
Customs code
20
0.068
14.3
1x1x1 mm
453x395x380 mm
CN
4711421909778
8518309590
Windows XP/Vista/7/8
Free USB port
Certificates
Copyright © 2009–2015, Gembird Software Ltd.
!
"
#
$
!
"

* Your assessment is very important for improving the work of artificial intelligence, which forms the content of this project