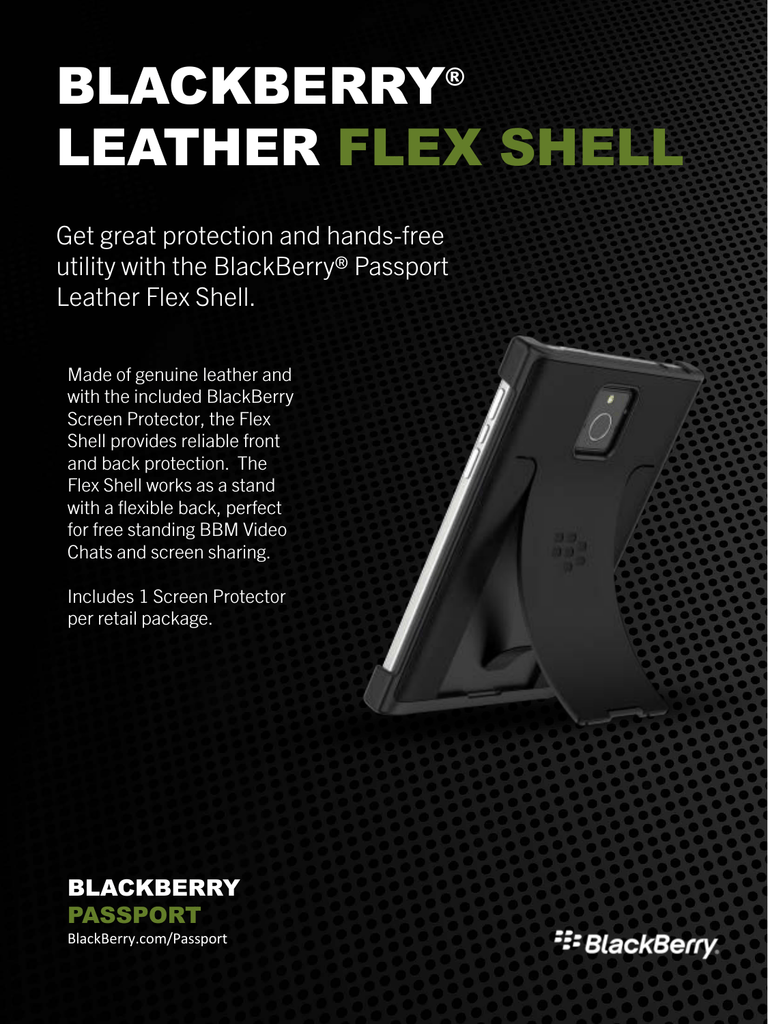 BLACKBERRY®
LEATHER FLEX SHELL
Get great protection and hands-free
utility with the BlackBerry® Passport
Leather Flex Shell.
Made of genuine leather and
with the included BlackBerry
Screen Protector, the Flex
Shell provides reliable front
and back protection. The
Flex Shell works as a stand
with a flexible back, perfect
for free standing BBM Video
Chats and screen sharing.
Includes 1 Screen Protector
per retail package.
BLACKBERRY
PASSPORT
BlackBerry.com/Passport
Unique Selling Proposition (USP)
•
•
•
•
Free standing
Ultra-thin protection
Genuine leather
NFC friendly
Compatibility
• BlackBerry® Passport smartphone
Additional Information
• Material Composition: Polycarbonate
and leather
• Country of Origin: China
MSRP
• $39.99 USD
• £29.99 GBP
• €34.99 EURO
Retail Packaging (Global)
BlackBerry® Leather Flex Shell,
Black
Master Carton Dimensions
(Length x Width x Height)
Master Carton Weight (g)
MOQ
ACC-60721-001
200 mm x 190 mm x 165 mm
220 g
20
©2014 BlackBerry. All rights reserved. BlackBerry®, BBM™ and related trademarks, names and logos are the property of BlackBerry Limited
("BlackBerry") and are registered and/or used in the U.S. and countries around the world.

* Your assessment is very important for improving the work of artificial intelligence, which forms the content of this project