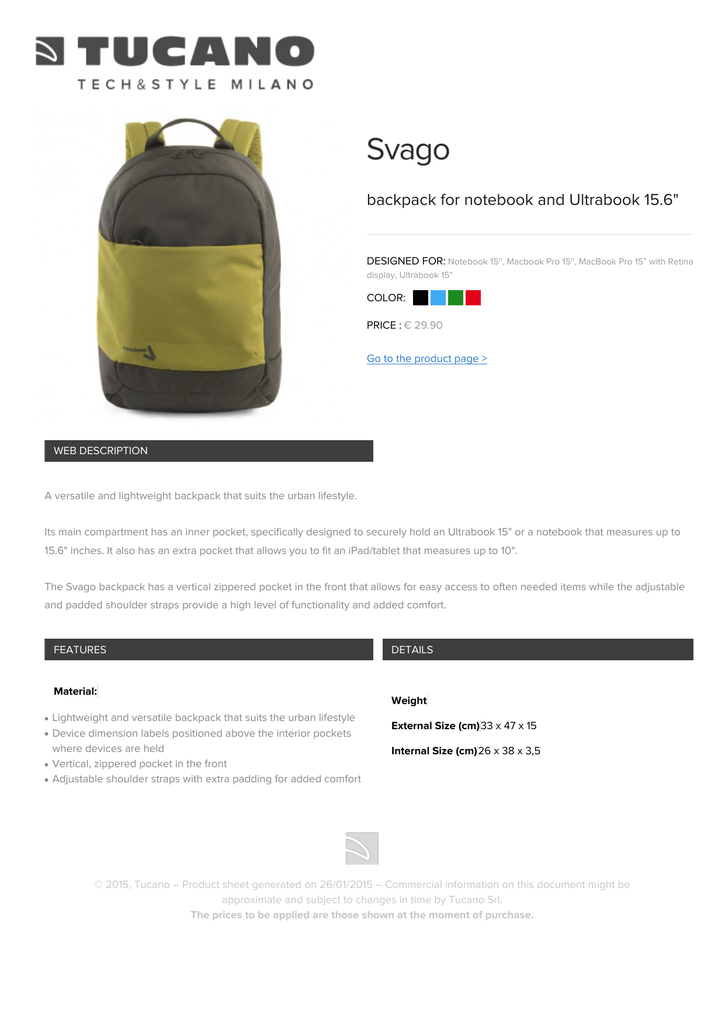 Svago
backpack for notebook and Ultrabook 15.6"
DESIGNED FOR: Notebook 15'', Macbook Pro 15'', MacBook Pro 15" with Retina
display, Ultrabook 15"
COLOR:
PRICE : € 29.90
Go to the product page >
WEB DESCRIPTION
A versatile and lightweight backpack that suits the urban lifestyle.
Its main compartment has an inner pocket, specifically designed to securely hold an Ultrabook 15" or a notebook that measures up to
15.6" inches. It also has an extra pocket that allows you to fit an iPad/tablet that measures up to 10".
The Svago backpack has a vertical zippered pocket in the front that allows for easy access to often needed items while the adjustable
and padded shoulder straps provide a high level of functionality and added comfort.
FEATURES
Material:
●
●
●
●
Lightweight and versatile backpack that suits the urban lifestyle
Device dimension labels positioned above the interior pockets
where devices are held
Vertical, zippered pocket in the front
Adjustable shoulder straps with extra padding for added comfort
DETAILS
Weight
External Size (cm)33 x 47 x 15
Internal Size (cm)26 x 38 x 3,5
© 2015, Tucano – Product sheet generated on 26/01/2015 – Commercial information on this document might be
approximate and subject to changes in time by Tucano Srl.
The prices to be applied are those shown at the moment of purchase.

* Your assessment is very important for improving the work of artificial intelligence, which forms the content of this project