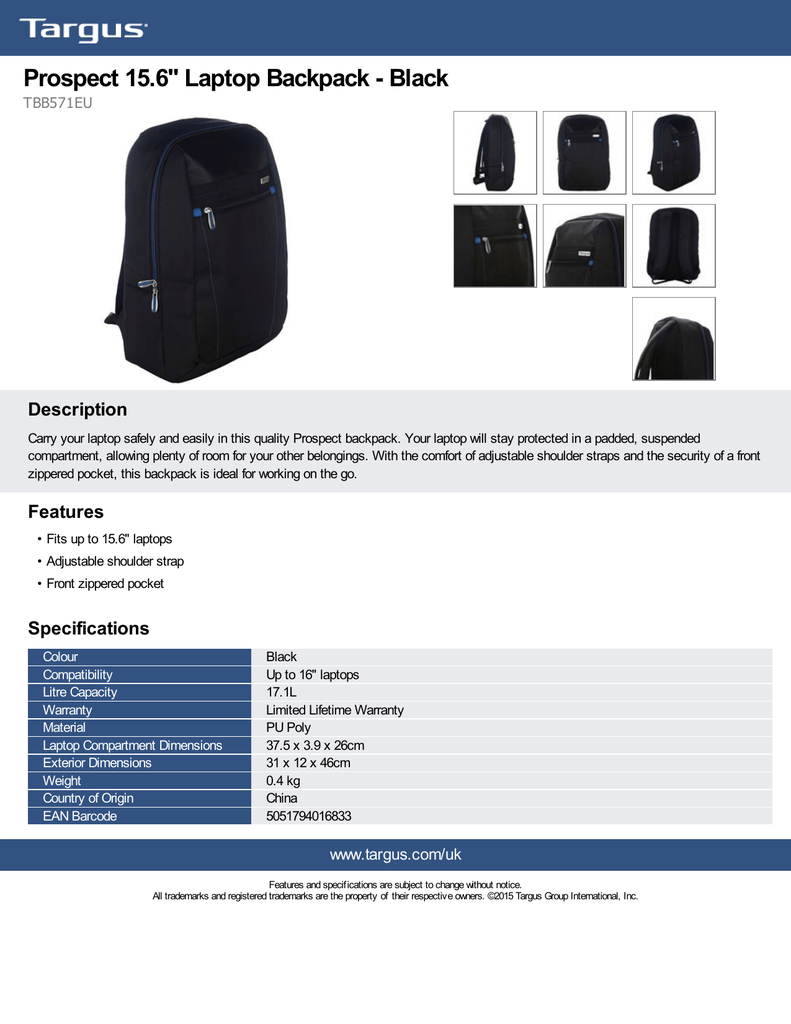 Prospect 15.6" Laptop Backpack - Black
TBB571EU
Description
Carry your laptop safely and easily in this quality Prospect backpack. Your laptop will stay protected in a padded, suspended
compartment, allowing plenty of room for your other belongings. With the comfort of adjustable shoulder straps and the security of a front
zippered pocket, this backpack is ideal for working on the go.
Features
• Fits up to 15.6" laptops
• Adjustable shoulder strap
• Front zippered pocket
Specifications
Colour
Compatibility
Litre Capacity
Warranty
Material
Laptop Compartment Dimensions
Exterior Dimensions
Weight
Country of Origin
EAN Barcode
Black
Up to 16" laptops
17.1L
Limited Lifetime Warranty
PU Poly
37.5 x 3.9 x 26cm
31 x 12 x 46cm
0.4 kg
China
5051794016833
www.targus.com/uk
Features and specifications are subject to change without notice.
All trademarks and registered trademarks are the property of their respective owners. ©2015 Targus Group International, Inc.

* Your assessment is very important for improving the work of artificial intelligence, which forms the content of this project