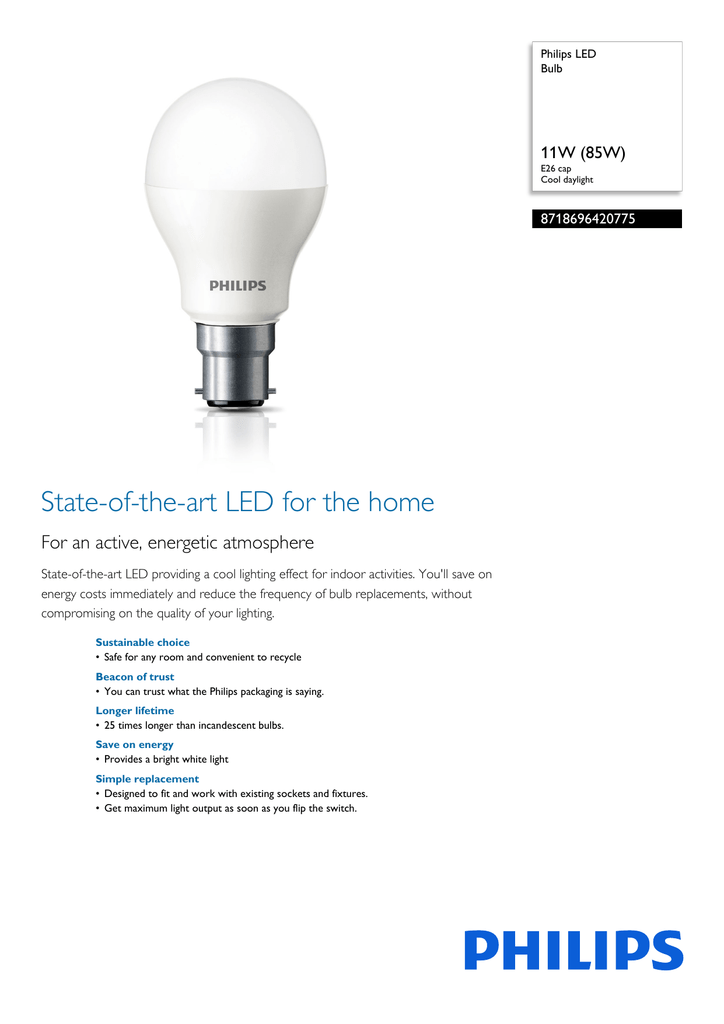 Philips LED
Bulb
11W (85W)
E26 cap
Cool daylight
8718696420775
State-of-the-art LED for the home
For an active, energetic atmosphere
State-of-the-art LED providing a cool lighting effect for indoor activities. You'll save on
energy costs immediately and reduce the frequency of bulb replacements, without
compromising on the quality of your lighting.
Sustainable choice
• Safe for any room and convenient to recycle
Beacon of trust
• You can trust what the Philips packaging is saying.
Longer lifetime
• 25 times longer than incandescent bulbs.
Save on energy
• Provides a bright white light
Simple replacement
• Designed to fit and work with existing sockets and fixtures.
• Get maximum light output as soon as you flip the switch.
8718696420775
Bulb
11W (85W) E26 cap, Cool daylight
Specifications
Bulb characteristics
•
•
•
•
• Color rendering index (CRI): 80
• Warm-up time to 60% light: Instant full light
Shape: Standard
Cap/fitting: E26
Voltage: 220-240V V
Dimmable: No
Durability
• Lifetime of lamp: 15000 hour(s)
• Number of switch cycles: 50000
Power consumption
• Wattage: 11 W
• Wattage equivalent: 85 W
• Energy efficiency label: A+
Bulb dimensions
Light characteristics
Other characteristics
• Light output: 1055 lumen
• Color temperature: 6500 K
• Light effect/finish: White
• Height: 103 mm
• Width: 56 mm
• Mercury content: 0 mg
• Power factor: >0.5
•
Issue date 2014-09-15
© 2014 Koninklijke Philips N.V.
All Rights reserved.
Version: 1.1.1
Specifications are subject to change without notice.
Trademarks are the property of Koninklijke Philips N.V.
or their respective owners.
12 NC: 9290 002 49919
www.philips.com
* *Based on average usage of 3 hours per day
* **This lamp complies with EMC requirements when used in
combination with a high quality electronic transformer, such as the
Philips CERTALINE 60 transformer. Performance may vary based on
the transformer used to operate the lamp.

* Your assessment is very important for improving the work of artificial intelligence, which forms the content of this project