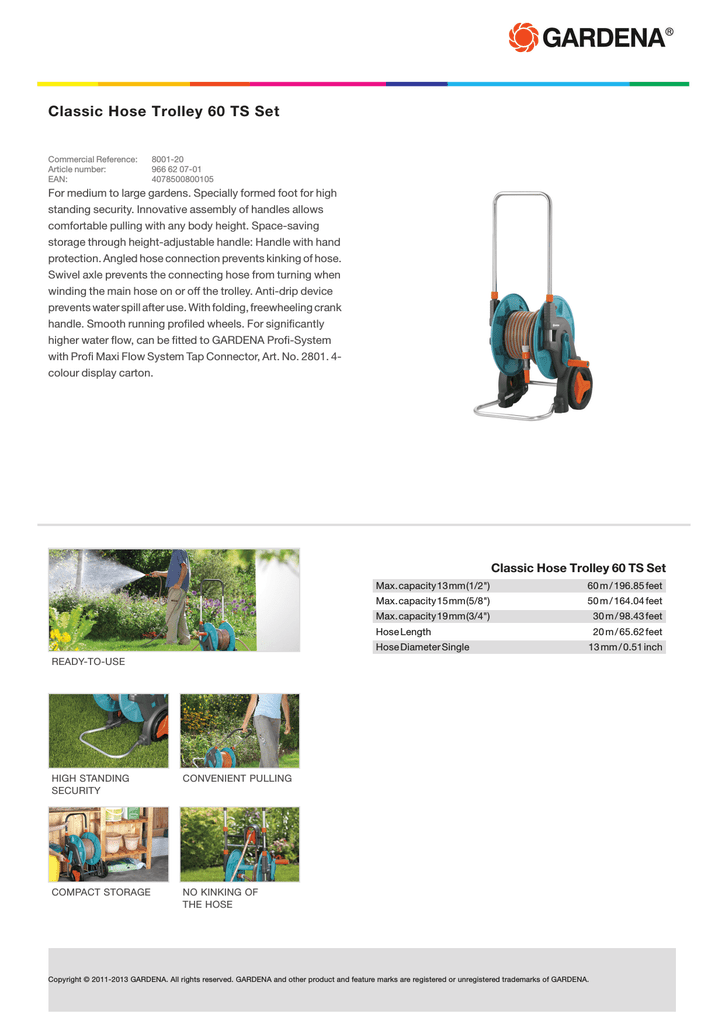 Classic Hose Trolley 60 TS Set
Commercial Reference:
Article number:
EAN:
8001-20
966 62 07-01
4078500800105
For medium to large gardens. Specially formed foot for high
standing security. Innovative assembly of handles allows
comfortable pulling with any body height. Space-saving
storage through height-adjustable handle: Handle with hand
protection. Angled hose connection prevents kinking of hose.
Swivel axle prevents the connecting hose from turning when
winding the main hose on or off the trolley. Anti-drip device
prevents water spill after use. With folding, freewheeling crank
handle. Smooth running profiled wheels. For significantly
higher water flow, can be fitted to GARDENA Profi-System
with Profi Maxi Flow System Tap Connector, Art. No. 2801. 4colour display carton.
Classic Hose Trolley 60 TS Set
Max.capacity13mm(1/2")
60 m / 196.85 feet
Max.capacity15mm(5/8")
50 m / 164.04 feet
Max.capacity19mm(3/4")
30 m / 98.43 feet
Hose Length
20 m / 65.62 feet
Hose Diameter Single
13 mm / 0.51 inch
READY-TO-USE
HIGH STANDING
SECURITY
CONVENIENT PULLING
COMPACT STORAGE
NO KINKING OF
THE HOSE
Copyright © 2011-2013 GARDENA. All rights reserved. GARDENA and other product and feature marks are registered or unregistered trademarks of GARDENA.

* Your assessment is very important for improving the work of artificial intelligence, which forms the content of this project