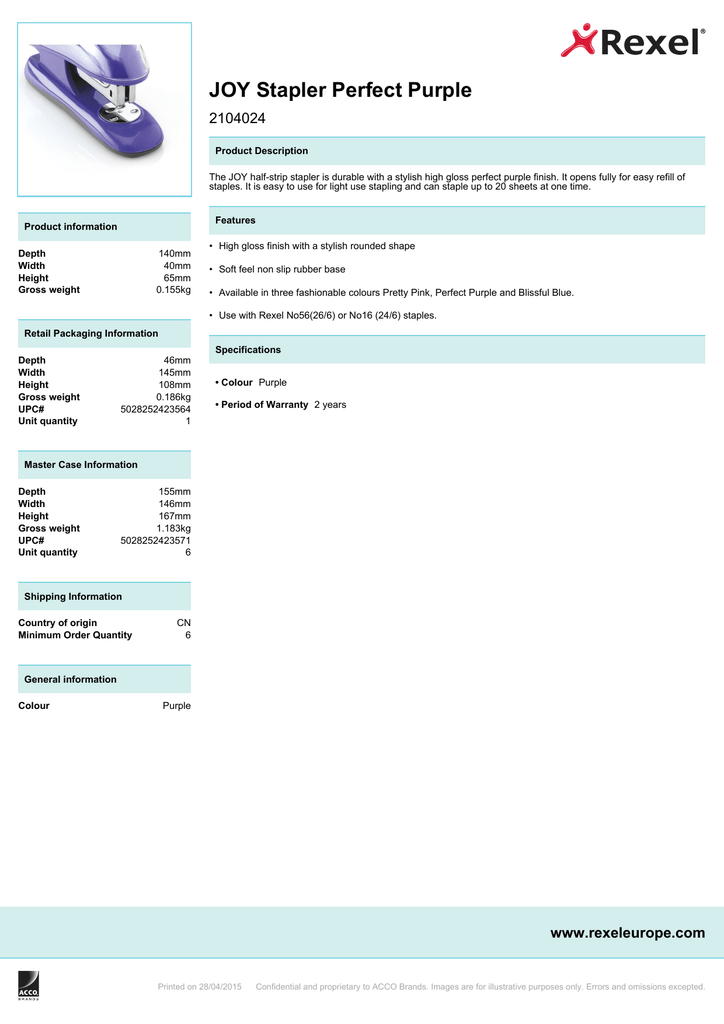 JOY Stapler Perfect Purple
2104024
Product Description
The JOY half-strip stapler is durable with a stylish high gloss perfect purple finish. It opens fully for easy refill of
staples. It is easy to use for light use stapling and can staple up to 20 sheets at one time.
Features
Product information
Depth
Width
Height
Gross weight
140mm
40mm
65mm
0.155kg
• High gloss finish with a stylish rounded shape
• Soft feel non slip rubber base
• Available in three fashionable colours Pretty Pink, Perfect Purple and Blissful Blue.
• Use with Rexel No56(26/6) or No16 (24/6) staples.
Retail Packaging Information
Specifications
Depth
Width
Height
Gross weight
UPC#
Unit quantity
46mm
145mm
108mm
0.186kg
5028252423564
1
• Colour Purple
• Period of Warranty 2 years
Master Case Information
Depth
Width
Height
Gross weight
UPC#
Unit quantity
155mm
146mm
167mm
1.183kg
5028252423571
6
Shipping Information
Country of origin
Minimum Order Quantity
CN
6
General information
Colour
Purple
www.rexeleurope.com
Printed on 28/04/2015
Confidential and proprietary to ACCO Brands. Images are for illustrative purposes only. Errors and omissions excepted.

* Your assessment is very important for improving the work of artificial intelligence, which forms the content of this project