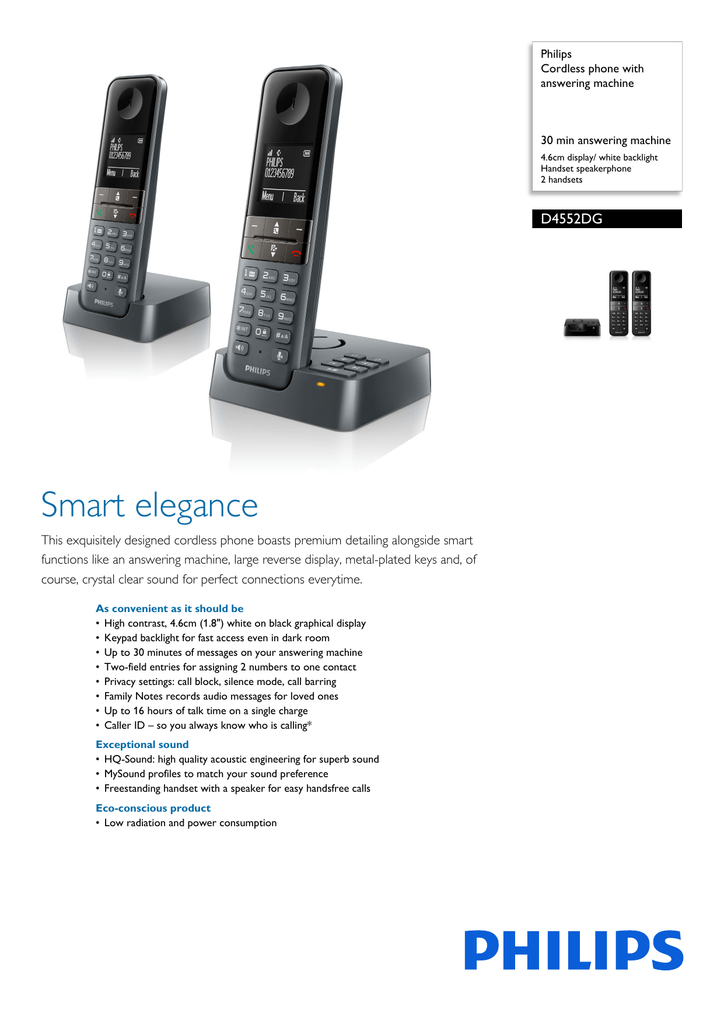 Philips
Cordless phone with
answering machine
30 min answering machine
4.6cm display/ white backlight
Handset speakerphone
2 handsets
D4552DG
Smart elegance
This exquisitely designed cordless phone boasts premium detailing alongside smart
functions like an answering machine, large reverse display, metal-plated keys and, of
course, crystal clear sound for perfect connections everytime.
As convenient as it should be
• High contrast, 4.6cm (1.8") white on black graphical display
• Keypad backlight for fast access even in dark room
• Up to 30 minutes of messages on your answering machine
• Two-field entries for assigning 2 numbers to one contact
• Privacy settings: call block, silence mode, call barring
• Family Notes records audio messages for loved ones
• Up to 16 hours of talk time on a single charge
• Caller ID – so you always know who is calling*
Exceptional sound
• HQ-Sound: high quality acoustic engineering for superb sound
• MySound profiles to match your sound preference
• Freestanding handset with a speaker for easy handsfree calls
Eco-conscious product
• Low radiation and power consumption
D4552DG/FR
Cordless phone with answering machine
30 min answering machine 4.6cm display/ white backlight, Handset speakerphone, 2 handsets
Highlights
4.6cm (1.8") graphical display
Handset speakerphone
Keypad backlight
High contrast, 4.6cm (1.8") white on black
graphical display
Handsfree mode uses a built-in loud speaker to
amplify the voice of the caller, allowing you to
speak and listen during a call without holding
the phone to your ear. This is especially useful
if you want to share the call with others or
simply multitask.
The soft amber backlight makes keys easy to
read in low light conditions and at night.
Caller ID*
Multiple privacy settings
HQ-Sound
Sometimes it is good to know who is calling
before you answer. And our Caller ID lets you
keep track of who is on the other end of the
line.
Eco-conscious product
Philips phones are energy efficient and
designed to be respectful to the environment.
Philips cordless phones with HQ-Sound: build
upon decades of experience and breakthrough
innovations in developing Hi-Fi audio products
and high-end headphones to deliver excellent
voice clarity on our DECT phones. When it
comes to improving sound quality, our
acoustics engineers and architects have
thought of everything – high quality
components, digital signal processing, precise
acoustic design, advanced testing and finetuning. The result is sound that is crisp, clear
and authentic. Sound so good and natural, it is
almost like being there in person.
Black list restricts receiving calls from specific
numbers or starting with certain digits, keeping
you away from unwanted calls. You can block
4 sets of numbers. Each set of numbers can
consist between 1 to 24 digits. When there is
an incoming call that starts with one of these
numbers or being one of 4 exact Caller
numbers, the phone will not ring. With silence
mode you can disable the ringtones for specific
times to enjoy peace and silence. Thanks to
Call barring you can avoid expensive phone bill
surprises by blocking calls to specific numbers
starting with certain digits.
MySound profiles
Sound perception is subjective, and everyone
has their own listening preference. MySound
brings personality back to every conversation
by allowing you to choose the audio profile
that best matches your sound preferences:
Clear – to make voices sound crisper and
clearer; Soft – for friendly, softer tones; Warm
– to make voices sound welcoming and warm.
D4552DG/FR
Cordless phone with answering machine
30 min answering machine 4.6cm display/ white backlight, Handset speakerphone, 2 handsets
Specifications
Convenience
•
•
•
•
•
•
•
•
•
•
•
•
•
•
•
•
•
•
•
•
•
•
•
•
•
•
•
•
•
•
•
•
Menu structure in the handset: List Menu
Speakerphone - talk handsfree
Personalization: Silent mode
Call barring: Restrict the phone from making
specific outgoing calls
Block callers/ Blacklist*: Restrict the phone from
ringing on specific incoming numbers
Signal strength indicator: 3-bar indicator
Battery level indicator: 3-bar battery icon
Intercom - multiple handsets
Date / Time display
Alarm Clock
Event light on the handset
Programmable hot keys: Key 1
Call Management: Call Waiting*, Caller ID*,
Microphone mute, Missed Calls, Received Calls,
Dialed calls
Keypad lock
Key tone on/off
Auto Registration
Auto hang up
Multi handset capability: Up to 4
Number of keys: 20
Backlit keypad: Soft Amber
Illuminated keypad
Enlarge dialing digit
Base Station keys: Paging key, Volume control,
Answering machine keys
Up to 16 hrs talk time
Up to 250 hrs standby time
Charge time: 8 hours
Line cord length: 1.8m
Power cord length: 1.8m
Range: Open field <300m; indoor <50m
Family Notes
Event notifications: for missed calls
Non-slip grip: Pinstripe texture
Picture/Display
•
•
•
•
Display size: 4.6cm / 1.8"
Display type: Reversed dot matrix
Backlight: Yes
Backlight color: White
Sound
• Sound Profile: MySound
• Volume control on handset
• Ringtones on handset: 10 polyphonic
• HQ-Sound
Answering Machine
•
•
•
•
•
Recording time capacity: up to 30 minutes
Pre-recorded OGM
Answering machine control: from base & handset
Loud speaker on base
Message indication on base: LED (Soft Amber)
Memory Capacity
•
•
•
•
•
Phonebook: 50 names and numbers
Redial List Capacity: 20 last numbers
Call log entries: 50 entries
Phonebook store in the base
Multiple phonebook entries: up to 2 numbers
Power
• Battery capacity: 550 mAh
• Battery type: AAA NiMH Rechargeable
• Mains power: AC 100-240V ~50/60Hz
Security
• Transmission encryption : Yes
Network Features
• Compatible: GAP
SAR Value
• Philips handsets: <0.1 W/kg
Eco Design
• EcoMode: automatic & manual
• Eco+
Packaging dimensions
•
•
•
•
•
•
•
•
Packaging type: Carton
Number of products included: 1
Type of shelf placement: Laying
Packaging dimensions (W x H x D):
18.5 x 13.6 x 8.4 cm
Gross weight: 0.6387 kg
Nett weight: 0.5333 kg
Tare weight: 0.1054 kg
EAN: 48 95185 60919 5
•
Issue date 2015-01-28
© 2015 Koninklijke Philips N.V.
All Rights reserved.
Version: 3.0.3
Specifications are subject to change without notice.
Trademarks are the property of Koninklijke Philips N.V.
or their respective owners.
12 NC: 8670 001 25702
EAN: 48 95185 60919 5
www.philips.com
* *This feature requires additional subscription of Caller ID service.
Please check with your local network operator for details.

* Your assessment is very important for improving the work of artificial intelligence, which forms the content of this project