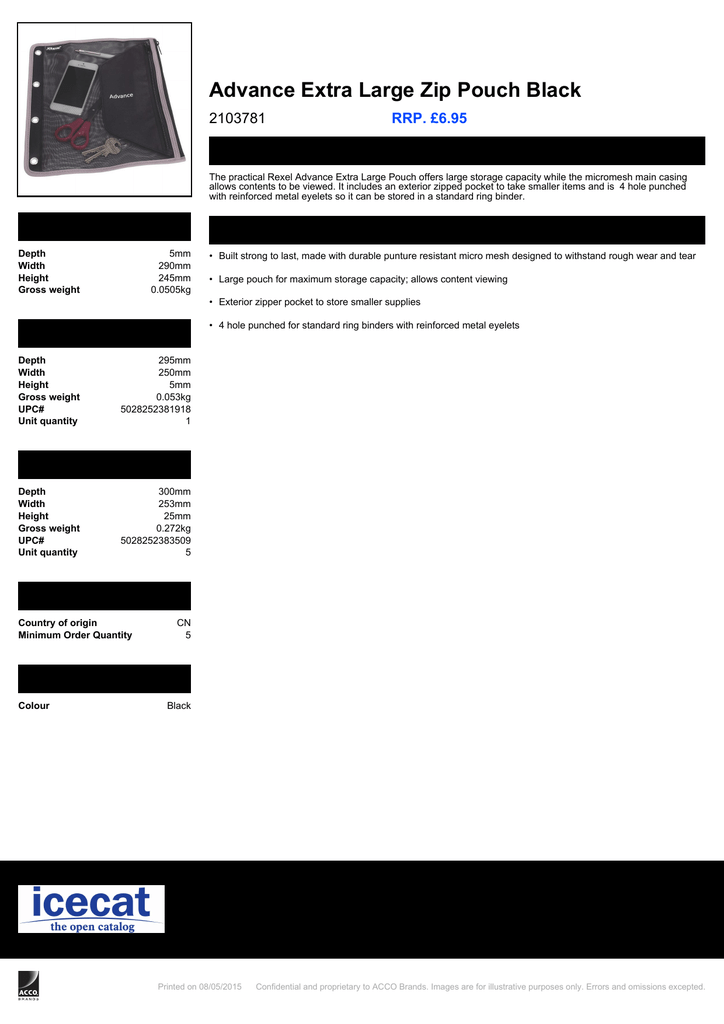 Advance Extra Large Zip Pouch Black
2103781
RRP. £6.95
Product Description
The practical Rexel Advance Extra Large Pouch offers large storage capacity while the micromesh main casing
allows contents to be viewed. It includes an exterior zipped pocket to take smaller items and is 4 hole punched
with reinforced metal eyelets so it can be stored in a standard ring binder.
Product information
Features
Depth
Width
Height
Gross weight
5mm
290mm
245mm
0.0505kg
• Built strong to last, made with durable punture resistant micro mesh designed to withstand rough wear and tear
• Large pouch for maximum storage capacity; allows content viewing
• Exterior zipper pocket to store smaller supplies
• 4 hole punched for standard ring binders with reinforced metal eyelets
Retail Packaging Information
Depth
Width
Height
Gross weight
UPC#
Unit quantity
295mm
250mm
5mm
0.053kg
5028252381918
1
Master Case Information
Depth
Width
Height
Gross weight
UPC#
Unit quantity
300mm
253mm
25mm
0.272kg
5028252383509
5
Shipping Information
Country of origin
Minimum Order Quantity
CN
5
General information
Colour
Black
Icecat
De Liesbosch 12D
Nieuwegein
Nieuwegein
3439
Printed on 08/05/2015
www.icecat.biz
Confidential and proprietary to ACCO Brands. Images are for illustrative purposes only. Errors and omissions excepted.

* Your assessment is very important for improving the work of artificial intelligence, which forms the content of this project