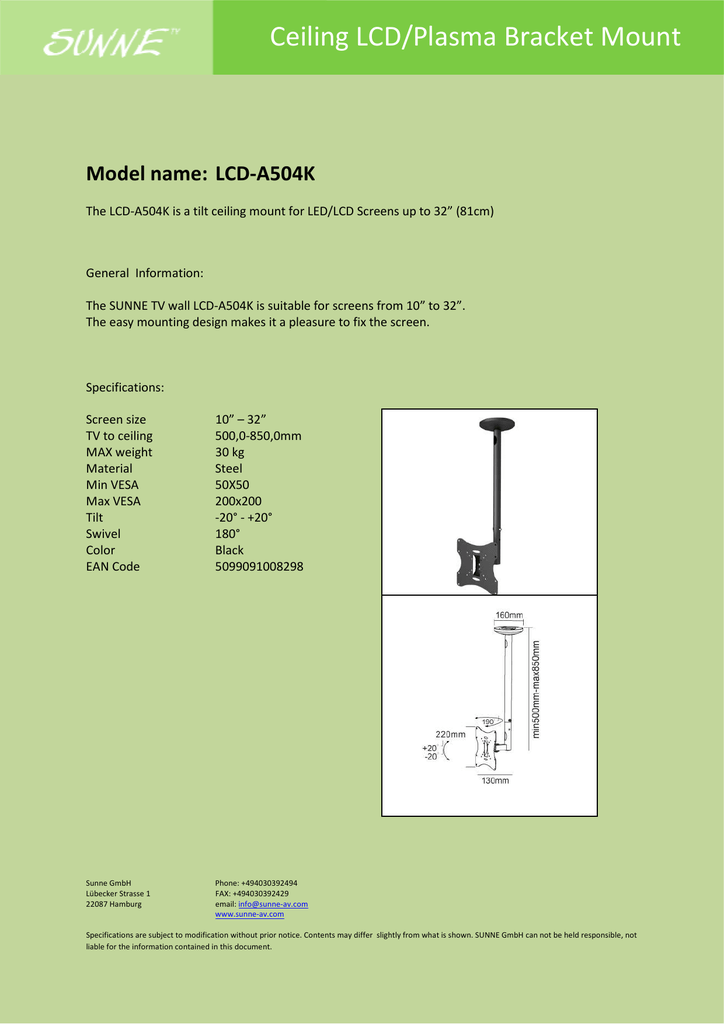 Ceiling LCD/Plasma Bracket Mount
Model name: LCD-A504K
The LCD-A504K is a tilt ceiling mount for LED/LCD Screens up to 32" (81cm)
General Information:
The SUNNE TV wall LCD-A504K is suitable for screens from 10" to 32".
The easy mounting design makes it a pleasure to fix the screen.
Specifications:
Screen size
TV to ceiling
MAX weight
Material
Min VESA
Max VESA
Tilt
Swivel
Color
EAN Code
10" – 32"
500,0-850,0mm
30 kg
Steel
50X50
200x200
-20° - +20°
180°
Black
5099091008298
Sunne GmbH
Lübecker Strasse 1
22087 Hamburg
Phone: +494030392494
FAX: +494030392429
email: [email protected]
www.sunne-av.com
Specifications are subject to modification without prior notice. Contents may differ slightly from what is shown. SUNNE GmbH can not be held responsible, not
liable for the information contained in this document.

* Your assessment is very important for improving the work of artificial intelligence, which forms the content of this project