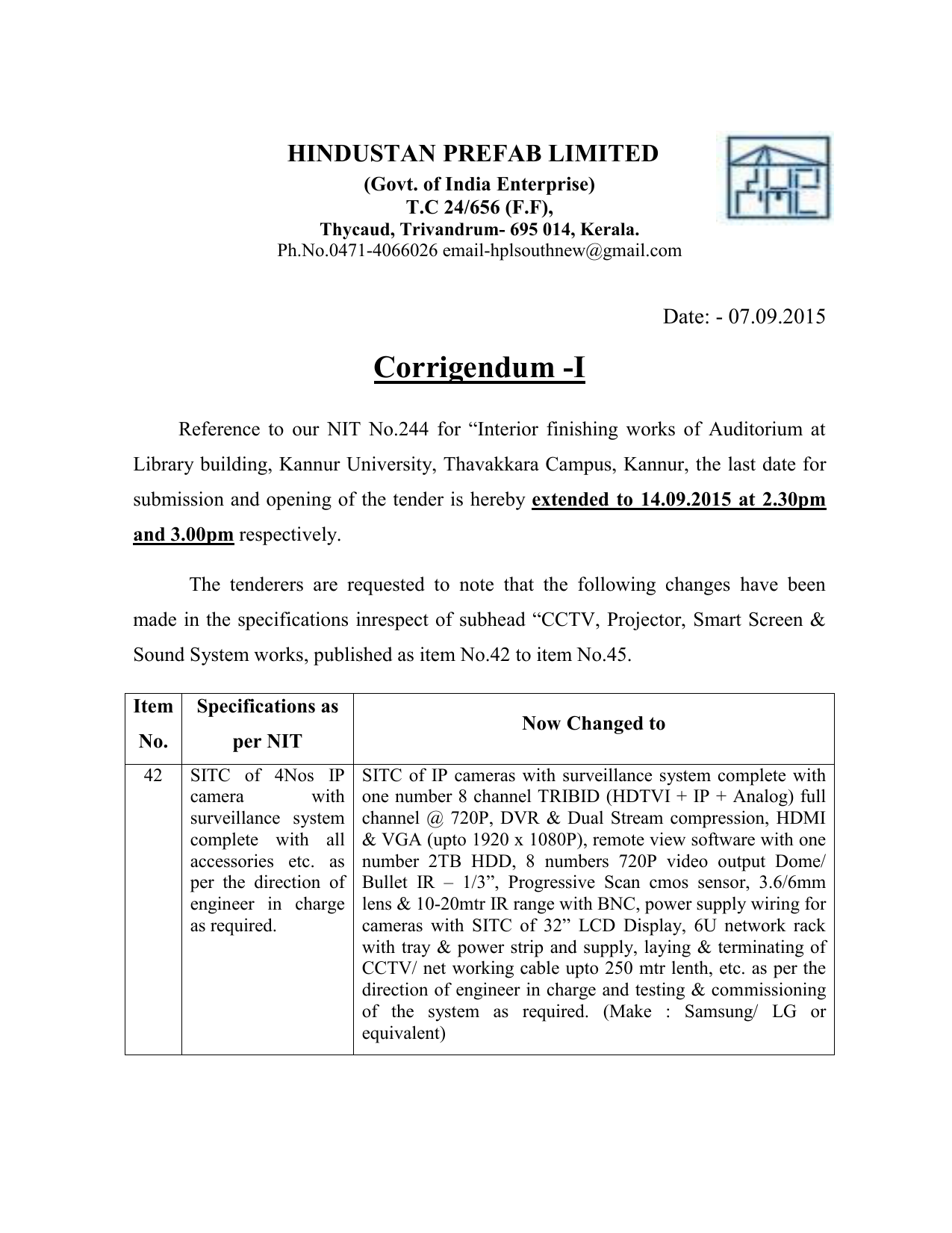 HINDUSTAN PREFAB LIMITED
(Govt. of India Enterprise)
T.C 24/656 (F.F),
Thycaud, Trivandrum- 695 014, Kerala.
Ph.No.0471-4066026 [email protected]
Date: - 07.09.2015
Corrigendum -I
Reference to our NIT No.244 for "Interior finishing works of Auditorium at
Library building, Kannur University, Thavakkara Campus, Kannur, the last date for
submission and opening of the tender is hereby extended to 14.09.2015 at 2.30pm
and 3.00pm respectively.
The tenderers are requested to note that the following changes have been
made in the specifications inrespect of subhead "CCTV, Projector, Smart Screen &
Sound System works, published as item No.42 to item No.45.
Item
Specifications as
No.
per NIT
42
SITC of 4Nos IP
camera
with
surveillance system
complete with all
accessories etc. as
per the direction of
engineer in charge
as required.
Now Changed to
SITC of IP cameras with surveillance system complete with
one number 8 channel TRIBID (HDTVI + IP + Analog) full
channel @ 720P, DVR & Dual Stream compression, HDMI
& VGA (upto 1920 x 1080P), remote view software with one
number 2TB HDD, 8 numbers 720P video output Dome/
Bullet IR – 1/3", Progressive Scan cmos sensor, 3.6/6mm
lens & 10-20mtr IR range with BNC, power supply wiring for
cameras with SITC of 32" LCD Display, 6U network rack
with tray & power strip and supply, laying & terminating of
CCTV/ net working cable upto 250 mtr lenth, etc. as per the
direction of engineer in charge and testing & commissioning
of the system as required. (Make : Samsung/ LG or
equivalent)
43
90" SMART
SCREEN
SITC of SMART SCREEN/SMART BOARD (Interactive
white board) having a minimum diagonal size of 87", with
the following specifications – minimum active screen area of
188cm x 117.5cm, aspect ratio of 16:10, durable hard coated
steel surface, optimized for projection, optical/digital vision
touch digitizing technology, less than 7W power
consumption, dual touch, support any non-mechanical &
battery free objects for touch and writing with multi touch
enabled gestures like pinch zoom, rotate & flick, including
integrated interactive education software & interactive
software with all features like annotation tools, inbuilt
internet browser, recorder, activity builder and should be able
to annotate as well as integrate with any external applications
like power point, pdf, webpage etc, manufacturer
authorization required to ensure QUALITY product &
training support, should be BIS certified and regulatory
certifications of CB, CE, CSA (US/Canada), FCC and VCCI
etc fixed on wall with two 32" wide brackets with 10screws
& toggle bolt anchors as per the direction of engineer in
charge as required. (Make : SMART Board or equivalent)
44
Supply and fixing
4200 Ansi Lumens,
SXGA + native
resolution,
networkable
Projector Standard
Lens for the above
projector
with
ceiling Mount kit
for projector.
SITC of one number SMART projector which provides a
bright high resolution image on a short boom delivering high
definition, high performance interactivity with virtually
shadow free & glare free. The projector supports video &
audio connections from a variety of devices including DVD,
Blue-ray players, document cameras and other HD sources
and can project media from these sources onto the interactive
SMART screen. All interactive HDMI 1.4 inputs are HDCP
compliant. Standard brightness is 3000 lumens in 240W
mode with a native resolution of XGA 1024 x 768, aspect
ratio is 4 : 3 with support for 16 : 9, 16 : 10 & 5 : 4 with
scaling, short throw ratio is 0.630 : 1 with a throw distance of
39" (1m), vertical keystone adjustment is required, display
technology is DLP technology by Texas instruments, color
support is 24 bit (16.7 million colors) with a lamp life of 6500
hrs in standard 240W mode, integrated 5W RMS speakers,
projector noise level is 38 dBA with a contrast ratio of 3000 :
1, HDTV (720p & 1080p) video system compatibility and
HD ready with compatibility of NTSC, NTSC 4:43, PAL,
PAL-N, PAL-M and SECAM, HDCP compliant HDMI video
interface and infrared remote control etc with a normal power
consumption of 310W, manufacturer authorization required
to ensure QUALITY product & training support, should be
BIS certified and regulatory certifications of CB, CE, CSA
(US/Canada), FCC and BSMI etc fixed on surface with own
mounting hardware kit as per the direction of engineer in
charge as required. (Make : SMART V30 or equivalent)
45
SOUND SYSTEM SITC of sound system complete with 4 pairs of speakers with
specification – 2 way bass-reflex, frequency range 51Hz –
20Hz, nominal coverage 100 degree, components LF-8" Cone
& HF-1" soft dome, power rating Noise-90W & PGM-180W,
Nominal impedance – 8ohm, shape –rectangular, ABS
cabinet material, IP35 protection, CE & RoHS certified with
wall/ceiling mount brackets & terminal cover and three (3)
numbers amplifier with specifications – total harmonic
distortion less than 0.1%, intermodulation distortion less than
0.1%, power bandwidth 10Hz – 40Hz, Line input/output ports
2x XLR-3-31, 2 x ¼"TRS phone jack, Speaker output ports 2
x speakON, 2 x 5way binding post, 2 x ¼" phone jack,
HPF/LPF processors, amplifier class-EEEngine, variable
speed fan cooling, power consumption 320W and one (1)
number sound mixer with specification – mixing capability –
onboard processors - SPX algorithm: 24 programs,
PARAMETER control:1, FOOT SW:1 (FX RTN CH on/off) ,
I/O phantom power +48V & digital I/O - USB Audio Class
2.0 compliant, Sampling Frequency: Max 192 kHz, Bit
Depth: 24-bit, input channels Mono (MIC/line)-4,
Mono/Stereo[MIC/LINE]-2, Stereo[LINE]-2, output channels
STEREO OUT-2, MONITOR OUT-1, PHONES-1, AUX
SEND-2, GROUP OUT-2, BUS- Stereo: 1, GROUP: 2,
AUX: 2 (incl. FX), Input Channel Function – PAD- 26dB
(mono)- HPF-80 Hz, 12 dB/oct (Mono/Stereo: MIC only),
COMP-1-knob
compressor
(Gain/Threshold/Ratio)
Threshold: +22 dBu to -8 dBu, Ratio: 1:1 to 4:1, Output
level: 0 dB to 7 dB Attack time: approx. 25 msec, Release
time: approx. 300 msec, EQ HIGH- Gain: +15 dB/-15 dB,
Frequency: 10 kHz shelving, EQ MID- Gain: +15 dB/-15 dB,
Frequency: 2.5 kHz peaking, EQ LOW- Gain: +15 dB/-15
dB, Frequency: 100 Hz shelving, PEAK LED- LED turns on
when post EQ signal reaches 3 dB below clipping, Level
Meter- 2x12 -segment LED meter [PEAK, +10, +6, +3, 0, -3,
-6, -10, -15, -20, -25 with a power consumption of 22W and
two (2) numbers MIC with specifications - Professional high
quality 21" gooseneck microphone, Sleek and unobtrusive
design, High sensitivity, High gain, Built-in XLR socket,
Supplied with Microphone Base with On/Off Switch & LED,
Works on external +48V phantom supply, Anti Mobile & RF
Interference Technology, Back Electret condenser, Frequency
Response-20Hz-20KHz, Polar Pattern – Cardioid, Sensitivity-40dB, Impedance- 280 Ω, Connector – XLR, Power
Requirement-11-52V DC Phantom Power etc and one (1)
number cordless MIC with specification - UHF Band
frequency by PLL - Synthesis Technology, 8 Selectable UHF
Channels, Double noise squelching circuit to ensure excellent
sound quality, LED for Channel information Display, Highly
efficient & Low Energy consumption design, Operating Freq
Range- 460-970MHz, Receiver- Dual Channel NonDiversity, Frequency response - 50Hz – 15 KHz, Polar
Pattern (Hand mic) – Cardioid, Output- Balanced XLR/
Unbalanced ¼" Jack etc with 2 numbers multi 1H splitters
and complete with all sound system wiring, installation,
testing & commissioning etc as per the direction of engineer
in charge as required. (Make- Speaker/ amplifier/ mixer/
splitter – Yamaha/ Crown or equivalent # MIC/ Cordless
MIC – Studiomaster/ Yamaha or equivalent).
Drawing of Library building (3 sheets) is enclosed for reference. All other terms
and conditions shall remain the same.
Sd/-
Regional In-charge (SZ)
Encl :- Drawings (3 sheets).