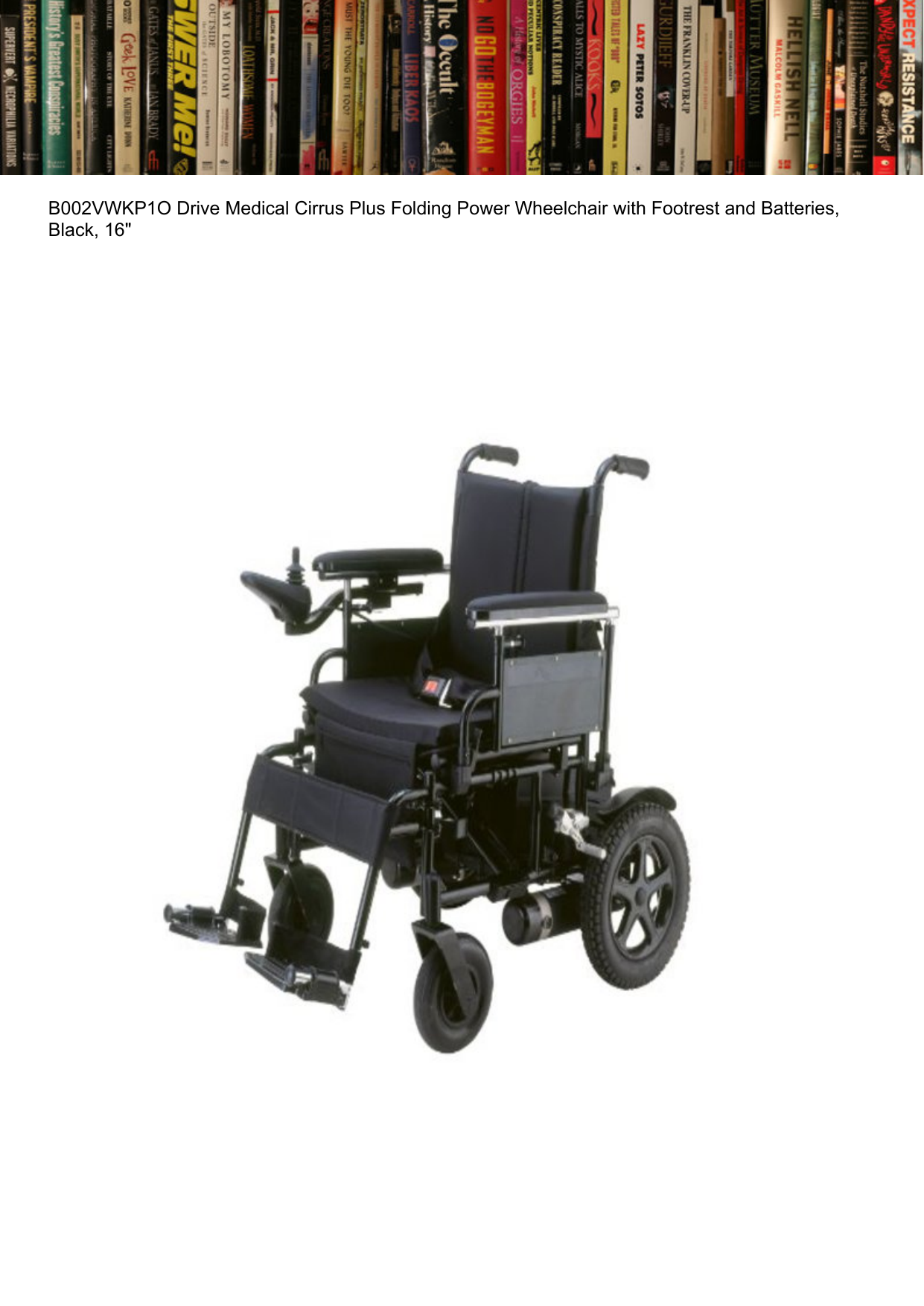 B002VWKP1O Drive Medical Cirrus Plus Folding Power Wheelchair with Footrest and Batteries,
Black, 16"
Old Price: $4,209.00
Price: $1,499.00
Product Description :
The Folding Cirrus Plus EC 16" Power Chair by Drive Medical is foldable and lightweight making it
ideal for transporting. It comes in an attractive, lightweight, carbon steel frame with a silver vein
finish which is easy to maintain. This Power Chair comes standard with a seat belt, seat cushion
with pouch for easy storage, swing away footrests with calf straps and heel loops, wheel locks and
an adjustable tension, padded, back upholstery, adding to users convenience, safety and comfort.
The integrated, programmable PG controller and adjustable length joystick mount accommodates
most user sizes. The Cirrus Plus EC Folding Power Chair has been tested and surpassed the ANSI
RESNA testing requirements, providing our consumers with added security.
Product Details
Amazon Sales Rank: #93161 in Health and Beauty
Size: 16 inches
Color: Black
Brand: Drive Medical
Model: CPN16FBA
Released on: 2009-11-06
Fabric type: Alum
Number of items: 1
Dimensions: 14.50" h x 30.00" w x 36.00" l, 9.06 pounds
Features
Attractive steel cross-brace frame is foldable and lightweight for easy portability
Programmable controller with adjustable length mount; Easy freewheel operation
Adjustable tension, padded back upholstery with storage pouch and cushioned seat; Positioning
belt included
Armrests are padded, adjustable, and removable; Swing-away footrests with heel loops
Flat-free, non-marking tires, manual wheel locks, and anti-tip wheels
Customer Reviews
Most helpful customer reviews
20 of 20 people found the following review helpful.
Excellant electric chair for the money
By Richard Newbould
We have had this chair for more than 2 years and we have had no issues with it at all. It folds to fit
in a trunk or stow in a compartment under a bus with relative easy. Its a bit heavy for a senior but it
can be managed to take apart the various components for storage. It is easy to drive with its rear
wheel drive set up. I would and have recommended it to everyone who has asked.
4 of 5 people found the following review helpful.
Product is amazing, however delivery was not
By Amazon Customer
As stated above, the product is everything they claimed it to be. The problem I ran into, however,
was that it requires TWO of the batteries and only one was shipped. It took approximately two
weeks and another failed delivery to finally have everything that was supposed to be included with
my purchase. See all 2 customer reviews...

* Your assessment is very important for improving the work of artificial intelligence, which forms the content of this project