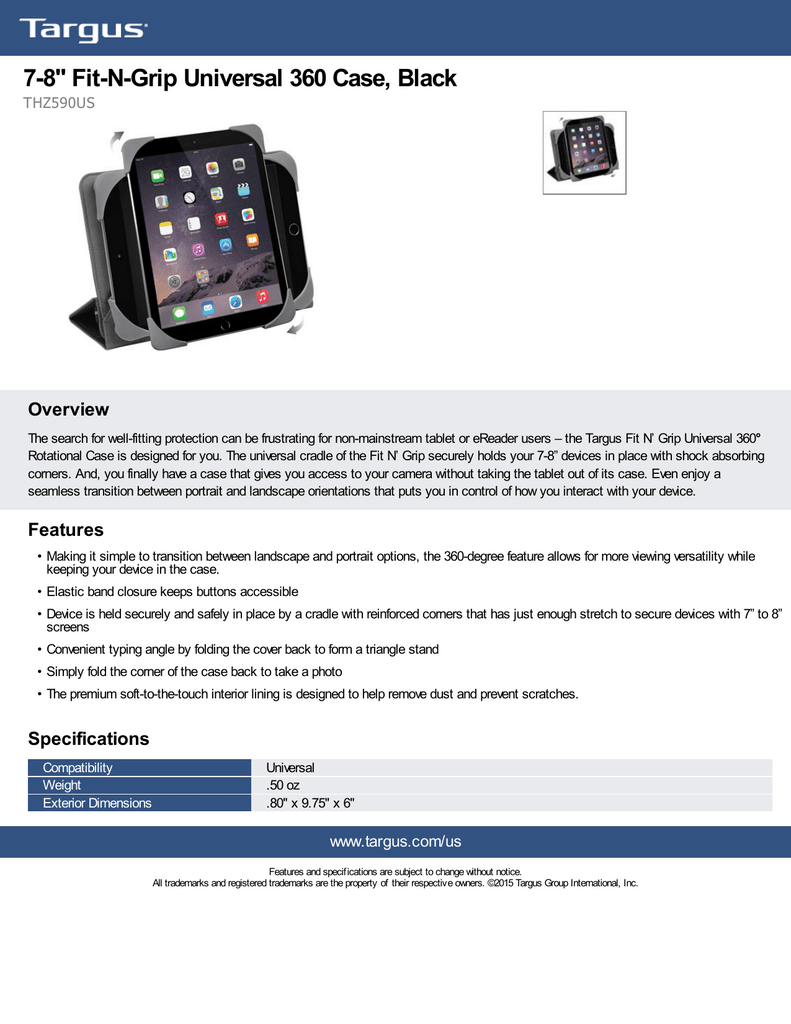 7-8" Fit-N-Grip Universal 360 Case, Black
THZ590US
Overview
The search for well-fitting protection can be frustrating for non-mainstream tablet or eReader users – the Targus Fit N' Grip Universal 360°
Rotational Case is designed for you. The universal cradle of the Fit N' Grip securely holds your 7-8" devices in place with shock absorbing
corners. And, you finally have a case that gives you access to your camera without taking the tablet out of its case. Even enjoy a
seamless transition between portrait and landscape orientations that puts you in control of how you interact with your device.
Features
• Making it simple to transition between landscape and portrait options, the 360-degree feature allows for more viewing versatility while
keeping your device in the case.
• Elastic band closure keeps buttons accessible
• Device is held securely and safely in place by a cradle with reinforced corners that has just enough stretch to secure devices with 7" to 8"
screens
• Convenient typing angle by folding the cover back to form a triangle stand
• Simply fold the corner of the case back to take a photo
• The premium soft-to-the-touch interior lining is designed to help remove dust and prevent scratches.
Specifications
Compatibility
Weight
Exterior Dimensions
Universal
.50 oz
.80" x 9.75" x 6"
www.targus.com/us
Features and specifications are subject to change without notice.
All trademarks and registered trademarks are the property of their respective owners. ©2015 Targus Group International, Inc.

* Your assessment is very important for improving the work of artificial intelligence, which forms the content of this project