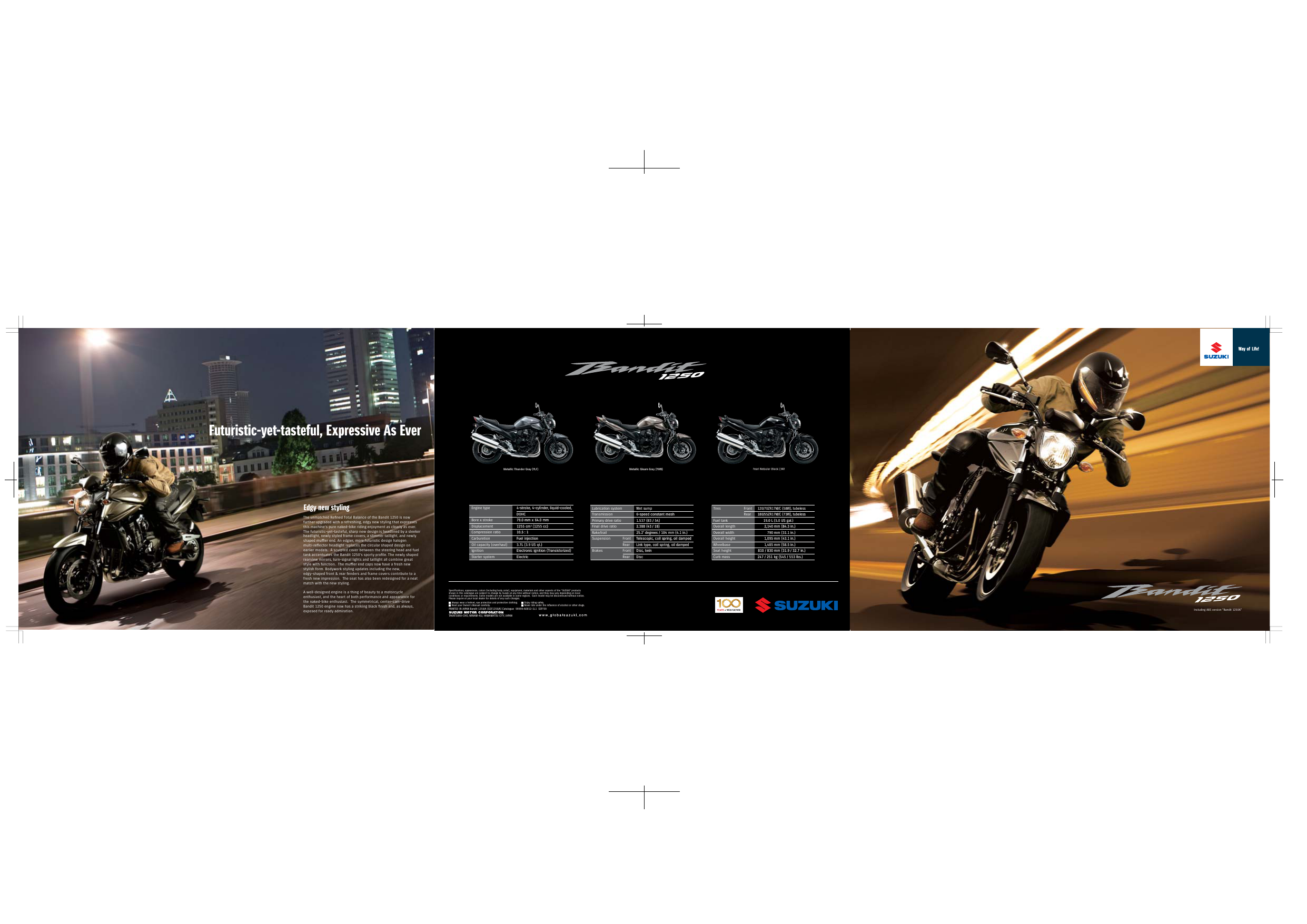 Futuristic-yet-tasteful, Expressive As Ever
Metallic Thunder Gray (YLF)
Edgy new styling
The unmatched Refined Total Balance of the Bandit 1250 is now
further upgraded with a refreshing, edgy new styling that expresses
this machine's pure naked-bike riding enjoyment as clearly as ever.
The futuristic-yet-tasteful, sharp new design is headlined by a sleeker
headlight, newly styled frame covers, a slimmer taillight, and newly
shaped muffler end. An edgier, more futuristic design halogen
multi-reflector headlight replaces the circular shaped design on
earlier models. A sculpted cover between the steering head and fuel
tank accentuates the Bandit 1250's sporty profile. The newly shaped
rearview mirrors, turn-signal lights and taillight all combine great
style with function. The muffler end caps now have a fresh new
stylish form. Bodywork styling updates including the new,
edgy-shaped front & rear fenders and frame covers contribute to a
fresh new impression. The seat has also been redesigned for a neat
match with the new styling.
A well-designed engine is a thing of beauty to a motorcycle
enthusiast, and the heart of both performance and appearance for
the naked-bike enthusiast. The symmetrical, center-cam-drive
Bandit 1250 engine now has a striking black finish and, as always,
exposed for ready admiration.
Metallic Gleam Gray (YWB)
Pearl Nebular Black (YAY)
4-stroke, 4-cylinder, liquid-cooled,
Lubrication system
Wet sump
DOHC
Transmission
6-speed constant mesh
79.0 mm x 64.0 mm
Primary drive ratio
1.537 (83 / 54)
Fuel tank
19.0 L (5.0 US gal.)
Displacement
1255 cm3 (1255 cc)
Final drive ratio
2.388 (43 / 18)
Overall length
2,140 mm (84.3 in.)
Compression ratio
10.5 : 1
Rake/trail
25.2 degrees / 104 mm (4.1 in.)
Overall width
Carburetion
Fuel injection
Suspension
Front
Telescopic, coil spring, oil damped
Overall height
1,095 mm (43.1 in.)
Oil capacity (overhaul)
3.7L (3.9 US qt.)
Rear
Link type, coil spring, oil damped
Wheelbase
1,485 mm (58.5 in.)
Ignition
Electronic ignition (Transistorized)
Front
Disc, twin
Seat height
810 / 830 mm (31.9 / 32.7 in.)
Starter system
Electric
Rear
Disc
Curb mass
247 / 251 kg (545 / 553 lbs.)
Engine type
Bore x stroke
Brakes
o
Tires
Front
120/70ZR17M/C (58W), tubeless
Rear
180/55ZR17M/C (73W), tubeless
790 mm (31.1 in.)
Specifications, appearance, colors (including body color), equipment, materials and other aspects of the "SUZUKI" products
shown in this catalogue are subject to change by Suzuki at any time without notice, and they may vary depending on local
conditions or requirements. Some models are not available in some regions. Each model may be discontinued without notice.
Please inquire at your local dealer for details of any such changes.
Always wear a helmet, eye protection and protective clothing.
Read your Owner's Manual carefully.
Enjoy riding safely.
Never ride under the influence of alcohol or other drugs.
PRINTED IN JAPAN Bandit 1250/A (GSF1250/A) Catalogue 99999-A0012-1L1 SEP.'09
TAKATSUKA-CHO, MINAMI-KU, HAMAMATSU CITY, JAPAN
Including ABS version "Bandit 1250A"
Extra-smooth Acceleration,
Broad Power
User friendly chassis designs
Refined Total Balance With
Freshly Renewed Styling
The Bandit 1250's rider-friendly chassis design,
created to fully deliver the true essence of
naked-bike sporting comfort, begins with a
classic tube frame featuring large diameter
downtube, 25.2 degrees rake and 104mm trail for
an excellent balance between sporty handling
and comfort at highway cruising speeds.
The 43mm-diameter stanchion-tube front forks'
damping characteristics are designed to deliver
smooth response over varying sections of
pavement encountered over the course of a
weekend ride. Both the front forks and the single
rear shock have spring-preload adjustability, to
accommodate riding solo or with a passenger.
Essential to the genuine enjoyment of naked bikes is the simple feeling
of being totally at one with your machine. Robust power at the twist of
the throttle, instantly translating into dramatic rear-tire traction force,
kicking the road, propelling you and your machine forward with sheer
intensity, while the well-tuned chassis and suspension finely harness
the engine output to deliver smooth, agile performance through the
curves, over the streets and across highways. A truly enjoyable naked
bike is a motorcycle that's built to fulfill the rider's demand in such
prompt and high-quality manner.
1255cm3 of torque and power
The Bandit 1250 is such a machine. Featuring Refined Total Balance -
At the heart of the Bandit 1250's impressive power and
sporting comfort is a 1255cm 3 liquid-cooled
fuel-injected DOHC engine tailored to deliver
extra-smooth acceleration together with broad power
for relaxed cruising. With a bore and stroke of 79 x
64mm and a full 1255cm 3 of torque-producing
displacement, the powerplant boosts sporty riding
enjoyment by generating peak torque from relatively
low in the rev range, while also maintaining smooth
operation with an effective secondary balancer shaft.
The 31mm-diameter intake and 27mm-diameter exhaust valves
(with 4.5mm-diameter valve stems for reduced airflow
resistance) are set at a narrow 16-degree angle in a compact,
high-compression combustion chamber.
The aluminum-alloy cylinder bores are plated with
Suzuki's own race-proven
nickel-phosphorous-silicon-carbide coating known as
SCEM (Suzuki Composite Electrochemical Material).
SCEM plating allows tighter piston-to-cylinder
clearance for better oil control and sealing (for more
power and less mechanical loss) and better cooling,
compared to conventional cast-iron cylinder liners.
A liquid-cooled oil cooler helps keep the engine running cool.
The engine is mated to a 6-speed transmission using gear ratios
chosen for powerful accelerations and smooth highway
cruising. The well-exposed, symmetrical-layout,
center-cam-drive (allowing the exhaust head pipes to be routed
around the frame downtube on each side), and newly
black-finished powerplant forms the core of the Bandit 1250's
beautiful naked bike appearance.
an unmatched package of performance and value. Powered by a
liquid-cooled, fuel-injected engine delivering an amazing quantity of
high-quality torque. And newly featuring exciting, edgy yet tasteful
styling updates throughout, from the headlight and turn signals to
bodywork front and rear. Anticipate a richly rewarding naked bike
riding experience. The Bandit 1250 is ready to exceed your
expectations.
Designed And Equipped For
Fun And Comfort
Advanced digital SDTV fuel injection
Chrome-nitride coating, applied to each piston's upper
compression and oil control rings using a physical vapor
deposition (PVD) vacuum chamber system, is harder and
smoother than conventional chrome plating, thus reducing
friction and improving cylinder sealing.
The Bandit 1250 features state-of-the-art Suzuki Dual Throttle Valve (SDTV) digital
closed-loop fuel injection to bring you superb throttle response feel, extra-smooth power
delivery, improved mileage and reduced emissions.
Each 36mm throttle body contains a primary throttle valve controlled by the rider with the
throttle twist grip, and a secondary throttle valve, controlled by the engine management
computer based on engine rpm, gear position and primary-valve position. The secondary
valve opens and closes as needed to maintain ideal intake velocity, producing more linear
throttle response, enhancing combustion efficiency and increasing low-rpm torque.
Automatic Idle Speed Control (ISC) regulates the amount of air fed into the throttle body idle
circuits, improving cold starting, reducing cold-start emissions and stabilizing engine idle
under varying conditions.
Suzuki's proven PAIR (Pulsed-AIR) system injects fresh air from the airbox into the exhaust
ports, igniting unburned hydrocarbons and reducing carbon monoxide emissions.
A catalyzer is built into the high-volume exhaust pipe, further reducing hydrocarbon, carbon
monoxide and nitrogen oxide emissions. The engine management and emissions control
systems together allow the Bandit 1250 to meet Euro 3 emissions regulations.
The height of the new-design seat can be
adjusted up or down 20mm by removing, flipping
over and re-installing clever mounting spacers
between the seat and the frame seat rails.
For greater comfort of your passenger, the
co-rider footrests are now rerepositioned 10mm
backward and 3.6mm upward. The co-rider
footrest brackets have been reshaped and are
now painted black.
A convenient centerstand is standard equipment.
Disc brakes. Optional ABS*
Functional instrumentation
The Bandit 1250 comes equipped
with fully floating 310mm-diameter
dual front brake discs with
4-piston calipers, and a
240mm-diameter rear disc brake
with a single-piston caliper. The
digital Antilock Brake System, or
ABS* (only on Bandit 1250A)
monitors wheel speed, and
matches stopping power to
available traction for helping
prevent wheel lock up in a certain
range of situations.
The new instrument cluster promotes legibility for
easy riding, and is neatly incorporated into a single
sleek housing. An analogue tachometer is
complemented by an LCD digital speedometer.
Instrumentation also includes an LCD fuel gauge and
clock. A gear-position indicator is newly equipped,
enhancing convenience. Other indications include
lamps for neutral position, oil pressure, high beam
and water temperature.
* Please note that ABS is a supplement device for brake operation, not a
device for shortening stopping distances. Always remember to reduce
speed sufficiently before approaching curves and corners, or when
encountering slower traffic.
Ready as you are
Ready for the excitement of a full 1255cm 3 of advanced, fuel-injected power?
Ready for the most comprehensive two-wheeled enjoyment which can only be delivered
with a Refined Total Balance?
Ready to have yourself seen on a machine with a sharp, bold naked styling, now newly
updated and as edgy as ever?
The Bandit 1250 is as ready as you are for a genuine high-quality naked-bike riding
experience.