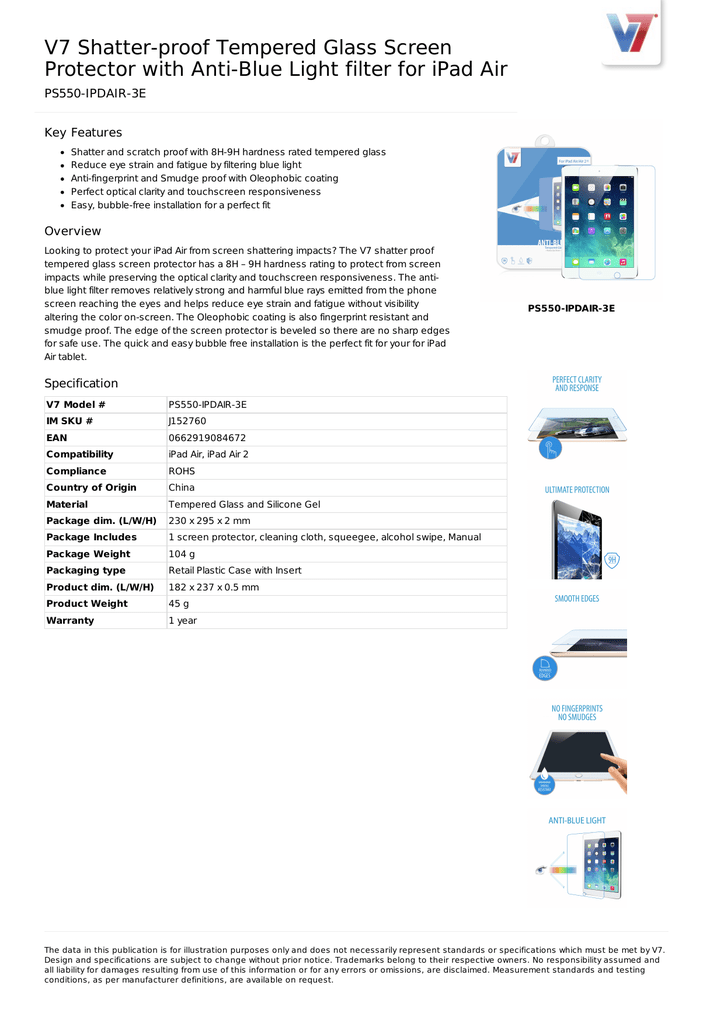 V7 Shatter-proof Tempered Glass Screen
Protector with Anti-Blue Light filter for iPad Air
PS550-IPDAIR-3E
Key Features
Shatter and scratch proof with 8H-9H hardness rated tempered glass
Reduce eye strain and fatigue by filtering blue light
Anti-fingerprint and Smudge proof with Oleophobic coating
Perfect optical clarity and touchscreen responsiveness
Easy, bubble-free installation for a perfect fit
Overview
Looking to protect your iPad Air from screen shattering impacts? The V7 shatter proof
tempered glass screen protector has a 8H – 9H hardness rating to protect from screen
impacts while preserving the optical clarity and touchscreen responsiveness. The antiblue light filter removes relatively strong and harmful blue rays emitted from the phone
screen reaching the eyes and helps reduce eye strain and fatigue without visibility
altering the color on-screen. The Oleophobic coating is also fingerprint resistant and
smudge proof. The edge of the screen protector is beveled so there are no sharp edges
for safe use. The quick and easy bubble free installation is the perfect fit for your for iPad
Air tablet.
PS550-IPDAIR-3E
Specification
V7 Model #
PS550-IPDAIR-3E
IM SKU #
J152760
EAN
0662919084672
Compatibility
iPad Air, iPad Air 2
Compliance
ROHS
Country of Origin
China
Material
Tempered Glass and Silicone Gel
Package dim. (L/W/H)
230 x 295 x 2 mm
Package Includes
1 screen protector, cleaning cloth, squeegee, alcohol swipe, Manual
Package Weight
104 g
Packaging type
Retail Plastic Case with Insert
Product dim. (L/W/H)
182 x 237 x 0.5 mm
Product Weight
45 g
Warranty
1 year
The data in this publication is for illustration purposes only and does not necessarily represent standards or specifications which must be met by V7.
Design and specifications are subject to change without prior notice. Trademarks belong to their respective owners. No responsibility assumed and
all liability for damages resulting from use of this information or for any errors or omissions, are disclaimed. Measurement standards and testing
conditions, as per manufacturer definitions, are available on request.

* Your assessment is very important for improving the work of artificial intelligence, which forms the content of this project