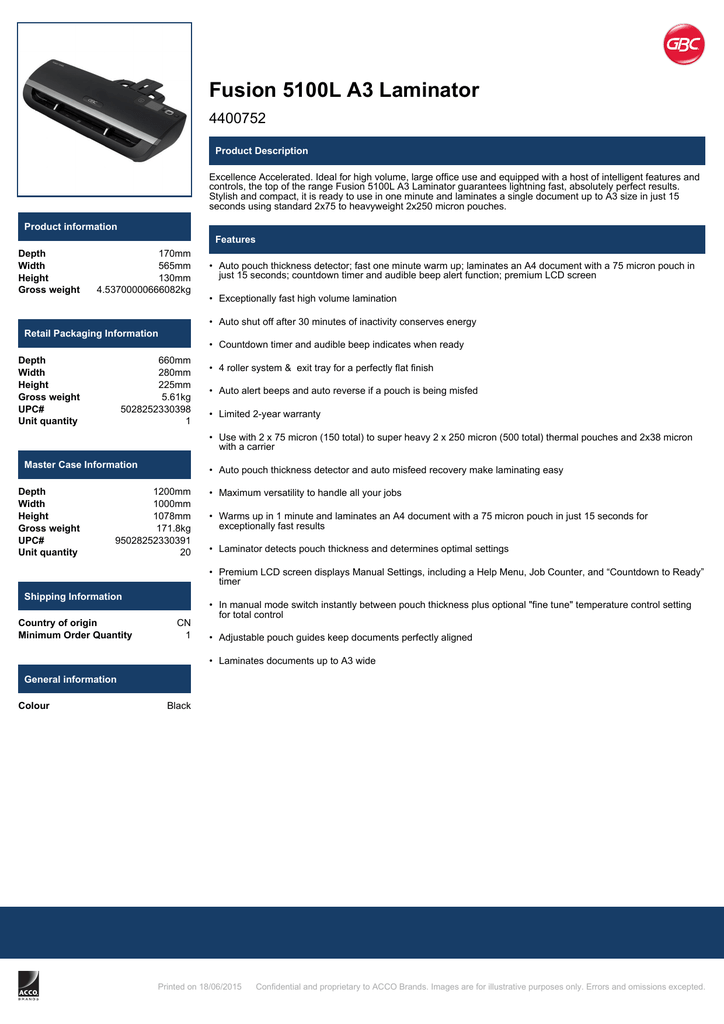 Fusion 5100L A3 Laminator
4400752
Product Description
Excellence Accelerated. Ideal for high volume, large office use and equipped with a host of intelligent features and
controls, the top of the range Fusion 5100L A3 Laminator guarantees lightning fast, absolutely perfect results.
Stylish and compact, it is ready to use in one minute and laminates a single document up to A3 size in just 15
seconds using standard 2x75 to heavyweight 2x250 micron pouches.
Product information
Features
Depth
Width
Height
Gross weight
170mm
565mm
130mm
4.53700000666082kg
• Auto pouch thickness detector; fast one minute warm up; laminates an A4 document with a 75 micron pouch in
just 15 seconds; countdown timer and audible beep alert function; premium LCD screen
• Exceptionally fast high volume lamination
• Auto shut off after 30 minutes of inactivity conserves energy
Retail Packaging Information
• Countdown timer and audible beep indicates when ready
Depth
Width
Height
Gross weight
UPC#
Unit quantity
660mm
280mm
225mm
5.61kg
5028252330398
1
• 4 roller system & exit tray for a perfectly flat finish
• Auto alert beeps and auto reverse if a pouch is being misfed
• Limited 2-year warranty
• Use with 2 x 75 micron (150 total) to super heavy 2 x 250 micron (500 total) thermal pouches and 2x38 micron
with a carrier
Master Case Information
Depth
Width
Height
Gross weight
UPC#
Unit quantity
• Auto pouch thickness detector and auto misfeed recovery make laminating easy
1200mm
1000mm
1078mm
171.8kg
95028252330391
20
• Maximum versatility to handle all your jobs
• Warms up in 1 minute and laminates an A4 document with a 75 micron pouch in just 15 seconds for
exceptionally fast results
• Laminator detects pouch thickness and determines optimal settings
• Premium LCD screen displays Manual Settings, including a Help Menu, Job Counter, and "Countdown to Ready"
timer
Shipping Information
Country of origin
Minimum Order Quantity
CN
1
• In manual mode switch instantly between pouch thickness plus optional "fine tune" temperature control setting
for total control
• Adjustable pouch guides keep documents perfectly aligned
• Laminates documents up to A3 wide
General information
Colour
Black
Printed on 18/06/2015
Confidential and proprietary to ACCO Brands. Images are for illustrative purposes only. Errors and omissions excepted.

* Your assessment is very important for improving the work of artificial intelligence, which forms the content of this project