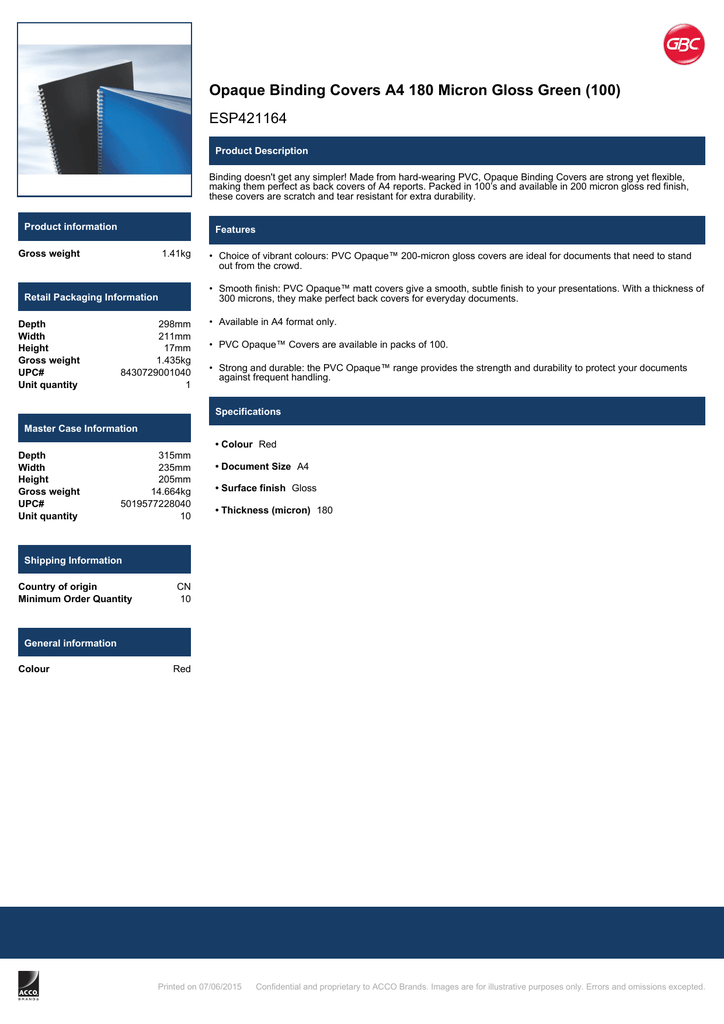 Opaque Binding Covers A4 180 Micron Gloss Green (100)
ESP421164
Product Description
Binding doesn't get any simpler! Made from hard-wearing PVC, Opaque Binding Covers are strong yet flexible,
making them perfect as back covers of A4 reports. Packed in 100's and available in 200 micron gloss red finish,
these covers are scratch and tear resistant for extra durability.
Product information
Features
Gross weight
1.41kg
• Smooth finish: PVC Opaque™ matt covers give a smooth, subtle finish to your presentations. With a thickness of
300 microns, they make perfect back covers for everyday documents.
Retail Packaging Information
Depth
Width
Height
Gross weight
UPC#
Unit quantity
• Choice of vibrant colours: PVC Opaque™ 200-micron gloss covers are ideal for documents that need to stand
out from the crowd.
298mm
211mm
17mm
1.435kg
8430729001040
1
• Available in A4 format only.
• PVC Opaque™ Covers are available in packs of 100.
• Strong and durable: the PVC Opaque™ range provides the strength and durability to protect your documents
against frequent handling.
Specifications
Master Case Information
• Colour Red
Depth
Width
Height
Gross weight
UPC#
Unit quantity
315mm
235mm
205mm
14.664kg
5019577228040
10
• Document Size A4
• Surface finish Gloss
• Thickness (micron) 180
Shipping Information
Country of origin
Minimum Order Quantity
CN
10
General information
Colour
Red
Printed on 07/06/2015
Confidential and proprietary to ACCO Brands. Images are for illustrative purposes only. Errors and omissions excepted.

* Your assessment is very important for improving the work of artificial intelligence, which forms the content of this project