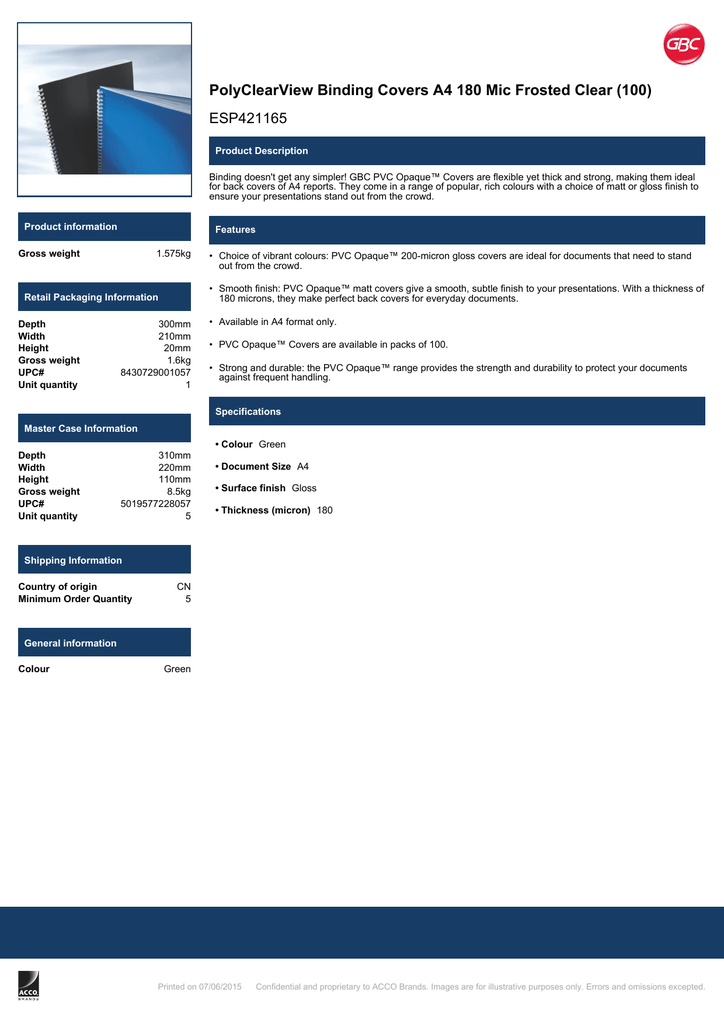 PolyClearView Binding Covers A4 180 Mic Frosted Clear (100)
ESP421165
Product Description
Binding doesn't get any simpler! GBC PVC Opaque™ Covers are flexible yet thick and strong, making them ideal
for back covers of A4 reports. They come in a range of popular, rich colours with a choice of matt or gloss finish to
ensure your presentations stand out from the crowd.
Product information
Features
Gross weight
1.575kg
• Smooth finish: PVC Opaque™ matt covers give a smooth, subtle finish to your presentations. With a thickness of
180 microns, they make perfect back covers for everyday documents.
Retail Packaging Information
Depth
Width
Height
Gross weight
UPC#
Unit quantity
• Choice of vibrant colours: PVC Opaque™ 200-micron gloss covers are ideal for documents that need to stand
out from the crowd.
300mm
210mm
20mm
1.6kg
8430729001057
1
• Available in A4 format only.
• PVC Opaque™ Covers are available in packs of 100.
• Strong and durable: the PVC Opaque™ range provides the strength and durability to protect your documents
against frequent handling.
Specifications
Master Case Information
• Colour Green
Depth
Width
Height
Gross weight
UPC#
Unit quantity
310mm
220mm
110mm
8.5kg
5019577228057
5
• Document Size A4
• Surface finish Gloss
• Thickness (micron) 180
Shipping Information
Country of origin
Minimum Order Quantity
CN
5
General information
Colour
Green
Printed on 07/06/2015
Confidential and proprietary to ACCO Brands. Images are for illustrative purposes only. Errors and omissions excepted.

* Your assessment is very important for improving the work of artificial intelligence, which forms the content of this project