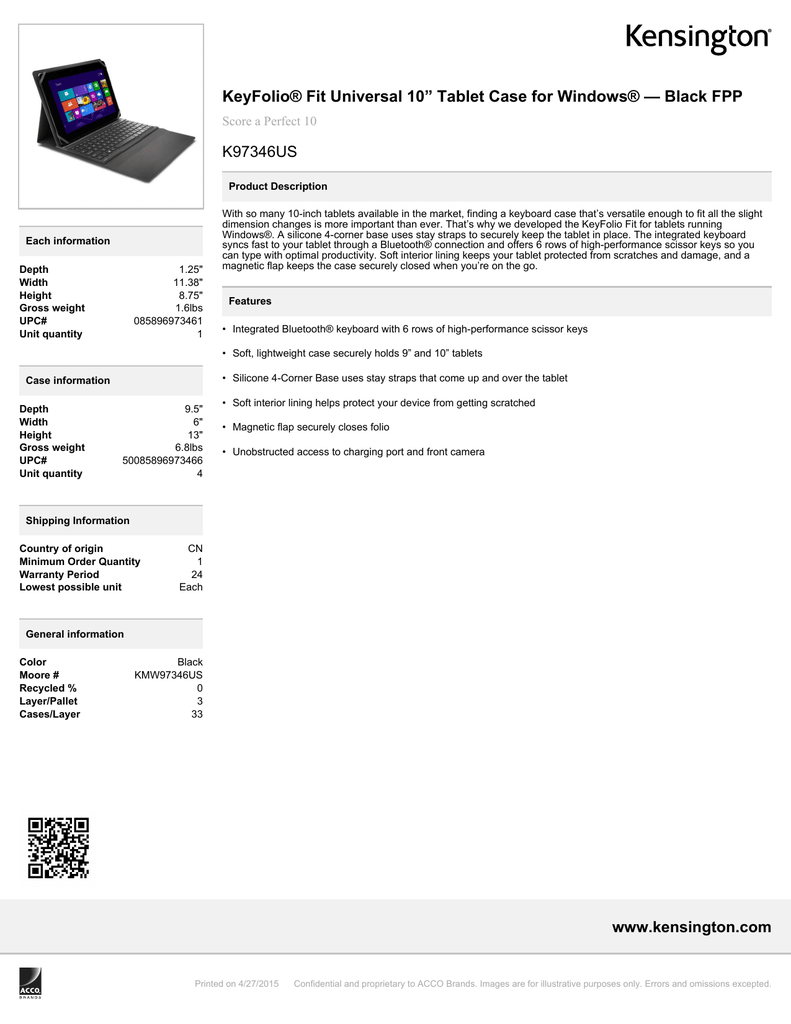 KeyFolio® Fit Universal 10" Tablet Case for Windows® — Black FPP
Score a Perfect 10
K97346US
Product Description
Each information
Depth
Width
Height
Gross weight
UPC#
Unit quantity
1.25"
11.38"
8.75"
1.6lbs
085896973461
1
With so many 10-inch tablets available in the market, finding a keyboard case that's versatile enough to fit all the slight
dimension changes is more important than ever. That's why we developed the KeyFolio Fit for tablets running
Windows®. A silicone 4-corner base uses stay straps to securely keep the tablet in place. The integrated keyboard
syncs fast to your tablet through a Bluetooth® connection and offers 6 rows of high-performance scissor keys so you
can type with optimal productivity. Soft interior lining keeps your tablet protected from scratches and damage, and a
magnetic flap keeps the case securely closed when you're on the go.
Features
• Integrated Bluetooth® keyboard with 6 rows of high-performance scissor keys
• Soft, lightweight case securely holds 9" and 10" tablets
• Silicone 4-Corner Base uses stay straps that come up and over the tablet
Case information
Depth
Width
Height
Gross weight
UPC#
Unit quantity
9.5"
6"
13"
6.8lbs
50085896973466
4
• Soft interior lining helps protect your device from getting scratched
• Magnetic flap securely closes folio
• Unobstructed access to charging port and front camera
Shipping Information
Country of origin
Minimum Order Quantity
Warranty Period
Lowest possible unit
CN
1
24
Each
General information
Color
Moore #
Recycled %
Layer/Pallet
Cases/Layer
Black
KMW97346US
0
3
33
www.kensington.com
Printed on 4/27/2015
Confidential and proprietary to ACCO Brands. Images are for illustrative purposes only. Errors and omissions excepted.

* Your assessment is very important for improving the work of artificial intelligence, which forms the content of this project