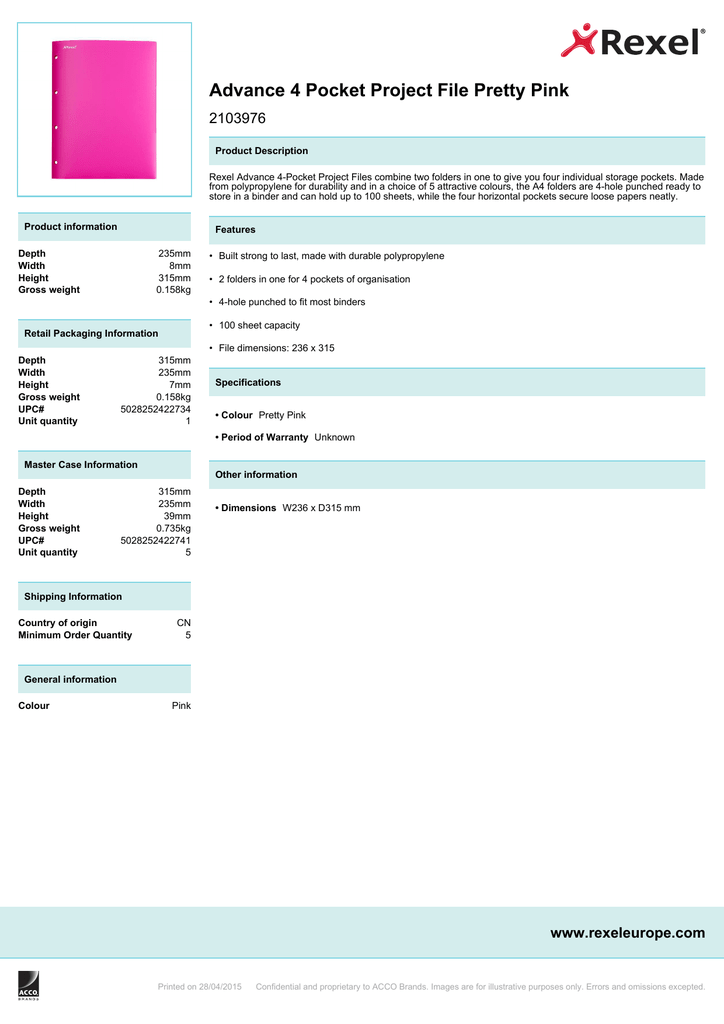 Advance 4 Pocket Project File Pretty Pink
2103976
Product Description
Rexel Advance 4-Pocket Project Files combine two folders in one to give you four individual storage pockets. Made
from polypropylene for durability and in a choice of 5 attractive colours, the A4 folders are 4-hole punched ready to
store in a binder and can hold up to 100 sheets, while the four horizontal pockets secure loose papers neatly.
Product information
Features
Depth
Width
Height
Gross weight
235mm
8mm
315mm
0.158kg
• Built strong to last, made with durable polypropylene
• 2 folders in one for 4 pockets of organisation
• 4-hole punched to fit most binders
• 100 sheet capacity
Retail Packaging Information
• File dimensions: 236 x 315
Depth
Width
Height
Gross weight
UPC#
Unit quantity
315mm
235mm
7mm
0.158kg
5028252422734
1
Specifications
• Colour Pretty Pink
• Period of Warranty Unknown
Master Case Information
Other information
Depth
Width
Height
Gross weight
UPC#
Unit quantity
315mm
235mm
39mm
0.735kg
5028252422741
5
• Dimensions W236 x D315 mm
Shipping Information
Country of origin
Minimum Order Quantity
CN
5
General information
Colour
Pink
www.rexeleurope.com
Printed on 28/04/2015
Confidential and proprietary to ACCO Brands. Images are for illustrative purposes only. Errors and omissions excepted.

* Your assessment is very important for improving the work of artificial intelligence, which forms the content of this project