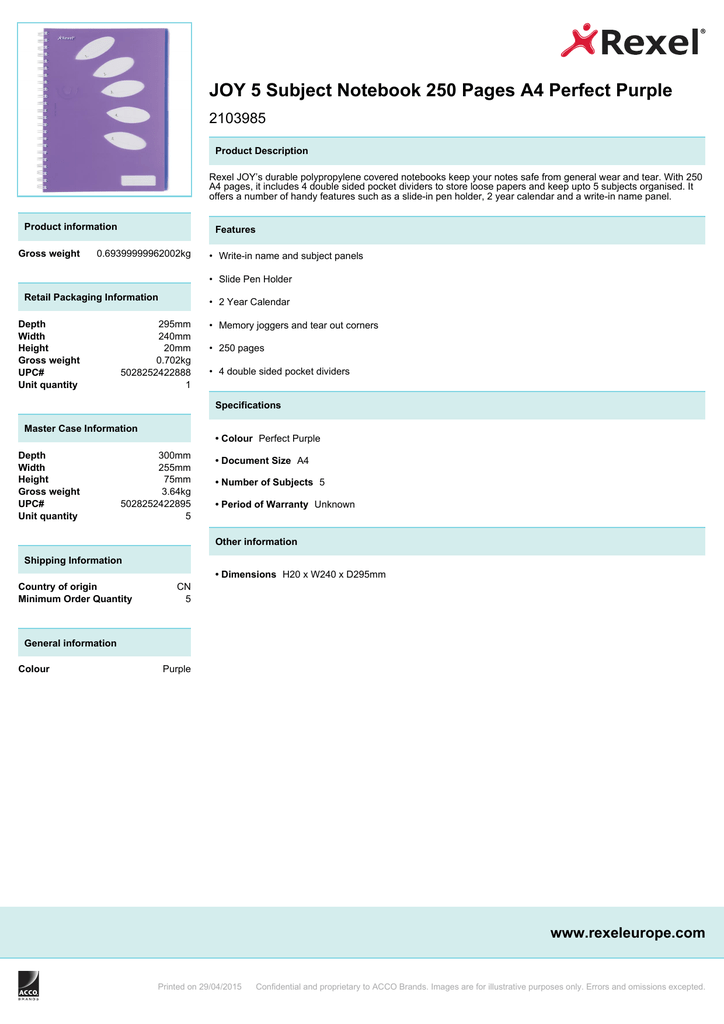 JOY 5 Subject Notebook 250 Pages A4 Perfect Purple
2103985
Product Description
Rexel JOY's durable polypropylene covered notebooks keep your notes safe from general wear and tear. With 250
A4 pages, it includes 4 double sided pocket dividers to store loose papers and keep upto 5 subjects organised. It
offers a number of handy features such as a slide-in pen holder, 2 year calendar and a write-in name panel.
Product information
Gross weight
Features
0.69399999962002kg
• Write-in name and subject panels
• Slide Pen Holder
Retail Packaging Information
Depth
Width
Height
Gross weight
UPC#
Unit quantity
• 2 Year Calendar
295mm
240mm
20mm
0.702kg
5028252422888
1
• Memory joggers and tear out corners
• 250 pages
• 4 double sided pocket dividers
Specifications
Master Case Information
• Colour Perfect Purple
Depth
Width
Height
Gross weight
UPC#
Unit quantity
300mm
255mm
75mm
3.64kg
5028252422895
5
• Document Size A4
• Number of Subjects 5
• Period of Warranty Unknown
Other information
Shipping Information
• Dimensions H20 x W240 x D295mm
Country of origin
Minimum Order Quantity
CN
5
General information
Colour
Purple
www.rexeleurope.com
Printed on 29/04/2015
Confidential and proprietary to ACCO Brands. Images are for illustrative purposes only. Errors and omissions excepted.

* Your assessment is very important for improving the work of artificial intelligence, which forms the content of this project