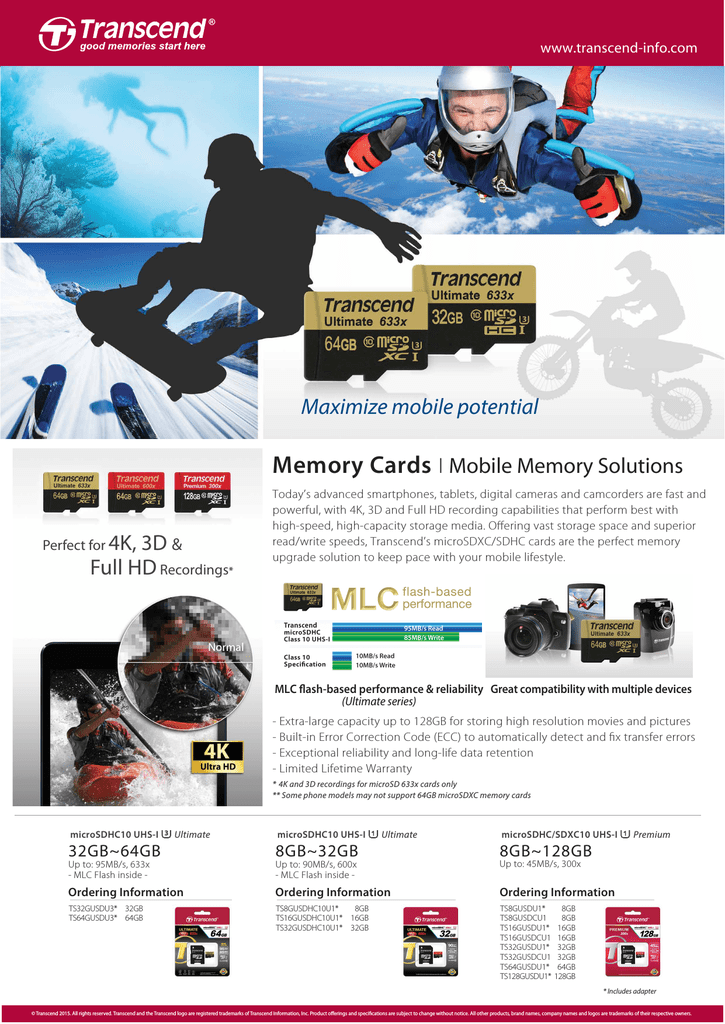 www.transcend-info.com
Maximize mobile potential
Memory Cards I Mobile Memory Solutions
Perfect for 4K,
3D &
Full HD Recordings*
Today's advanced smartphones, tablets, digital cameras and camcorders are fast and
powerful, with 4K, 3D and Full HD recording capabilities that perform best with
high-speed, high-capacity storage media. Offering vast storage space and superior
read/write speeds, Transcend's microSDXC/SDHC cards are the perfect memory
upgrade solution to keep pace with your mobile lifestyle.
Normal
MLC flash-based performance & reliability Great compatibility with multiple devices
(Ultimate series)
- Extra-large capacity up to 128GB for storing high resolution movies and pictures
- Built-in Error Correction Code (ECC) to automatically detect and fix transfer errors
- Exceptional reliability and long-life data retention
- Limited Lifetime Warranty
* 4K and 3D recordings for microSD 633x cards only
** Some phone models may not support 64GB microSDXC memory cards
microSDHC10 UHS-I
32GB~64GB
3
Ultimate
microSDHC10 UHS-I
8GB~32GB
Ultimate
microSDHC/SDXC10 UHS-I
8GB~128GB
Up to: 90MB/s, 600x
- MLC Flash inside -
Up to: 45MB/s, 300x
Ordering Information
Ordering Information
Ordering Information
TS32GUSDU3* 32GB
TS64GUSDU3* 64GB
TS8GUSDHC10U1*
8GB
TS16GUSDHC10U1* 16GB
TS32GUSDHC10U1* 32GB
TS8GUSDU1*
TS8GUSDCU1
TS16GUSDU1*
TS16GUSDCU1
TS32GUSDU1*
TS32GUSDCU1
TS64GUSDU1*
TS128GUSDU1*
Up to: 95MB/s, 633x
- MLC Flash inside -
Premium
8GB
8GB
16GB
16GB
32GB
32GB
64GB
128GB
* Includes adapter
© Transcend 2015. All rights reserved. Transcend and the Transcend logo are registered trademarks of Transcend Information, Inc. Product offerings and specifications are subject to change without notice. All other products, brand names, company names and logos are trademarks of their respective owners.

* Your assessment is very important for improving the work of artificial intelligence, which forms the content of this project