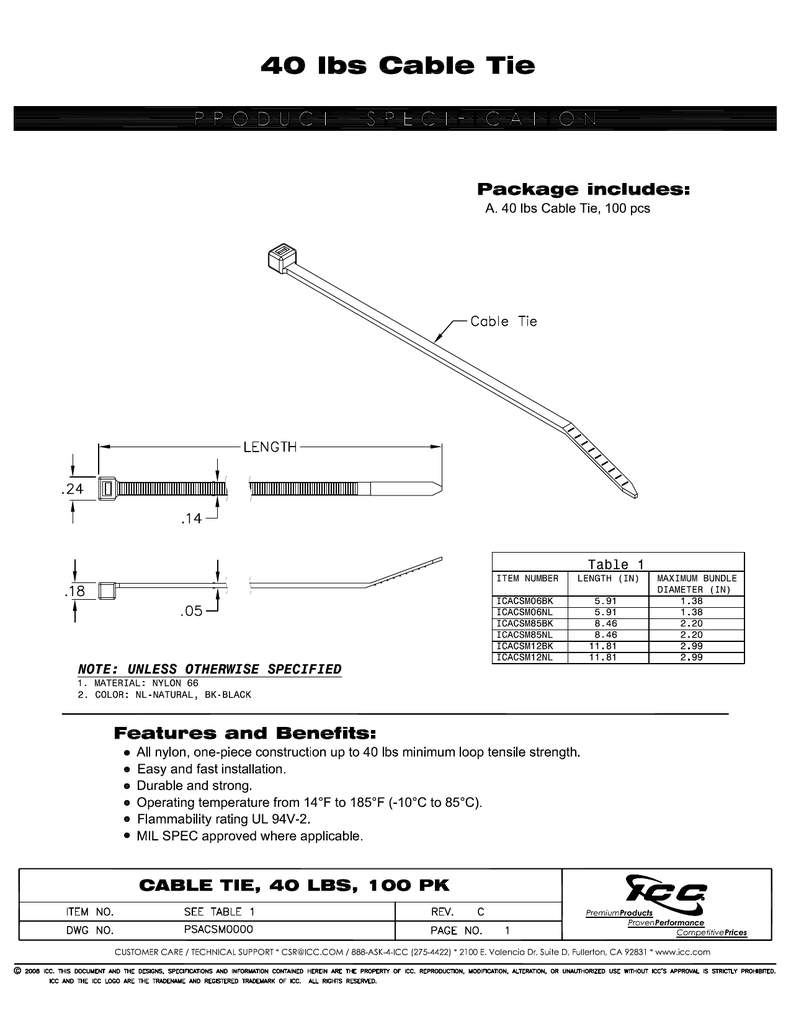 40 Ibs Cable Tie
Package includes:
A. 40 Ibs Cable Tie, 100 pcs
Cable Tie
- LENGTH
Table 1
ITEM NUMBER LENGTH (IN) MAXIMUM BUNDLE
DIAMETER (IN
NOTE: UNLESS OTHERWISE SPECIFIED
1. MATERIAL: NYLON 66
2. COLOR: NL-NATURAL, BK-BLACK
Features and Benefits:
All nylon, one-piece construction up to 40 Ibs minimum loop tensile strength.
Easy and fast installation.
Durable and strong.
Operating temperature from 14°F to 185°F (-10°C to 85°C).
Flammability rating UL 94V-2.
MIL SPEC approved where applicable.
CABLE TIE, 40 LBS, 100 PK cc
ITEM NO. SEE TABLE 1 REV. C PremiumProducis
P Perf
DWG NO. PSACSMO0000 PAGE NO. 1 e CompelilivePrices
CUSTOMER CARE / TECHNICAL SUPPORT * CSROICC.COM / 888-ASK-4-ICC (275-4422) * 2100 E. Valencia Dr, Suite D, Fullerton, CA 92831 * www.icc.com
© 2008 ICC. THIS DOCUMENT AND THE DESIGNS, SPECIFICATIONS AND INFORMATION CONTAINED HEREIN ARE THE PROPERTY OF ICC. REPRODUCTION, MODIFICATION, ALTERATION, OR UNAUTHORIZED USE WITHOUT ICC'S APPROVAL IS STRICTLY PROHIBITED.
ICC AND THE ICC LOGO ARE THE TRADENAME AND REGISTERED TRADEMARK OF ICC. ALL RIGHTS RESERVED.

* Your assessment is very important for improving the work of artificial intelligence, which forms the content of this project