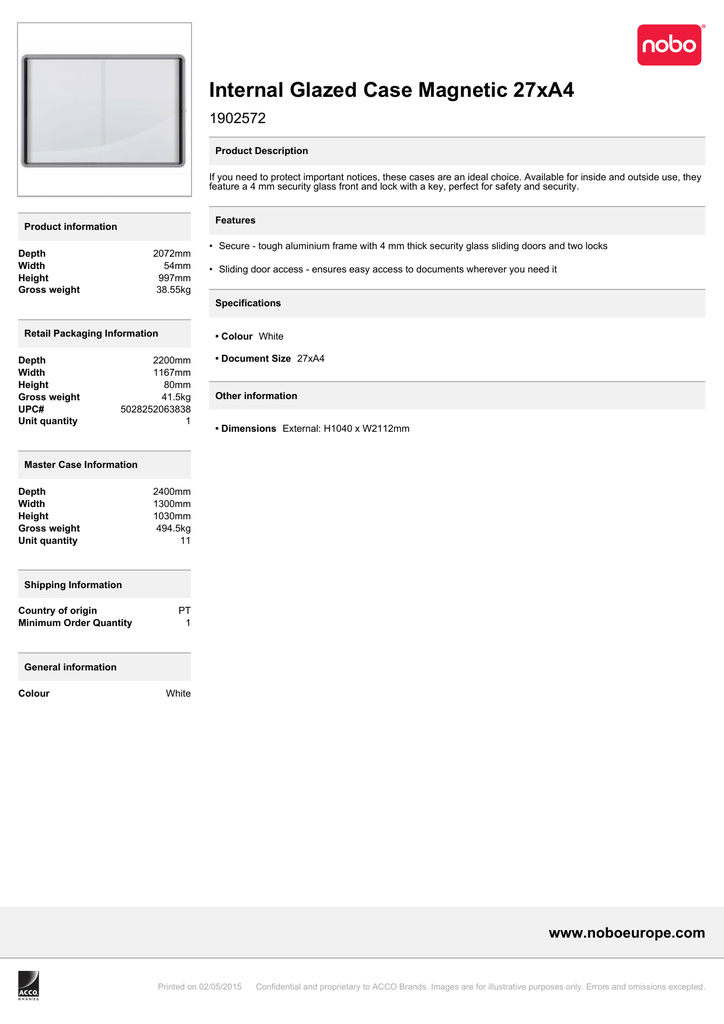 Internal Glazed Case Magnetic 27xA4
1902572
Product Description
If you need to protect important notices, these cases are an ideal choice. Available for inside and outside use, they
feature a 4 mm security glass front and lock with a key, perfect for safety and security.
Features
Product information
Depth
Width
Height
Gross weight
2072mm
54mm
997mm
38.55kg
• Secure - tough aluminium frame with 4 mm thick security glass sliding doors and two locks
• Sliding door access - ensures easy access to documents wherever you need it
Specifications
Retail Packaging Information
Depth
Width
Height
Gross weight
UPC#
Unit quantity
• Colour White
2200mm
1167mm
80mm
41.5kg
5028252063838
1
• Document Size 27xA4
Other information
• Dimensions External: H1040 x W2112mm
Master Case Information
Depth
Width
Height
Gross weight
Unit quantity
2400mm
1300mm
1030mm
494.5kg
11
Shipping Information
Country of origin
Minimum Order Quantity
PT
1
General information
Colour
White
www.noboeurope.com
Printed on 02/05/2015
Confidential and proprietary to ACCO Brands. Images are for illustrative purposes only. Errors and omissions excepted.

* Your assessment is very important for improving the work of artificial intelligence, which forms the content of this project