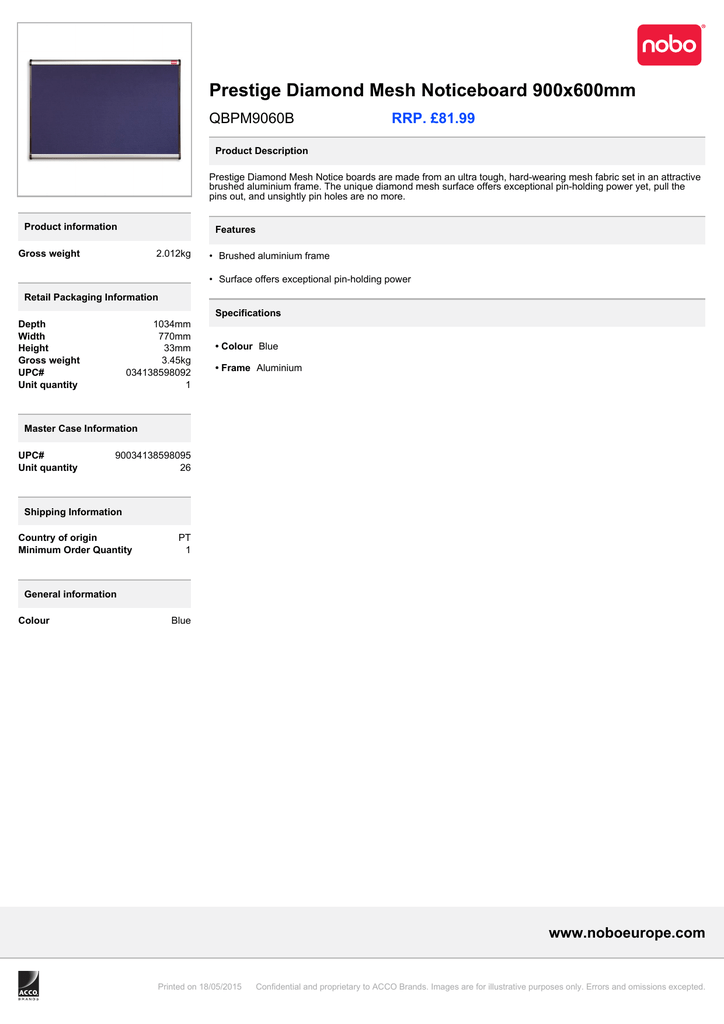 Prestige Diamond Mesh Noticeboard 900x600mm
QBPM9060B
RRP. £81.99
Product Description
Prestige Diamond Mesh Notice boards are made from an ultra tough, hard-wearing mesh fabric set in an attractive
brushed aluminium frame. The unique diamond mesh surface offers exceptional pin-holding power yet, pull the
pins out, and unsightly pin holes are no more.
Product information
Features
Gross weight
2.012kg
• Brushed aluminium frame
• Surface offers exceptional pin-holding power
Retail Packaging Information
Specifications
Depth
Width
Height
Gross weight
UPC#
Unit quantity
1034mm
770mm
33mm
3.45kg
034138598092
1
• Colour Blue
• Frame Aluminium
Master Case Information
UPC#
Unit quantity
90034138598095
26
Shipping Information
Country of origin
Minimum Order Quantity
PT
1
General information
Colour
Blue
www.noboeurope.com
Printed on 18/05/2015
Confidential and proprietary to ACCO Brands. Images are for illustrative purposes only. Errors and omissions excepted.

* Your assessment is very important for improving the work of artificial intelligence, which forms the content of this project