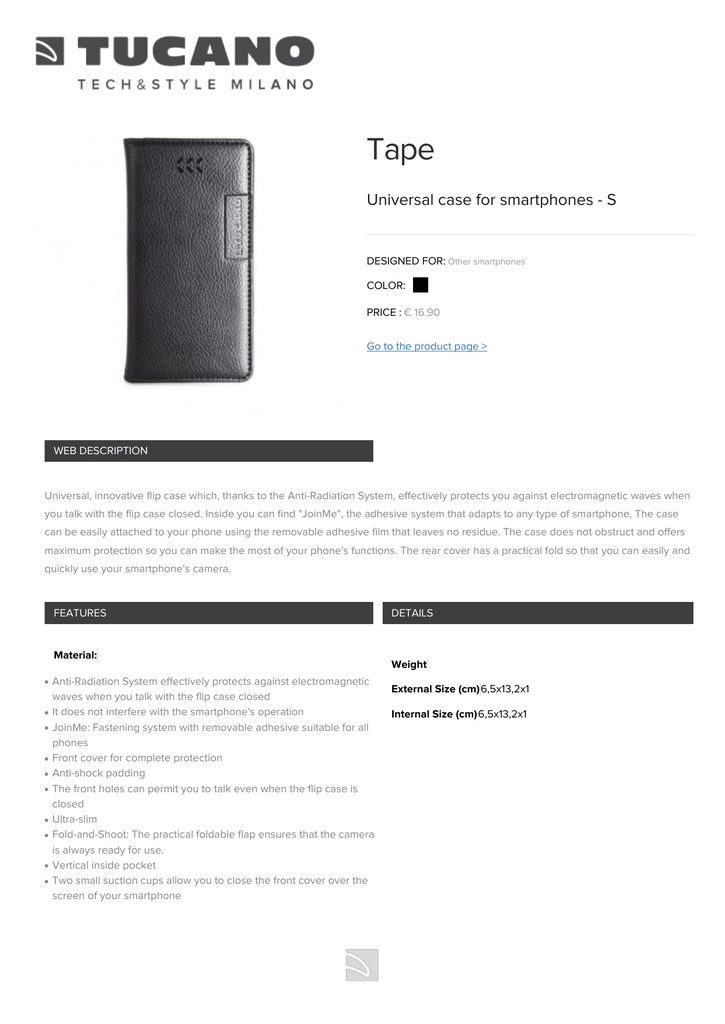 Tape
Universal case for smartphones - S
DESIGNED FOR: Other smartphones
COLOR:
PRICE : € 16.90
Go to the product page >
WEB DESCRIPTION
Universal, innovative flip case which, thanks to the Anti-Radiation System, effectively protects you against electromagnetic waves when
you talk with the flip case closed. Inside you can find "JoinMe", the adhesive system that adapts to any type of smartphone. The case
can be easily attached to your phone using the removable adhesive film that leaves no residue. The case does not obstruct and offers
maximum protection so you can make the most of your phone's functions. The rear cover has a practical fold so that you can easily and
quickly use your smartphone's camera.
FEATURES
Material:
●
●
●
●
●
●
●
●
●
●
Anti-Radiation System effectively protects against electromagnetic
waves when you talk with the flip case closed
It does not interfere with the smartphone's operation
JoinMe: Fastening system with removable adhesive suitable for all
phones
Front cover for complete protection
Anti-shock padding
The front holes can permit you to talk even when the flip case is
closed
Ultra-slim
Fold-and-Shoot: The practical foldable flap ensures that the camera
is always ready for use.
Vertical inside pocket
Two small suction cups allow you to close the front cover over the
screen of your smartphone
DETAILS
Weight
External Size (cm)6,5x13,2x1
Internal Size (cm)6,5x13,2x1
© 2015, Tucano – Product sheet generated on 12/05/2015 – Commercial information on this document might be
approximate and subject to changes in time by Tucano Srl.
The prices to be applied are those shown at the moment of purchase.

* Your assessment is very important for improving the work of artificial intelligence, which forms the content of this project