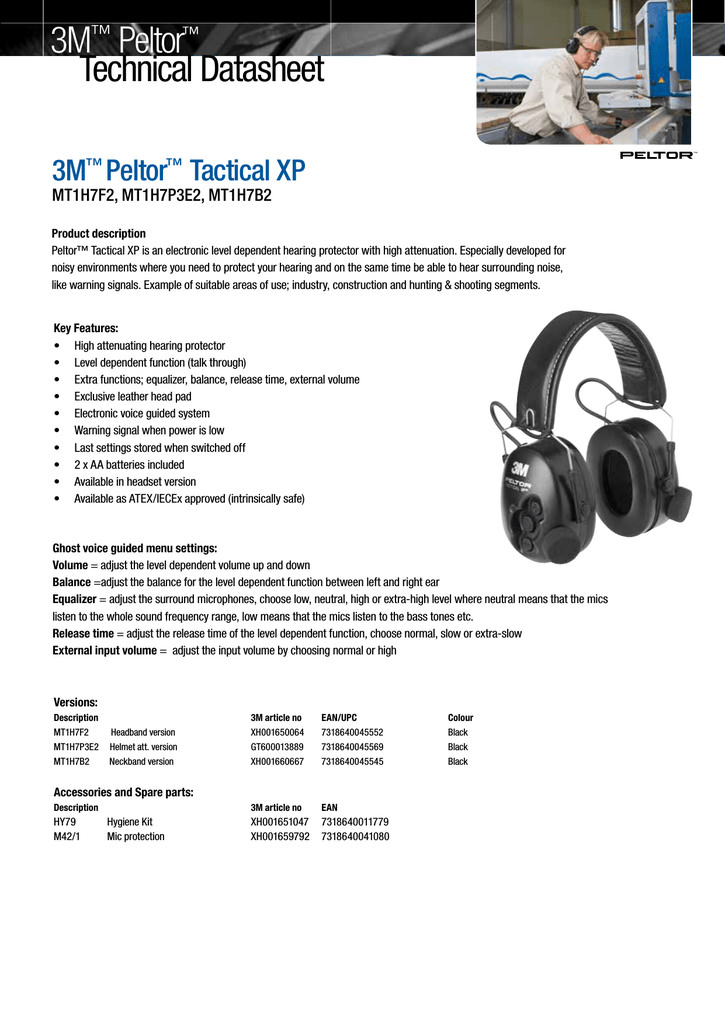 3M™ Peltor™
Technical Datasheet
3M™ Peltor™ Tactical XP
MT1H7F2, MT1H7P3E2, MT1H7B2
Product description
Peltor™ Tactical XP is an electronic level dependent hearing protector with high attenuation. Especially developed for
noisy environments where you need to protect your hearing and on the same time be able to hear surrounding noise,
like warning signals. Example of suitable areas of use; industry, construction and hunting & shooting segments.
Key Features:
• High attenuating hearing protector
• Level dependent function (talk through)
• Extra functions; equalizer, balance, release time, external volume
• Exclusive leather head pad
• Electronic voice guided system
• Warning signal when power is low
• Last settings stored when switched off
• 2 x AA batteries included
• Available in headset version
• Available as ATEX/IECEx approved (intrinsically safe)
Ghost voice guided menu settings:
Volume = adjust the level dependent volume up and down
Balance =adjust the balance for the level dependent function between left and right ear
Equalizer = adjust the surround microphones, choose low, neutral, high or extra-high level where neutral means that the mics
listen to the whole sound frequency range, low means that the mics listen to the bass tones etc.
Release time = adjust the release time of the level dependent function, choose normal, slow or extra-slow
External input volume = adjust the input volume by choosing normal or high
Versions:
Description
MT1H7F2
Headband version
MT1H7P3E2 Helmet att. version MT1H7B2
Neckband version
3M article no
XH001650064
GT600013889
XH001660667
EAN/UPC 7318640045552
7318640045569
7318640045545
Description
3M article no
EAN
HY79 M42/1
XH001651047 7318640011779
XH001659792 7318640041080
Colour
Black
Black
Black
Accessories and Spare parts:
Hygiene Kit Mic protection 3M™ Peltor™
Technical Datasheet
Attenuation:
Standards and Approval:
MT1H7F2 is in conformity with the provisions set out in the
PPE directive 89/686/EEC and the EMC directive 2004/108/EC.
Thereby it fulfils the requirements for CE marking.
The product has been tested and approved in accordance
with EN 352-1:2002, EN352-3:2002, EN352-4:2001, EN3526:2002, EN61000-6-2:2001 and EN61000-6-3:2001.
MT1H7F2, MT1H7B2
Frequency (Hz)
125
250
500
1000
2000
3150
4000
6300
8000
Mean attenuation (dB)
13,8
21,5
30,9
36,6
35,9
36,5
35,5
40,8
39,0
Std deviation (dB)
1,8
0,9
1,3
1,5
5,5
3,3
3,1
3,7
2,3
APV* (84%)
12,0
20,6
29,6
35,1
30,4
33,2
32,4
37,1
36,7
SNR=31dB H=32 dB M=29dB L=20dB
The product has been examined by
FIOH, Finnish Institute of Occupational Health, Topeliuksenkatu
41 a A, FI-00250, Helsinki, Finland Notified body #0403
DECTRON AB, Thörnblads väg 6, SE-386 90 Färjestaden,
Sweden.
Materials:
Headband: stainless steel wires with textile covered stainless
steel sheet
Cups: ABS
MT1H7P3E2
Frequency (Hz)
125
250
500
1000
2000
3150
4000
6300
8000
Mean attenuation (dB)
14,0
22,4
28,1
33,8
33,4
36,0
35,4
40,0
38,7
Std deviation (dB)
1,5
2,7
1,7
2,3
2,6
3,5
2,3
3,3
1,8
APV* (84%)
12,5
19,7
26,4
31,5
30,8
32,5
33,1
36,7
36,9
* APV= Assumed Protection Value
SNR=30dB H=33 dB M=28dB L=20dB
Power:
2 x AA NiMH or alkaline batteries, 2,4-3 V
Use and storage:
Max temperature for use: +55°C
Recommended storage conditions: -20º C - +55º C,
<85% humidity
Recommended maximum shelf life: 5 years,
except the batteries: <1 year
Use limitation:
Never modify or alter this product
CDS10100029 rev b Peltor™ Marketing Communication
In the box:
1 x Hearing Protector
2 x AA batteries
1 x User instruction
3M Personal Safety Division
3M Svenska AB, Box 2341
SE-331 02 Värnamo
Sweden
Phone: +46 (0) 370 65 65 65
Fax: +46 (0) 370 65 65 99
Email: [email protected]
Internet: www.3M.com/Peltorcomms
Important Notice:
3M does not accept liability of any kind, be it direct or consequential
(including, but not limited to, loss of profits, business and/or goodwill)
arising from reliance upon any information herein provided by 3M. The
user is responsible for determining the suitability of the products for
their intended use. Nothing in this statement will be deemed to exclude
or restrict 3M's liability for death or personal injury arising from its
negligence.
Warranty:
The warranty does not cover any damage caused by neglected maintenance or careless handling. For more information on maintenance,
please see the user instruction. For complete warranty condition,
contact your dealer or local 3M office
Please recycle. Printed in Sweden.
© 3M 2014. All rights reserved.
Bluetooth is a registered trademark of Bluetooth SIG Inc.