delay, computers. l This paper is wo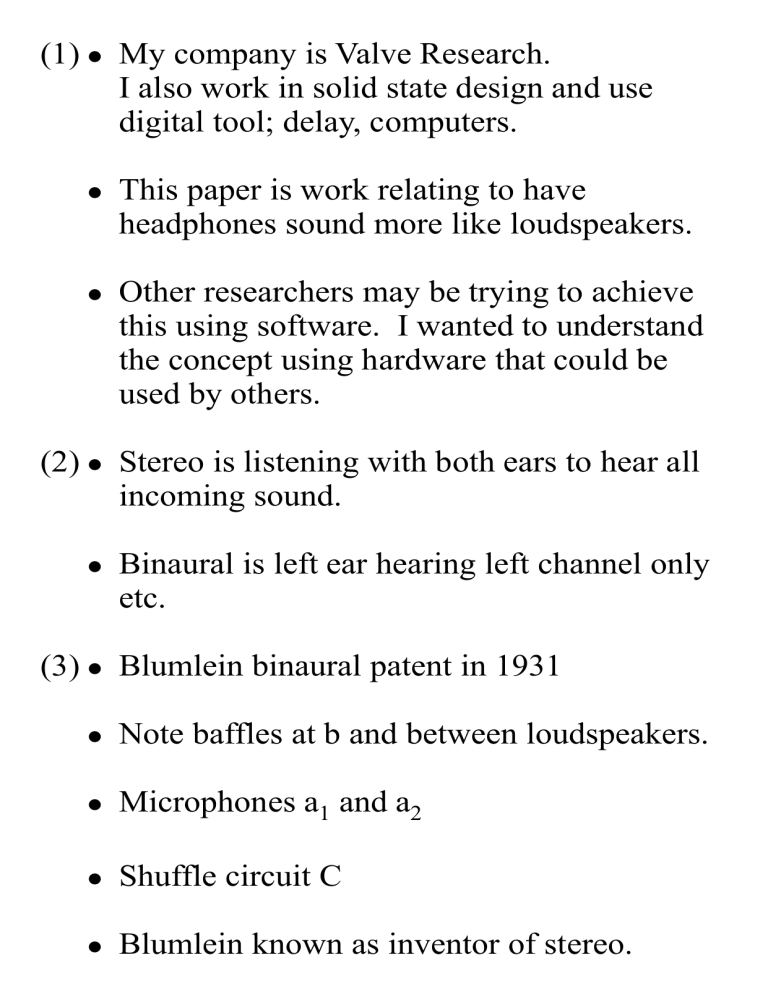 (1) l My company is Valve Research.
I also work in solid state design and use
digital tool; delay, computers.
l
This paper is work relating to have
headphones sound more like loudspeakers.
l
Other researchers may be trying to achieve
this using software. I wanted to understand
the concept using hardware that could be
used by others.
(2) l Stereo is listening with both ears to hear all
incoming sound.
l
Binaural is left ear hearing left channel only
etc.
(3) l Blumlein binaural patent in 1931
l
Note baffles at b and between loudspeakers.
l
Microphones a1 and a2
l
Shuffle circuit C
l
Blumlein known as inventor of stereo.
(4) l Both ears hear both speakers
l
Different amplitude of sound from each
speaker to both ears.
l
Different delay of sound from each speaker
to both ears
l
Frequency response changes to each ear due
to head shape. i.e. nose etc.
l
Position B and D (i.e. 1/2 left, 1/2 right)
is also different for speakers & headphones.
(5) l Processor has crossfeed i.e. Bauer, Ref 2
or Linkwitz, Ref 3 to approach stereo in
headphones and headphone amp.
l
Also my processor using time delays to
remove the between ears dominance
i.e. due to mid solo etc.
(6)
(7)
(8)
(9)
l
My triple delay system having matched left
and right channels and a centre channel of
2 to 3 times different.
l
There are 6 paths total.
l
Photo shows 3 digital delay units
Left and right of 5mS and centre of 15mS.
l
Also mic preamp on LHS and switch boxes
and crossfeed box on RHS.
l
Reference mics near dummy head (green)
l
In ear mics in dummy head (red)
l
After calibrating dummy head mics.
l
Processor now has crossfeed, 3 delay units,
switching and headphone amp.
(10) l Dummy head with small electret mics.
(11) l Dummy head with open headphones.
(12) l Dummy head with closed headphones.
(13) l Calibrating mics shown.
(14) l Dummy head listening to loud speakers.
l
Human using closed headphones (so as to
not hear loudspeakers) listening to dummy
head's mics only.
l
Human can also remove headphones quickly
to hear speakers for comparison.
l
See slide number 9.
(15) l My microphone amplifiers as required.
4 used.
(16) l Questions?

* Your assessment is very important for improving the work of artificial intelligence, which forms the content of this project