The Meat Axe Returns - Palo Alto Lawn Bowls Club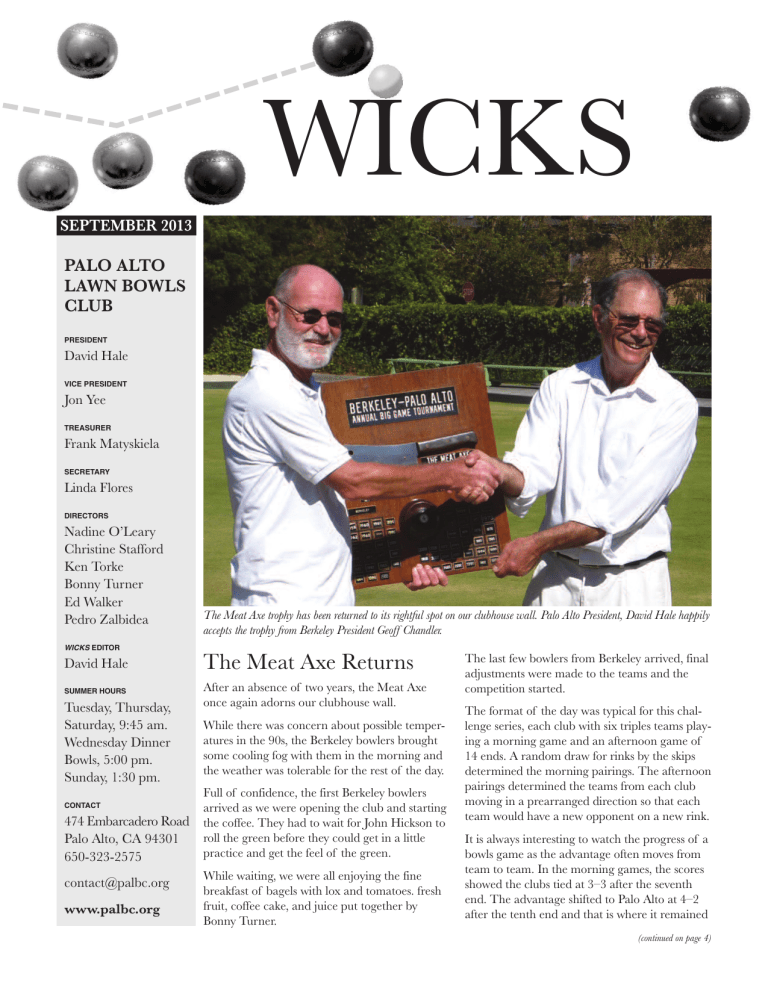 SEPTEMBER 2013
WICKS
PALO ALTO
LAWN BOWLS
CLUB
David Hale
PRESIDENT
Jon Yee
VICE PRESIDENT
Frank Matyskiela
TREASURER
Linda Flores
SECRETARY
Nadine O'Leary
Christine Stafford
Ken Torke
Bonny Turner
Ed Walker
Pedro Zalbidea
DIRECTORS
The Meat Axe trophy has been returned to its rightful spot on our clubhouse wall. Palo Alto President, David Hale happily
accepts the trophy from Berkeley President Geoff Chandler.
David Hale
The Meat Axe Returns
Tuesday, Thursday,
Saturday, 9:45 am.
Wednesday Dinner
Bowls, 5:00 pm.
Sunday, 1:30 pm.
While there was concern about possible temperatures in the 90s, the Berkeley bowlers brought
some cooling fog with them in the morning and
the weather was tolerable for the rest of the day.
WICKS EDITOR
SUMMER HOURS
474 Embarcadero Road
Palo Alto, CA 94301
650-323-2575
CONTACT
[email protected]
www.palbc.org
After an absence of two years, the Meat Axe
once again adorns our clubhouse wall.
Full of confidence, the first Berkeley bowlers
arrived as we were opening the club and starting
the coffee. They had to wait for John Hickson to
roll the green before they could get in a little
practice and get the feel of the green.
While waiting, we were all enjoying the fine
breakfast of bagels with lox and tomatoes. fresh
fruit, coffee cake, and juice put together by
Bonny Turner.
The last few bowlers from Berkeley arrived, final
adjustments were made to the teams and the
competition started.
The format of the day was typical for this challenge series, each club with six triples teams playing a morning game and an afternoon game of
14 ends. A random draw for rinks by the skips
determined the morning pairings. The afternoon
pairings determined the teams from each club
moving in a prearranged direction so that each
team would have a new opponent on a new rink.
It is always interesting to watch the progress of a
bowls game as the advantage often moves from
team to team. In the morning games, the scores
showed the clubs tied at 3–3 after the seventh
end. The advantage shifted to Palo Alto at 4–2
after the tenth end and that is where it remained
(continued on page 4)
2 September 2013
What's Happening at PALBC
Green Maintenance
The green is continuing to improve. A few small areas of the
green have been reopened. However, it looks like parts of the
green may be closed for another couple of weeks to allow the
new grass to become established before it can be mowed.
TGIW (Thank Goodness It's Wednesday) a Hit!
There was a good turnout for our first TGIW. A number of
bowlers brought a snack to share after the games. Almost
everybody stayed to enjoy the food and the lively conversation.
Without the task of having to put together a meal, everyone
was able to bowl (including the hospitality committee) and an
all-hands approach quickly got food on the table after the
games. There was quite a variety of tasty snacks. This could be
the beginning of a new tradition.
Of course, those wanting to host a more formal dinner on
Wednesday evenings may. If you want to present something
exceptional, just let us know a couple of weeks ahead of time.
Almost for Novices Only
We are going to make another attempt to get some of our
newer, and perhaps less confident, bowlers into some games
In the Umpire's View
Peter, Peter, Pumpkin Cheaters!
During the recent PIMD women's singles play downs held
here at PALBC, one of the players asked me to watch one of
the spectators. She felt he was signaling to her opponent
which hand to use. I observed him for a couple of ends and
saw that he was indeed raising his right arm if he thought she
should do a forehand shot and his left arm to signal a back
hand shot. I went over to him and told him he should not be
signaling to her. His response was that he was just supporting
her. I cited Law 58.3 Spectators: They should not disturb or advise the
players in any way. After the game was over, one of the markers
told me that he saw the spectator signaling, also.
A couple of years ago at the PIMD Women's Fives tournament in San Francisco, a man was standing outside the fence
watching the singles game. He would position himself to where
the player on the mat at the opposite end of the green could
know which shot to take. He'd move to the right if he wanted
her to take a backhand shot and move to the left if he wanted
her to use a forehand shot. Again, that would be Law 58.3.
I was still a naïve novice back in 2002 when I was playing in
a pairs game against a team from Oakmont. My opponent
looked at the head and said she thought they had one point. I
decided to measure and came up with a tie. She measured
and said it was "too close to call" and while still on her knees
told me to get an umpire. I walked two rinks away to get the
that we may not actually call a tournament. This will be new
for the club and hopefully we will get a good turnout.
The event will likely take place in November. The format will
pair experienced skips with novices in a blind draw, the novices
as leads. There may be three short games, the novice bowling
with a different skip for each game.
Taking an idea from the Jamboree held by the Berkeley LBC,
the scores from each game will be carried from game to game
by the individual bowler rather than as a team. Each novice
will have a score from each game. Each skip will have a score
from each game. At the end of the games there will be an
award for a skip and an award for a novice.
We are looking for at least 12 novices or bowlers we don't often
see at the club. The skips will all be acting as coaches and we
hope you will come out and try something new in a supportive
group of bowlers.
Ladies Bowling and Lunch
This popular event usually alternates from Friday to Monday
month to month. In September, the ladies meet on Monday,
September 16. Watch for an announcement of the October date.
These games are open to women bowlers from all the local
clubs, so pass the word along to friends from other clubs. See
umpire and by the time we got back to the head it was quite
clear they had the shot. The umpire measured the two bowls
and the opponents bowl was approximately 3 inches closer to
the jack than my team's bowl. Now you know why I say I was
a "naïve" novice.
At the singles play downs one year, as the two players approached the head, one player said "three for you" and starting kicking in the bowls. The opponent had thought she
possibly had only two shots and was happy to get the third
point. However, several people told me after the game, that
the opponent had four shots. However, because the bowls
had already been moved before the opponent got to the head, it was
a moot point — Law 39.2 (in part) No bowl should be moved until
the opponents have agreed whether it is a shot or not, and Law 39.3 As
the shots are agreed, each shot bowl can be removed from the head.
I have another dozen or so scenarios I could regale (or bore)
you with, but these will suffice. We already know there are
cheaters in other sports. Certainly baseball, football and the
NBA has them. It's a sad fact, that Bowls USA has them too.
Whether it's cheating, gamesmanship or just poor bowling
etiquette, there's really no room for it in our sport. I admit
that, perhaps I have my head buried in the sand when I think
of Lawn Bowls as the nice, genteel sport I fell in love with in
2001. I take comfort in knowing that 99% of the players are
honest. What about the other 1%? We're getting close to
October, I wish we could weed out the pumpkin patch.
— E.B. Parkell
3 September 2013
Coach's Corner
you on the green. For additional information, contact Ginger
Harris ([email protected]) with any questions.
Bowling Skills Workshop
On Saturday morning, October 19, John Hickson will present
a refresher course for bowlers. There will be guidance on the
techniques and practices of bowling.
These skills days have been fun and challenging in the past.
This is an opportunity for both experienced and newer
bowlers to improve their games.
The Fred Hawley Invitational
In memory of our friend, Fred Hawley, a wonderful man and
long time bowler, the Palo Alto LBC will host the first annual
Fred Hawley Invitational. Fred was the instigator of a club
tournament for those over 80 who he dubbed the Golden
Geezers. That first tournament was just for Palo Alto members. This Invitational will be open to all PIMD bowlers over
80 years old.
The first Fred Hawley Invitational is scheduled for Wednesday,
October 9 this year. We hope you will come out
and support our veteran bowlers at this event.
Octoberfest!
Whether or not they do any lawn bowling
in Munich, we will be celebrating Octoberfest at the club on Saturday, October 19.
Bowling will be followed by a German
feast of various sausages, kraut, red cabbage, hot German potato salad, black bread,
and, of course, a little German beer and Apfel korn.
So ladies don your dirndls and men your lederhosen
and join us as we celebrate Octoberfest. Watch your
email for details or sign up on the bulletin board at the club.
Your Best Resources
If you are really interested in what is happening in lawn bowling
locally, regionally and nationally, check these web sites:
Palo Alto Lawn Bowling Club —www.palbc.org
Pacific Intermountain Division —www.pimdlawnbowls.org
Bowls USA —www.USLBA.org
New Members
Paul Ramsbotton
Katie Stafford
Nick Varveris
Line Bowls
When a bowl is delivered and comes to rest on or near
your rinks boundary line, it is your responsibility (or a
member of your team at the mat end) to check if the bowl
is in or out. To do this, stand on the bank right behind the
white marker. Look directly towards the white marker at
the other end.
Remember, the center of the white marker is the boundary
of your rink, not the edge of the white marker. Only a
fraction of your bowl needs to cover the center of the white
marker to be called in.
Having made a decision, signal clearly to your team member in the head, indicating that it is in or out by holding
your arm out horizontally, pointing in the appropriate
direction. If in doubt, ask your opponent to check too.
Far too often, when a bowl comes to rest near the boundary
line of your rink, nobody reacts! This results in a team
member in the head shouting and waving to attract your
attention. This can be avoided if every bowler concentrates
on their delivery and takes responsibility for checking a line
bowl automatically. Please put this into practice.
— John Hickson
PALBC CALENDAR
September
16 Ladies Bowling and Lunch, Palo Alto LBC.
21 US Open, Southwest Division. Saturday – Friday.
28 PALBC Mixed Team Pairs, Palo Alto LBC.
Registration from 8:30 am, draw at 9:00 am.
October
5
5
6
7
9
12
16
19
26
PIMD Women's Singles, San Francisco LBC.
PIMD Novice Singles (Men and Women),
San Francisco LBC.
Centennial Cup Invitational, San Francisco LBC.
Huntsman World Senior Games (Bowling),
St. George, Utah. Monday – Saturday.
Fred Hawley Invitational (All PIMD bowlers over 80),
PALBC.
PALBC Women's Team Pairs, Palo Alto LBC.
Registration from 8:30 am, draw at 9:00 am.
US National Championships, Santa Anita LBC.
Wednesday – Sunday.
Octoberfest, Palo Alto LBC
PALBC Mixed Draw Pairs, Palo Alto LBC.
Registration from 8:30 am, draw at 9:00 am.
November
2 PIMD Closing Day, San Francisco LBC.
9 Ed Arnold Invitational, Palo Alto LBC.
16 Clean-up day, Palo Alto LBC.
4 September 2013
Meat Axe (continued from page 1)
at the end of the games. Having a lead at the lunch break
was important for Palo Alto with it's recent history of less than
stellar play after lunch.
Palo Alto could carry the day with a split of the afternoon
games. There was a little juggling of the personnel and the
games began. Early on, neither club had much of an advantage. However, perhaps due to refreshing sliced melon that
Bonny set out at lunch, the Palo Alto teams had gained comfortable leads in four of the six games by the tenth end and
held on for the wins.
The weather had been hot and both clubs enjoyed popsicles or
ice cream as the scores were tallied. The Palo Alto win was
confirmed and the Meat Axe was handed over to David Hale
by Berkeley President Geoff Chandler. Geoff and the Berkeley
club returned home with the "I Lost the Meat Axe" plaque.
It was another good day of bowling with our cross-bay friends
and neighbors. We are already looking forward to the games
hosted next year at Berkeley.
PIMD Happenings
McLaren Triples
One of the most popular competitions on the PIMD calendar,
the McLaren Triples, was played at he San Francisco LBC on
August 24. The tournament is named in honor of John McLaren,
the irascible Scot who developed Golden Gate Park and was one
of the founding members of the San Francisco club.
Several Palo Alto players entered this one day mixed triples
tournament, enjoying pleasant weather and great bowling with
friends from other PIMD clubs. Out of the 24 teams that
played, only one managed to win all three games. Ian and
Ginger Harris along with Janet Mednick from the San
Francisco club became this year's champions.
Palo Alto Bowlers in the U.S. Open
The Southwest Division is hosting the U.S. Open during the
last week of September. From the PIMD, a number of Palo
Alto members will be participating including Ginger Harris,
Mary Scott, Jon Yee, Frank Matyskiela, Bud Birkenseer, John
Hickson, Jerry Knott, Bill Marzonie, and Bob Schwartz.
U.S. National Championships
A number of Palo Alto bowlers will be competing in the
National Championships hosted by the Santa Anita LBC in
Acadia, California this October.
These bowlers are:
Jon Yee — Men's Singles
Mary Scott and Ginger Harris — Women's Pairs
Nikki Schrager —Women's Singles
Mary and Nikki are dual members.

* Your assessment is very important for improving the work of artificial intelligence, which forms the content of this project